I am always looking for ways to have pizza and not do too much damage to my waistline.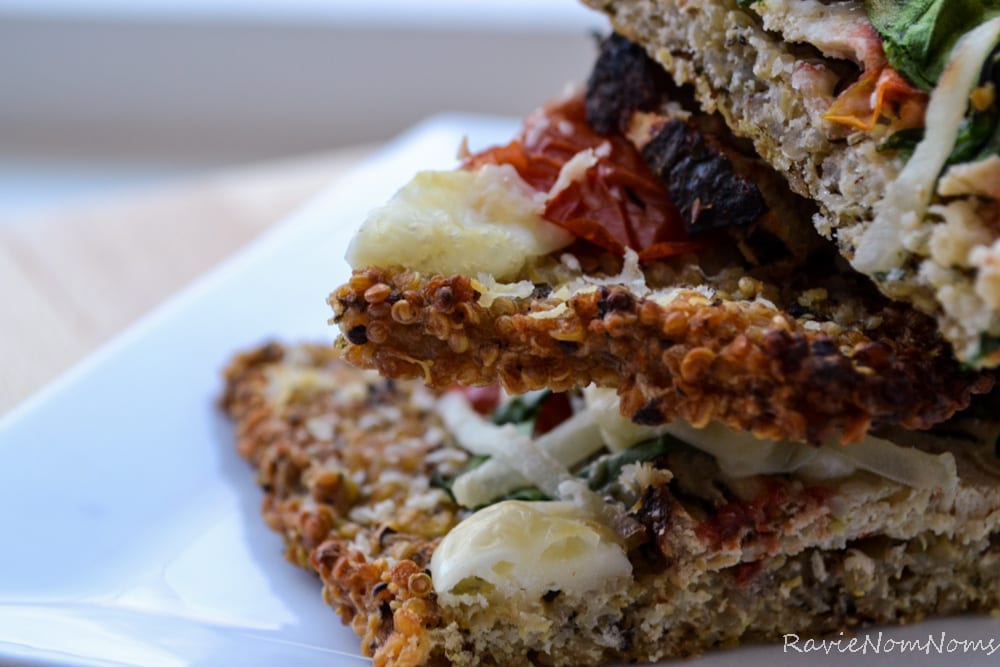 The hubs practically lived on pizza before we met, so I do my best to try and make it for him every once in a while.
We eat cauliflower crust pizza at my house probably once a week because it is easy to make and great for you, but it doesn't have the same "crunch" as normal pizza does.
You know what I am talking about…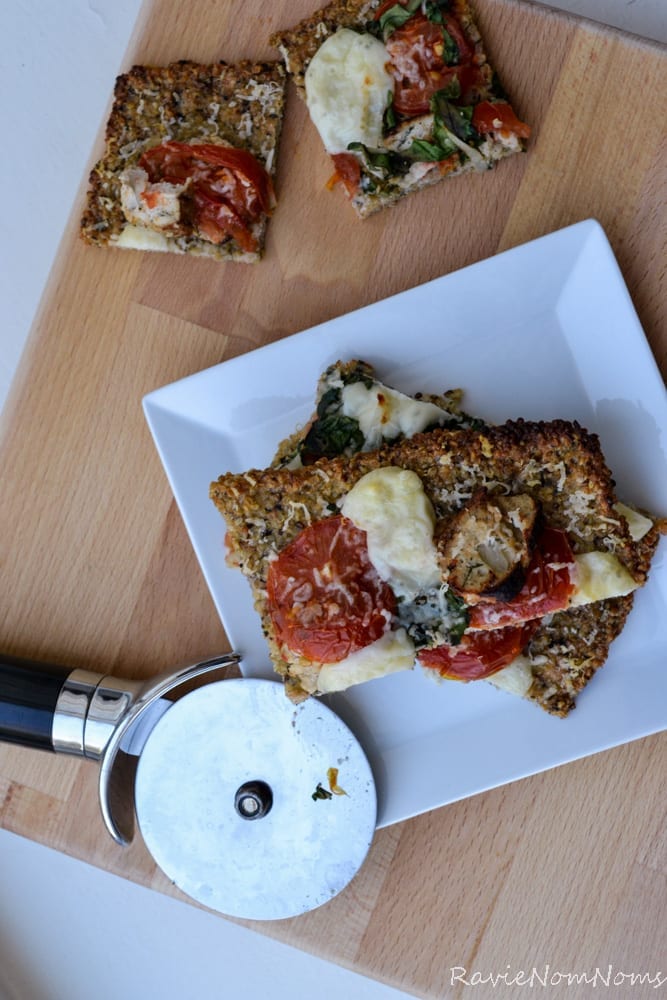 The crust crunch you get when you go into a townie pizza parlor and the crust smells and tastes like it as made of angel wings.
Needless to say I have been experimenting, trying to find a way to once in a while get a crunchier (but healthy) pizza crust.
I'm not even sure how I came across this recipe on the internet, but I knew had to try it immediately! I modified it a bit and added my own toppings flair…let me tell you it was a home run.
Unfortunately the hubs and I didn't get to enjoy the pizza at the same time because he has been traveling a lot recently.
I made the pizza on Friday night, and he was supposed to arrive around 7pm back at home and he didn't actually make it home until 2AM.
Delayed flights, crews missing and plane troubles made for an interesting night for him.
He enjoyed it the follow day and gave it 2 thumbs up, which to me is a major accomplishment because he is hard to please AND he has a very sophisticated pizza tongue. If that is even a thing?
Anytime I make a pizza crust that is a bit different and he says he enjoys it, I promise it will work for ANY pizza lover out there.
Give it a try and let me know what you think.
I will say that this recipe does only make enough for about 2-3 people, however the original recipe made mention of making this into like garlic toasts or garlic bread. Which I think is a fabulous idea for a dinner party!
I think I will end up doing that.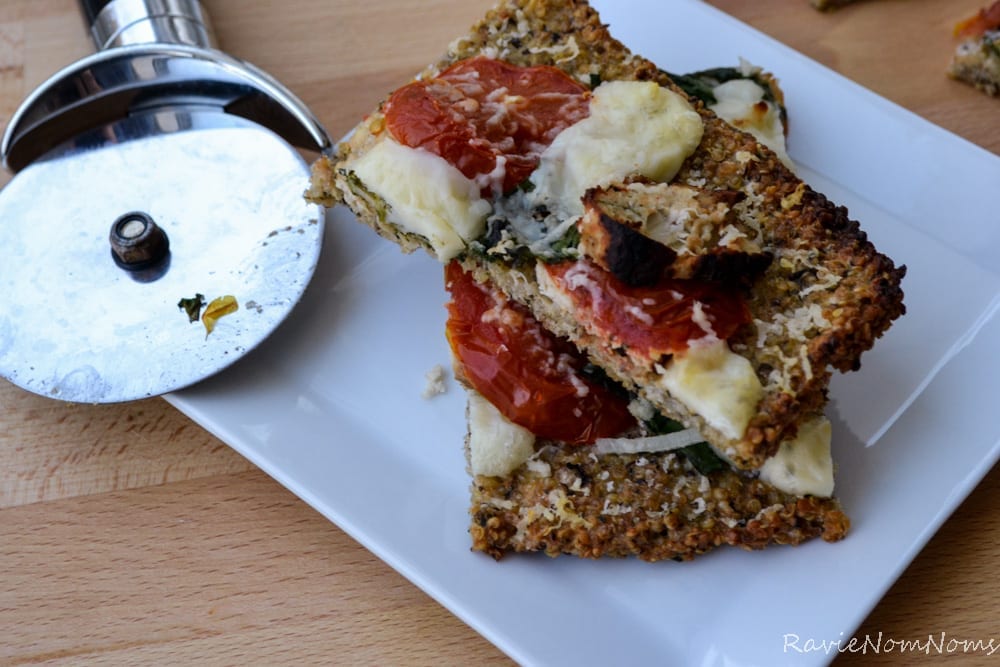 I topped this version with Almond Cheese, Spinach, homemade Chicken Meatballs (ground chicken, garlic, spinach, golden flax meal and egg whites) and fresh tomatoes. And of course a sprinkle of hot pepper flake.
I simply can't eat pizza without hot pepper flake!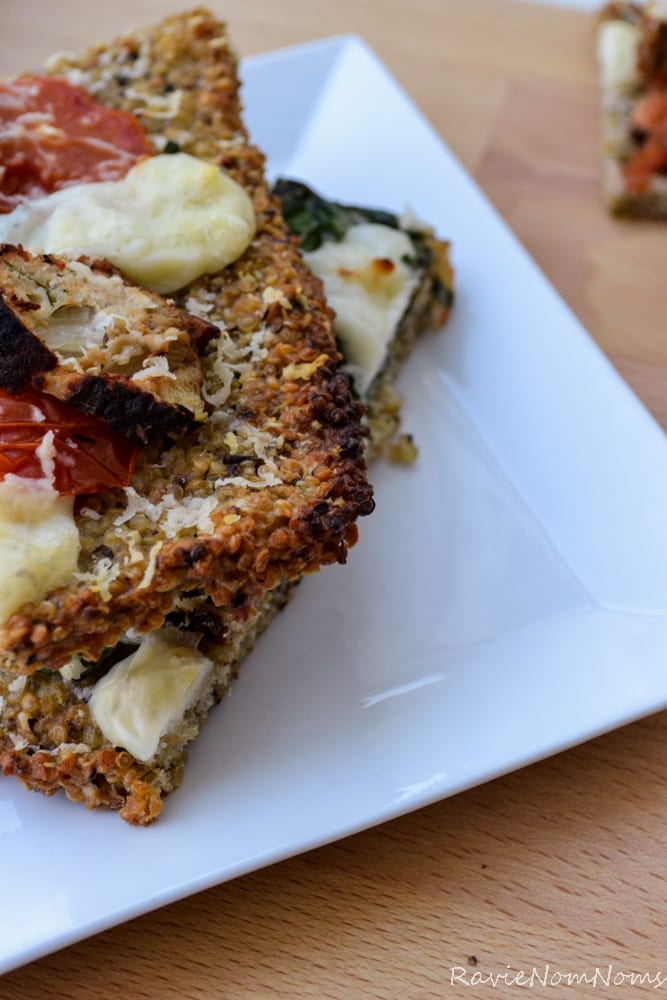 However, my point is that if you have a larger family you might want to double the recipe to make sure that everyone gets some because it will go fast!
Enjoy!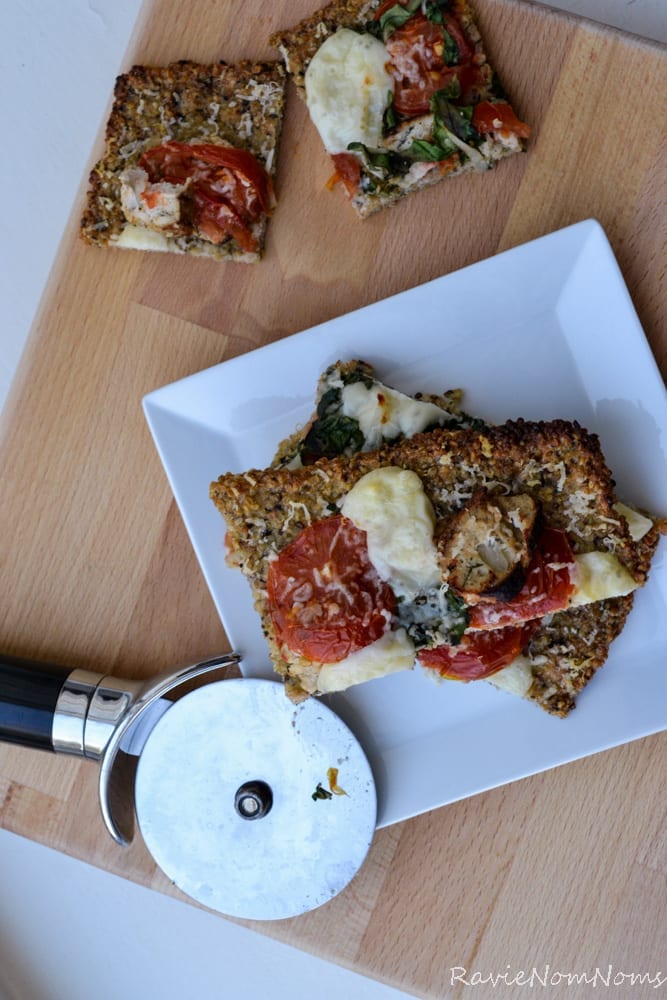 Quinoa Pizza Crust
2015-02-01 10:23:36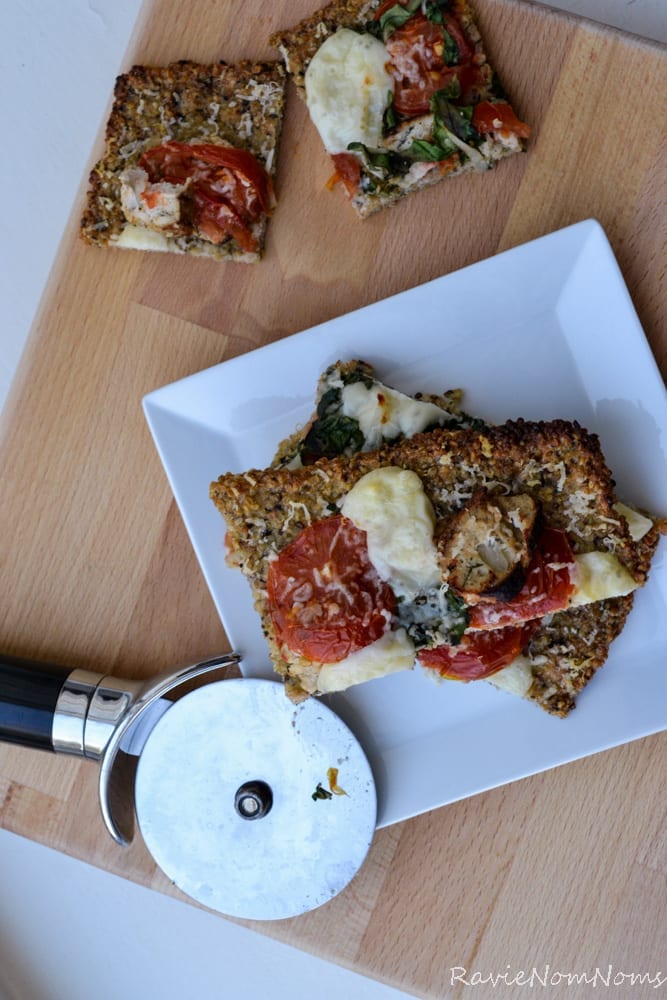 Serves 2
A healthy way to enjoy your favorite pizza. This is Gluten Free and super healthy!
Ingredients
1/2 cup quinoa
3 tsp. olive oil, divided
1 cup water
1/3 cup egg whites
2 garlic cloves, minced
1/2 teaspoon dried oregano leaves
1/2 teaspoon dried basil leaves
1/2 teaspoon baking powder
1/4 cup cheese of your choice (you could use parmesan, mozzarella or any cheese sub of your choice)
Instructions
Place the uncooked quinoa into a fine mesh strainer and run under cool water for about a minute until water runs clear.
Shake off as much excess liquid as possible.
Add the rinsed quinoa and 2 tsp. olive oil to a medium sauce pot. Turn the heat to medium high and stir occasionally for 6-7 minutes. The excess moisture will evaporate and the quinoa will begin to toast.
Carefully add the water to the toasted quinoa and cover. Bring to a boil then reduce to a simmer.
Let the quinoa cook for about 15 minutes, stirring occasionally. Remove the lid and turn the heat to low. Cook 5 more minutes, stirring occasionally (evaporating excess moisture).
Transfer the cooked quinoa to a large bowl and let it cool for at least 10 minutes.
Preheat oven to 425°F
Line a baking sheet with parchment paper and spray with cooking spray.
In a small bowl, add the eggs, 1 tsp. olive oil, garlic salt, oregano, basil, and baking powder. Whisk until well combined.
Add the cheese to the quinoa. Stir to combine. Add the egg mixture to the quinoa. Stir until well combined.
Spread the quinoa dough into a 1/4" even layer on the parchment paper.
Bake for 18-25 minutes, edges should begin to brown.
Top with the pizza toppings and return to the oven for 8-12 minutes.
Cool before slicing
Notes
The original recipe called for dinner baking times than I used. All oven are different so please use your judgement, but look for browning edges.
Nutrition Facts
Calories: 117 per serving
Fat: 4.8g
Sat Fat: .7g
Cholesterol: 0mg
Potassium: 216mg
Carbs: 13.7g
Fiber: 1.5g
Protein 5.1g
Iron: 29%
Adapted from The Wholesome Dish
RavieNomNoms http://ravienomnoms.com/