Hello Hello Friends!
I have another great treat for you today! Erin from Dinners, Dishes and Desserts has come for a visit and I am so excited!
Erin is such a doll and I am so glad I could be her host today. She is always making up the best recipes and she always has such sweet things to say.
We have a long history of being cooking buddies with these blogs we have so I am so glad that I am able to share her with you.
Not to mention did you see what she made?!
I would eat a whole dozen of those Margarita Squares myself!
😉
*******************************************************************************************************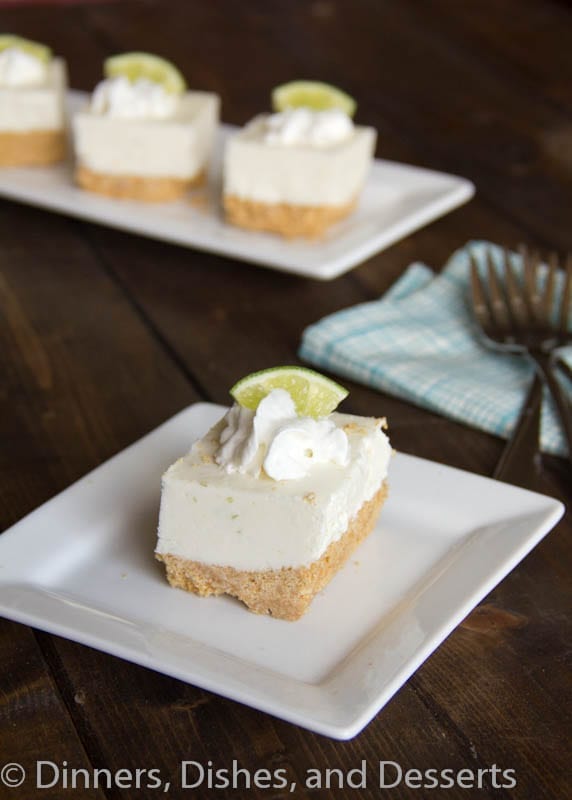 Hi, I'm Erin! I write over at Dinners, Dishes, and Desserts. I am a mom who loves to cook, bake, and try new recipes. I currently live in Colorado, and love hiking in the mountains. I hope that you will stop over to say Hi!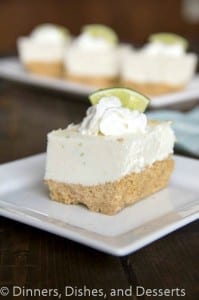 While Raven is off getting ready for her wedding, I am happy to fill in! Raven is such a sweet person, and I have loved following as her at Patrick were dating, buying a house, getting engaged, and now getting married! Raven has always been able to help out with fund raising for a bake sale, or doing a guest post for me, so I am excited that I get to help her out this time.
Citrus and key lime just scream summer to me. So these key lime margarita squares seemed like the perfect thing to share.
Not only are they spiked with a little tequila (completely optional if serving to kids), but you don't have to turn on the oven to make them! When the heat of the summer hits, the last thing I want to do is turn on the oven, so these frozen squares are the perfect answer.
Bring them to your next get together, and everyone will be happy. Trust me, you won't go home with leftovers!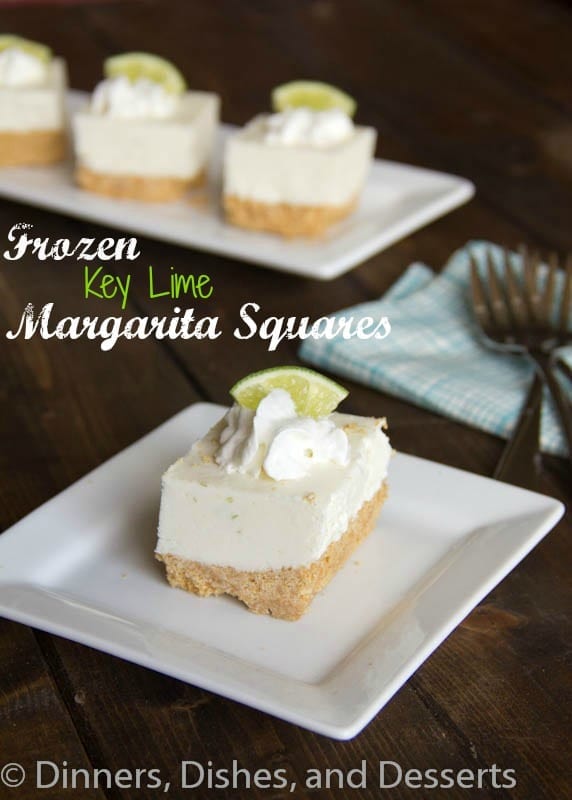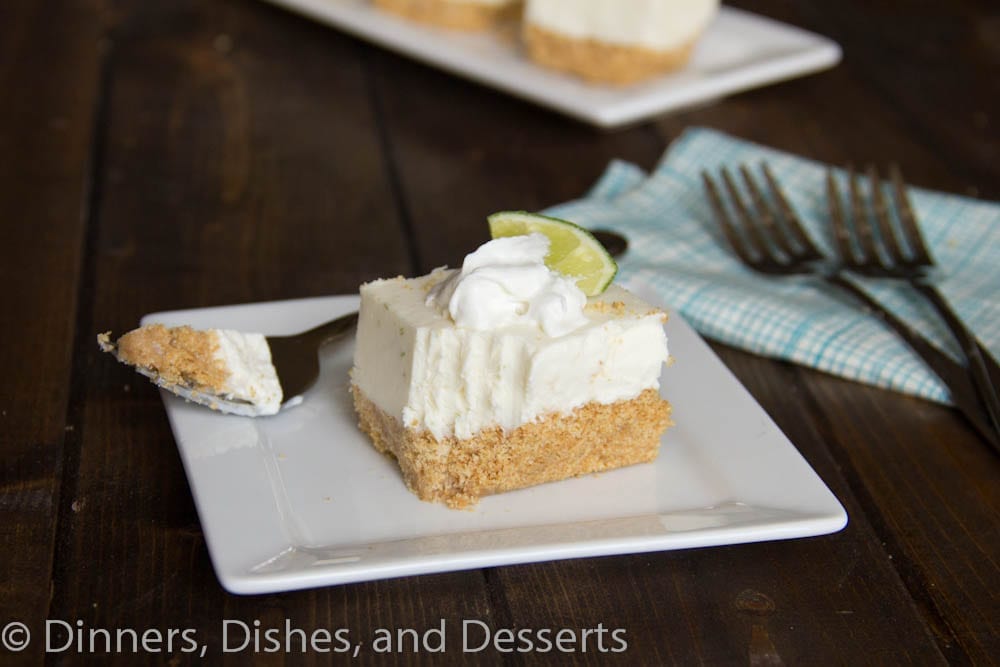 I would love it if you would join me on Facebook, Twitter, Pinterest, or Instagram! Thank you so much Raven for letting me invade your space for a day!
Frozen Key Lime Margarita Squares
Author:
Prep time:
Total time:
Frozen creamy key lime squares with a hint of tequila – great no bake treat for the summer
Ingredients
[b]Crust:[/b]
2 cups graham cracker crumbs
2 Tbls sugar
3 Tbls butter, melted
[b]Filling:[/b]
16 oz cream cheese, softened
½ cup sugar
½ cup key lime juice
1 lime zested
2 Tbls tequila
Top with whipped cream
Instructions
Line an 8×8 inch baking pan with foil.
Combine graham cracker crumbs, sugar, and melted butter. Press into the bottom or the baking pan. Place in freezer while you make the filling.
In the bowl of a stand mixer, add cream cheese, sugar, key lime juice, lime zest and tequila. Beat on low until the mixture starts to come together. Beat on medium-high for 5 minutes, until it is smooth and fluffy.
Pour filling over the prepared crust. Freeze overnight.
To serve let the bars sit at room temperature for 20 minutes. Slice and top with whipped cream.
Notes
Slightly adapted from Slushed!