Hey did you know it is Burger month??
NO?!
Geez where have you been?
Kita over at Pass the Sushi has been hosting a kick ass burger month! You need to check it out if you haven't already!
I am so excited to be apart of it because…well, I love a good burger.
I am not a huge meat eater, but when it comes to burgers I love it all. Beef, Bison, Pork, Turkey, Chicken, Salmon…VEGGIE! I cannot resist a good burger.
Can you?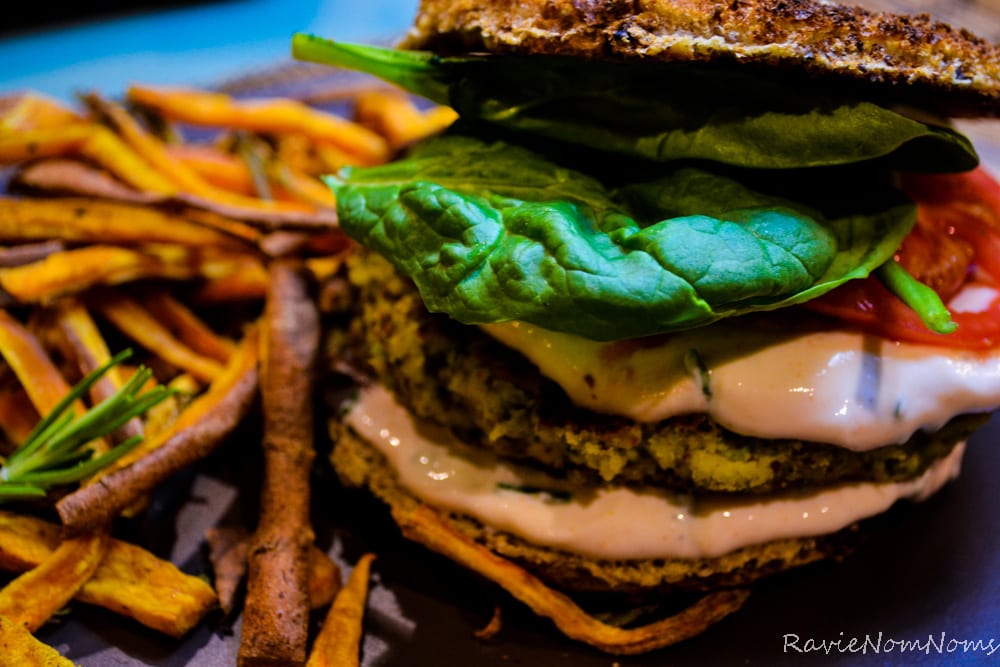 Something about summer time and burgers. It is comforting and fun, isn't it?
They go hand in hand. Like peanut butter & chocolate or salty & sweet.
I also think that burgers are a great week night meal. They can be super quick to throw together on a week night when things are hectic and the whole family will be happy!
I don't have kids yet, but I do have a pretty busy life with work, the wedding, dance and trying to renovate my home. So anything that makes meals easier? I am all for it!
My burger is a light and easy burger that I actually love to make many at a time so you have left overs for the week.
I love making dinners that end up being used as lunches too. Re-purposing is the best!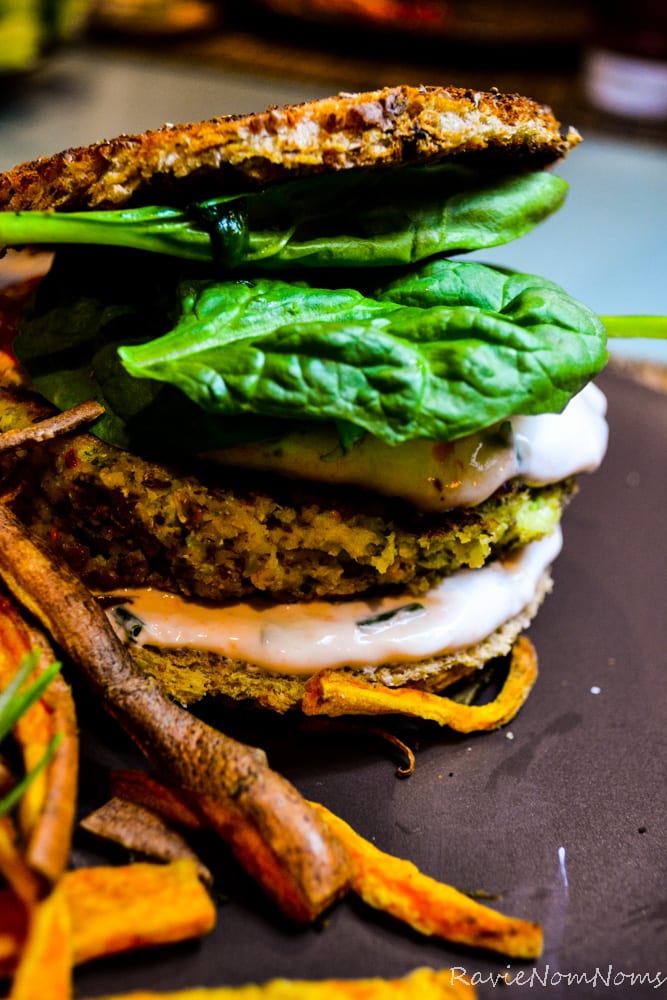 Summer Salmon Vegetable Burger
Author:
Prep time:
Cook time:
Total time:
Ingredients
3 cups cauliflower
2 cup broccoli
3 cloves fresh garlic
18 oz cooked salmon (you can use left over salmon, cook it the same night or even used canned)
2 shallots
1 cup fresh basil
1 tablespoon olive oil
4 egg whites (or egg replacements)
1/2 cup flax meal
1 cup almond flour/meal
salt (to taste)
pepper (to taste)
red pepper flakes (to taste)
Sauce:
1 teaspoon Siracha
1/2 cup nonfat greek yogurt
1/4 cup fresh chive
Salt & Pepper to taste
Instructions
Preheat oven to 425°F.
In a food processor, place cauliflower, broccoli, garlic, shallots, basil, olive oil, salt, pepper and red pepper flake. Process together until it is well combined.
Place into a large bowl and add in salmon, eggs, almond flour and flax meal. You may need to add more or less depending on how wet or dry the mixture ends up being. This has changed every time I have made these. So, just eye ball it. It should be easy to mold into burgers but should not stick to a cooking sheet.
On a cookie sheet that has either parchment paper or has been spraying with non stick spray arrange the burgers at least a few inches apart.
Bake the burgers for about 20 minutes, flipping half way through. It may take a bit longer, you want the burgers to brown.
You could also cook these burgers in a pan on the stove, just use some olive oil and cook like a normal burger. I do find that they tend to be harder to manage if you do this (texture wise)
Add a toasted bun of your choice or eat it with tomato and lettuce!
Serving size:
1 burger
Calories:
214
Fat:
13.7
Saturated fat:
1.2
Carbohydrates:
8.8
Sugar:
1.7
Sodium:
67
Fiber:
4.5
Protein:
18.1
Cholesterol:
25
Notes
Inspired by Cooking Light's recipe [url href="http://www.myrecipes.com/recipe/salmon-burgers-10000001206142/http://"]here[/url].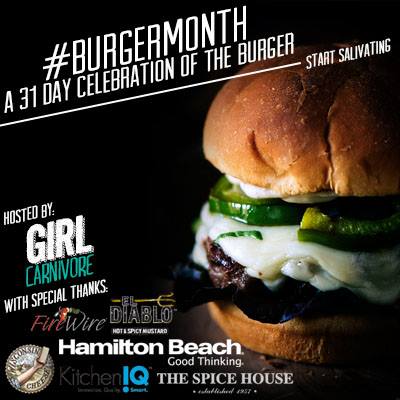 You have a chance on winning something as well for this month's #burgermonth , enter below!
A huge thanks to all of the fun bloggers who were just as inspired by a month of burgers as I was and the awesome companies that have donated prizes to #burgermonth , El Diablo Hot & Spicy Mustard, FireWire Grilling Skewers, Hamilton Beach, KitchenIQ, The Spice House, and Wisconsin Cheese