Good Morning my friends!!
I am absolutely delighted to have one of my favorite bloggers visiting today.
Liz from That Skinny Chick Can Bake is here and MAN can she!
She has some of the best recipes and I am always drooling over all of her baked goods. She has some of the most delicious looking bars I have ever seen!
I have known Liz for a number of years now and I am so glad that we were able to connect via Foodbuzz all those years ago.
She is sharing some cookies with us today and they look outstanding!
********************************************************************************************************
I'm delighted to be here guest posting for my sweet friend, Raven, while she's busy squaring away all the details of her upcoming wedding. That sort of thing really cuts into your cookie baking time, so I'm happy to pick up the slack.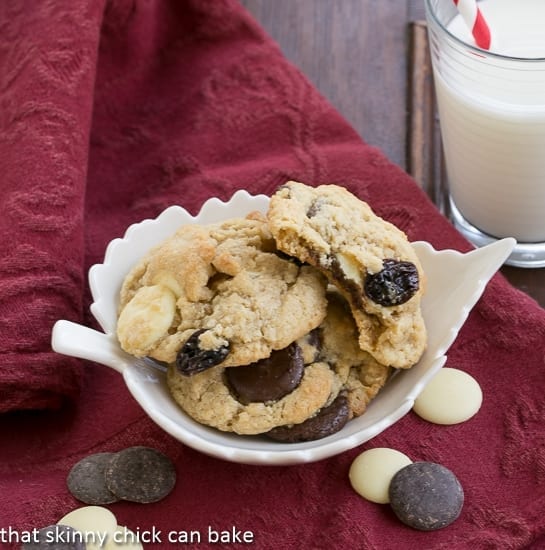 I'm Liz from That Skinny Chick Can Bake blog, where I bake and share lots of decadent treats as well as other not so indulgent dishes. I met Raven in the early days of my blog over at Foodbuzz, a now defunct foodie site where many of us developed lasting friendships.
My family loves chocolate chip cookies…and Nestle's Tollhouse cookies are the gold standard in their opinion. They would love me to bake batch after batch. But as a food blogger, I cannot blog about these same ol' cookies any more. I've made them into a pan cookie, a skillet cookie, a cookie pie as well as varying the kinds of chocolate chips. I just had to move on to other recipes.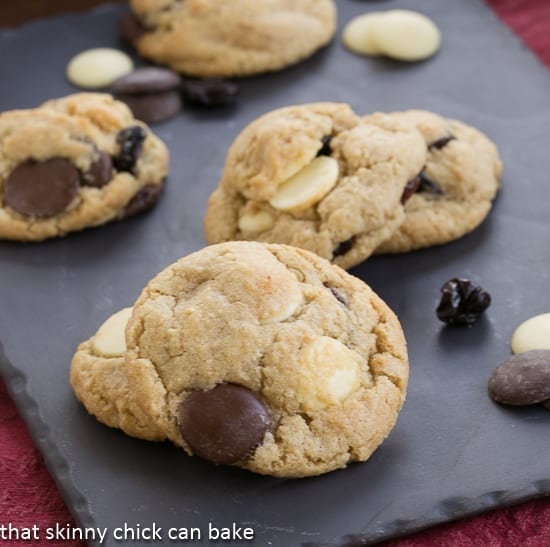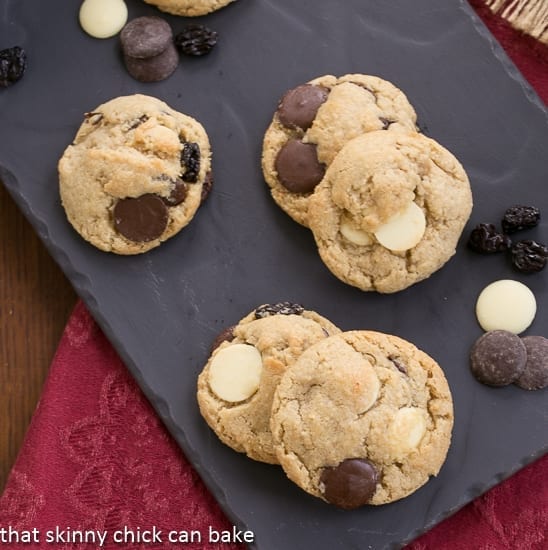 The picky hubby, though, is a hard sell when it comes to change. One of my favorite chocolate chip cookies is made with ground oatmeal. But he can sniff out that secret ingredient from a mile away. For breakfast, he's fine with a bowl of cooked oats with milk and brown sugar; but, according to him, it should not go in cookies. Even ground up, he's not a fan. So about once a year, I make this delicious version of chocolate chip cookies just for me (and my friends and not-quite-so-picky children). This time around I tweaked them to include some dried tart cherries and white chocolate discs in addition to the traditional semi-sweet chocolate. The cookie dough is based off the Neiman Marcus copycat cookie recipe…remember the old wives' tale where a diner at Neiman Marcus was billed $250 when she asked for their top secret recipe from a waitress? I think my hubby is the ONLY one who does not love this recipe. Feel free to alter the add-ins according to your preferences. Leave out the cherries and mix in some nuts, or just use all semi-sweet chocolate chips. You'll love them.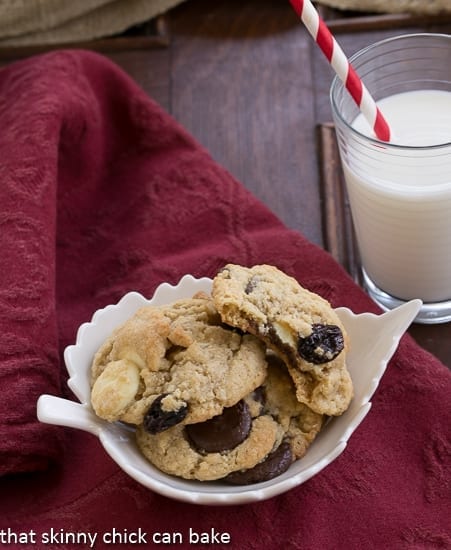 Thanks, Raven, for letting me share a recipe with your lovely readers! xo
You can find me here:
Blog: http://www.thatskinnychickcanbake.com/
G+: https://plus.google.com/u/0/116213594518847001708/posts
Twitter: https://twitter.com/ThatSkinnyChick
Facebook: https://www.facebook.com/ThatSkinnyChickCanBake
Instagram: http://instagram.com/thatskinnychickcanbake
Pinterest: http://www.pinterest.com/lizzydo/
Oatmeal Cherry Chocolate Chip Cookies
Author:
Cook time:
Total time:
Ingredients
2 ½ cups oatmeal
1 cup (2 sticks) butter, at room temperature
1 cup sugar
1 cup brown sugar
2 eggs
1 teaspoon vanilla
2 cups flour
½ teaspoon salt
1 teaspoon baking powder
1 teaspoon baking soda
1 cup semi-sweet chocolate chips or discs
1 cup white chocolate chips of discs
1/2 cup dried tart cherries
Instructions
Put 2 1/2 cups of oats into food processor and blend into a powder. Set aside.
Preheat oven to 375º. Line baking sheets with parchment paper and set aside.
Cream the butter and both sugars. Add eggs and vanilla and mix well.
Stir in flour, oatmeal, salt, baking powder and soda.
Mix in chocolate chips and dried cherries.
Roll into 1 to 1 1/2 inch balls and place 2-inches apart on a cookie sheet.
Bake for 10 minutes or until golden.