Are you all geared up for Thanksgiving?
Can you even believe it is here already?!
This year has legitimately gone faster than any other year I think I can remember. People always told me when I was younger… "time goes faster as you get older", oh pish posh! I would think.
It could not be more true. AmIright?
The older I get the more I think I forget to stop and think about what I am truly grateful for. You just get so busy that you forget to remember what is right in front of you.
Today is a bit of reflection for myself. If any of you are friends with me on Facebook, you know that I have been doing a "What am I grateful for Week". I was inspired by one of my girlfriends Kait who did an entire month of what she was grateful for.
Better late than never right? It is never too late to give thanks…
Here is my week of Thanks:
I am grateful that I have a job while others don't. Especially around the holidays.
I am grateful that I have two parents that are not only loving towards me but to one another too. They are a great example of what love should really be like.
I am grateful for my wonderful friends that are more like family than anything else. The support and love I get from them helps me each and everyday.
I am grateful that I stuck with the Insanity work out program for the entire 60 days, even if I hated Shaun T during it, haha. Feeling accomplished is something everyone should get to experience.
I am grateful that I was raised in a family that sees sitting down to dinner with those you love every night as a priority.
I am grateful that today is my Friday this week! (11/20)
I am grateful that I have OCD. I have discovered that there are much worse things in the world than being organized and liking things clean.
So that is my week of giving thanks. What are you thankful for??
Ingredients for Cookies:
1/2 cup butter or margarine, softened
1/2 cup shortening
2 eggs
2 3/4 cups all-purpose or unbleached flour
2 teaspoons cream of tartar
1 teaspoon baking soda
1/4 teaspoon salt
1/4 cup sugar
2 teaspoons ground cinnamon
Preheat oven to 400º.
Mix sugar, the butter, shortening and eggs in large bowl. Stir in flour, cream of tartar, baking soda and salt.
Shape dough into 1 1/4-inch balls. Mix 1/4 cup sugar and the cinnamon. Roll balls in cinnamon-sugar mixture. Place 2 inches apart on un-greased cookie sheet. I like to put parchment on my baking sheets for these cookies.
Flatten the balls with a glass or a bowl so that they will spread evenly, and then sprinkle with a little more cinnamon sugar.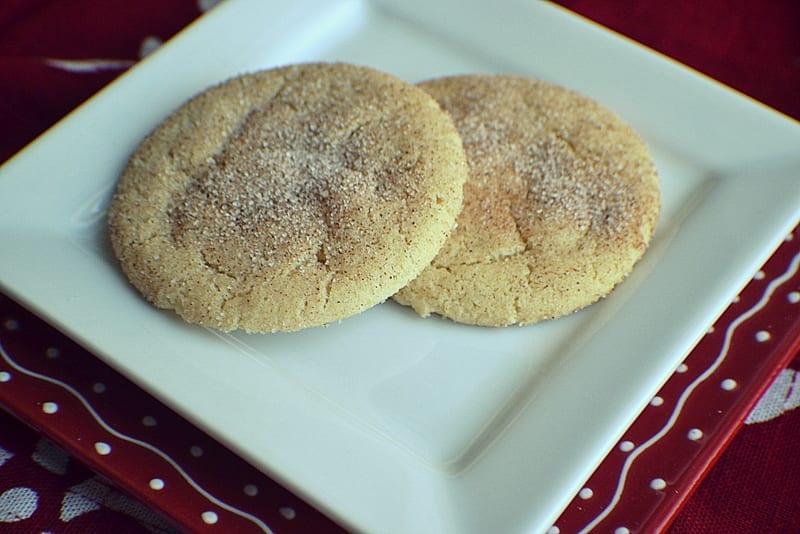 Bake 8 to 10 minutes or until set. Remove from cookie sheet to wire rack.
These cookies are a classic. Everyone enjoys them and they are SO easy to make. Not to mention they are low calorie. Only 90 calories a piece. Gotta love that around the holiday time.
Especially right before Thanksgiving.
I hope you all have a lovely Thanksgiving. Enjoy the holiday with friends, family, or whomever you hold dear. OH and of course, make sure to stuff those tummies! 😉
Happy Thanksgiving!