Hello all!!
I have been lucky enough to take part in Carolyn's Diabetes awareness post and I couldn't be happier to help raise some awareness.
Please check out his post from Carolyn over at All Day I Dream About Food. If you do not know Carolyn, now is the time! She makes the most amazing things and all of them are low carb. I don't know how she does it, but she is an inspiration!
She is also a hosting KitchenAid giveaway (blue in honour of diabetes awareness), go on over and check it out!
One of the reasons that I really wanted to get involved with this post to raise awareness is because both of my grandparents on my Dad's side have diabetes.
They really have to watch what they eat and it is sad to say that most of the time they don't. The come from the generation where you ate what you needed to to make sure that you ate.
They have lived on a farm their entire lives, so diet was the least of their worries. Now that they have to worry about it, it isn't so easy. Especially now that they are both older and are finding it more and more difficult just to make it through the day.
Unfortunately their diabetes has been diet induced as they have gotten older. The ability to exercise and change their diet at this point in the game, is little to none. To add on top of that they live out in the Midwest, so it is hard to go over and try and help them learn about foods that would help them.
Long story short, I am very happy to be involved with this post with Carolyn to help raise awareness to people I can touch before it is too late.
I wanted to share a healthy and hearty meal with you all for this post.
Something that I always love during the Fall months. It warms the soul and the tummy 😉
Adapted from this recipe.
Ingredients for Chili:
1 3/4 cup organic vegetable broth
1 cup chopped onion (I used half white and half purple)
1/4 cup chopped jalapeño pepper (I did not seed, however if you don't like your chili as spicy, seed the peppers)
2 teaspoons chili powder
4 teaspoons ground cumin
2 teaspoons Worcestershire sauce
1/2 teaspoon salt
2 garlic cloves, minced
1/2 lb pre-cooked ground sirloin
2 (15-ounce) cans no salt added black beans, rinsed
1 (15-ounce) can no salt added pinto beans, rinsed
1 (15-ounce) can no salt added kidney beans, rinsed
1 (15-ounce) can no salt added northern beans, rinsed
2 (14.5-ounce) cans of fire roasted tomatoes, undrained
1 can tomato paste
1/2 cup reduced-fat sour cream
2 ounces shredded Monterrey Jack Cheese
Prepare to enter the best part of the this recipe. Queue Crockpot!
Yesssss…..
Toss all of your ingredients into a crockpot and cook on low for 8 hours. Or you can cook on high for 3-4, depending on how quickly you want it to cook.
Top with dollop of sour cream and some cheese and it is ready to enjoy!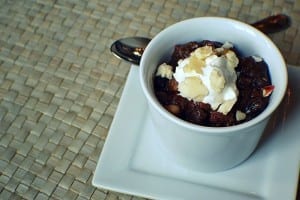 It is just that simple. I love all the colors this chili has from the four different kinds of beans I used. Adds really nice texture too.
Super easy, super tasty and super healthy.
Could you ask for more?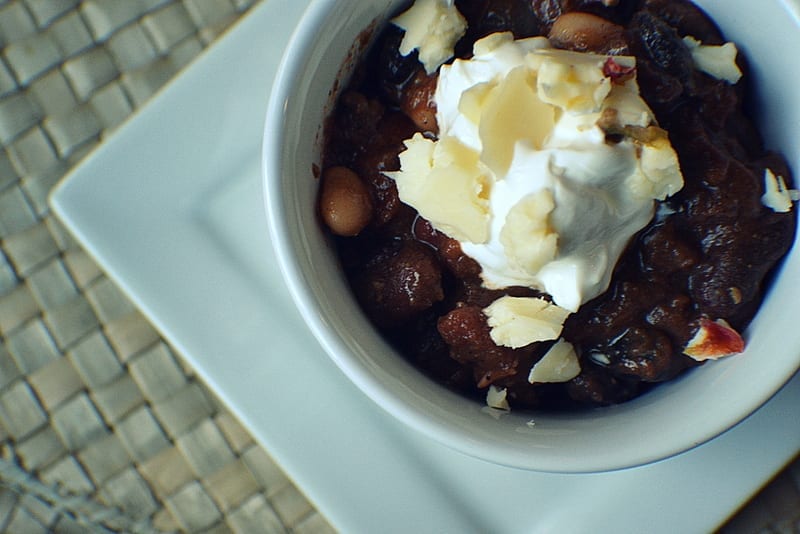 I hope you all take the time to go and check out Carolyn's page to see all the other great recipes that she has linked.
It is sure to be a great roundup of recipes for World Diabetes Day!