OK all you chickpea lovers, you are going to enjoy what I have for you today!
A giveaway!
The folks over at MorningStar Farms are launching a new Mediterranean Chickpea Veggie Burger and sent me a cool package to try out the new product and share it all with you!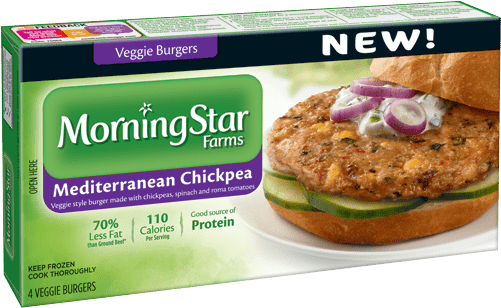 Now, come on who doesn't love free stuff?? I know I do!
The great thing about these babies is that you can customize them any way you like and they are

great for summer, but don't affect your bikini body since they are only 110 calories a piece! #winning
Here is what YOUR package would include if you win:
Greek-inspired apron
Chickpea tote bag
Chickpea/Mediterranean cook book
Full Value Coupon for the MorningStar Farms Mediterranean Chickpea Burger Product
My personal favorite was the Chickpea tote bag, so quirky fun and totally useful. And the best part? It's free!!
If you want to enter please do one of the following:
Follow me on Twitter
Follow me on Facebook
Follow me on Pinterest
Tweet about the giveaway @RavieNomNoms #giveaway #chickpeaveggieburger
Google+ this post
Leave a comment with how you would make these burgers your own!
(there is only one entry per person, but please feel free to share, post and tweet the giveaway to anyone! Rules here)
*Giveaway open until 12pm on May 10th, I will be announcing the winners on May 10th, so get your entries in!*
I decided to go with something very simple for this burger. The only thing that I really need to show a recipe for is the spread that I put on it.
Ingredients:
Mix all ingredients together and put on bun or right onto the chickpea burger. How much of this you make and how much of each ingredient is totally up to your personal taste. I personally like a lot of dill so I used more of that ingredient.
Also as a side note, there are 3 different sets of directions for how you can cook the burgers as well. I went with the baking option and laid parchment on a baking sheet and baked for about 15 minutes, turning once.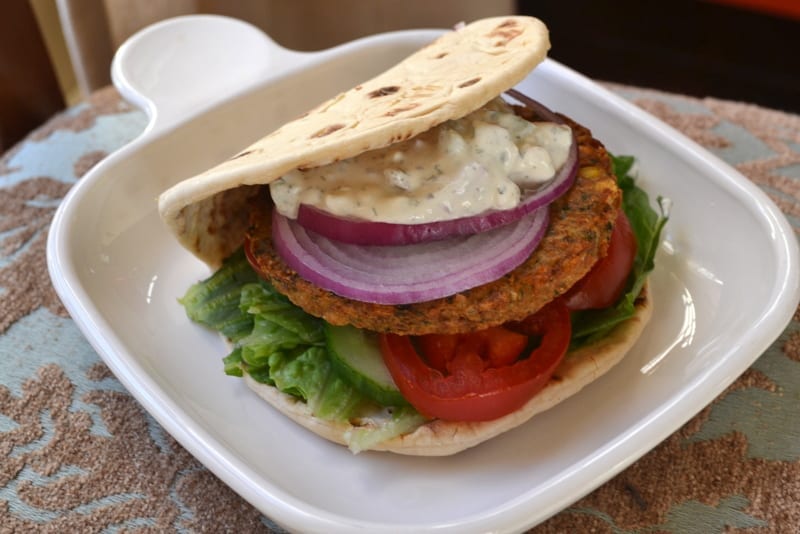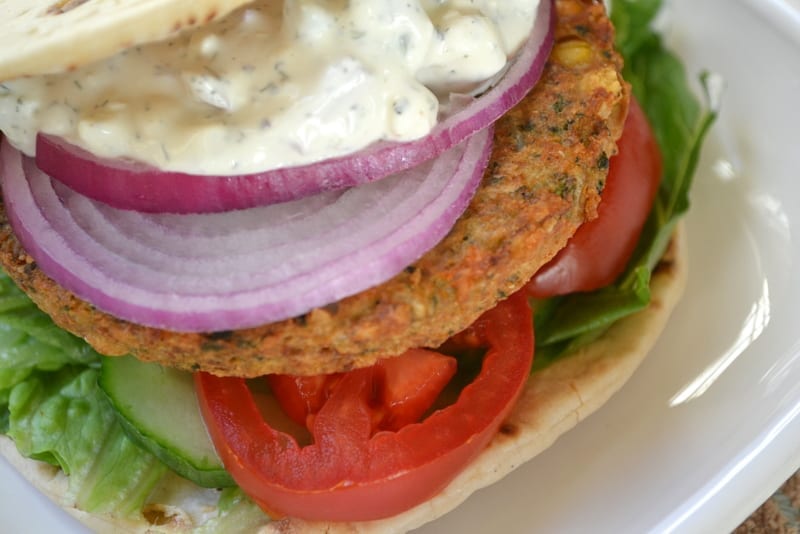 So my review of these chickpea burgers…drum roll please…
They were good! I was pleasantly surprised by both the taste and texture of these burgers.
Sometimes veggie burgers that you buy in the store can have some pretty odd textures, but this one was particularly good. The only downside I would say is that the burger is rather thin. Size wise, they are pretty decent but they were a bit thin but for only 110 calories that ain't too bad.
I also layered my burger with lettuce, cucumber, tomato, red onion and placed it on a Hungry Girl Flatout.
If I did my calculations right, the entire burger will all the toppings and "bun" was about 300 calories. Not too shabby if you ask me!
Anyways, sign up for the giveaway and tell all your friends because these burgers are pretty great and hey! It's free stuff!! 🙂
*Remember Giveaway will Close on May 10th at 12pm!*