Another year has come and gone.
Strange how fast time goes isn't it?
I cannot believe that tomorrow I am turning 28.
28!
I don't feel twenty.eight.
OK…maybe sometimes I feel 28. My body definitely feels different from now then it did when I was 18 that is for sure.
It is harder to get out of bed, not like wake up early. I get up at 5am almost every day.
But like STEP out of bed ::CRACCCKKKK::
I sound like I am about 60 years old, however the hip cracking thing deeply stems from being a dancer. Seriously…ask a dancer about cracking their hips. Guarantee they love it haha.
Although I have to say that as I get into my later 20s…I am happy about how my life is going so far.
I think it is a great thing that I can look back on a year and think, "Wow, I have had some really positive things happen in my life".
It is a good feeling to reflect when you have rough days… or just, whenever.
My friend Tamara actually helped me make my New Year's Resolution this year. She found this idea to get a jar and every time something great happens, you right it down on a little piece of paper and put it in the jar.
That way you can look back after the year is over and see all the great things that happened.
I haven't started this Resolution yet, but I thought it would be good to try and think about the things that were good in this past year.
Let's review some good things from my 27th year:
Patrick and I celebrated our first year together 🙂
I bought a house that I love & am very proud to be fixing up.
I have a job that pays me pretty well.
Starting Bikram Yoga this year has made me SO much more calm and centered.
I still get to dance every single week, which is a blessing.
I have some of the most amazing friends that I keep in touch with regularly, my special girls from PSU mean the world to me! Every year that passes that we keep in touch is a miracle in itself with how busy life can be.
My parents continuing to support me every day.
The blog has done exceptionally well and especially just recently with the new Cooking Light opportunity I get to be a part of.
Cut 10″ of my hair off for donation for the 3rd time (just actually cut my bangs too – you'll see later in the post)
Learned how to have a more positive outlook on life and myself (Thanks Tanya)
These are only a couple of things, but as I look back seems like I had a pretty good year. Year #28 has to be pretty good with all that carrying over right?
Since tomorrow is my birthday I wanted to make something that was fun and light-hearted.
I actually ended up learning how to make some of the THE most amazing vanilla frosting you will ever taste.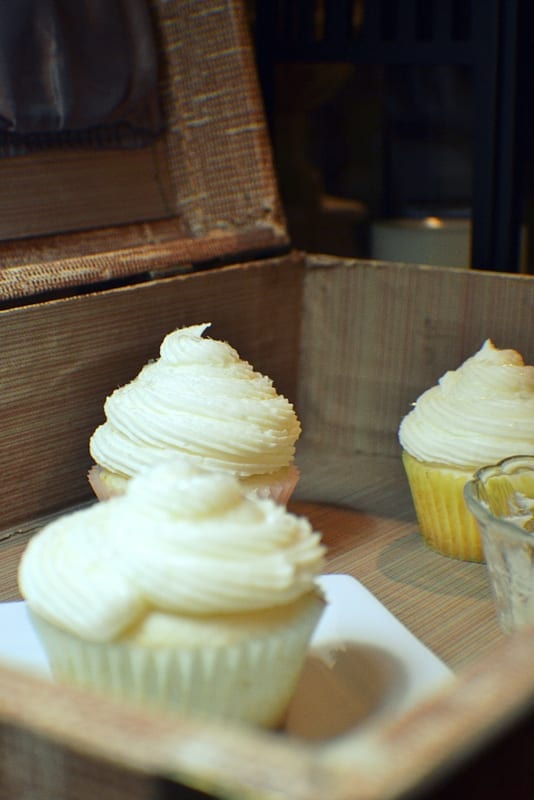 I wasn't actually planning on making a thing because I know my Mom will end up making me something heavenly because she is just that kind of person.
My Grandma Della was one of those people that never worried about if things were healthy for you, I mean fried chicken with gravy and mash potatoes with water cake and frosting was a normal occurrence on Sunday's in her life.
This recipe is something that my Mom took inspiration from our grandmother and made this excellent vanilla recipe (the chocolate is even better, believe me!).
I definitely skimped on the cake for this recipe, but don't hate. Forserious got the urge to make cupcakes while I was driving home. I did doctor it up a little but the frosting is the star here.
Vanilla Cake:
White cake mix of choice
1 cup water
1/3 cup vegetable oil
3 egg whites
1-2 teaspooons vanilla
Frosting:
1-2 tablespoons vanilla (depends on taste)
1 tablespoon meringue powder
3 tablespoons half & half (keep on hand for additional)
pinch of salt
1 cup butter or shortening – room temperature
4 cups powdered sugar
(I doubled this frosting recipe and it frosted 20 cupcakes with about a cup left over)
For the Cake:
Preheat oven to 325º
Mix all the ingredients for the cake together and make sure you get out the lumps that sometimes come with store bought cake mixes. I find that if I whisk the dry mixture first it helps get rid of some of the clumps you see.
I added the egg whites and the vanilla to the cake mixture. This way the mixture stayed really white, which I was looking for and the vanilla helps with the flavor
Line cupcake pans with liners and lightly grease them with cooking spray.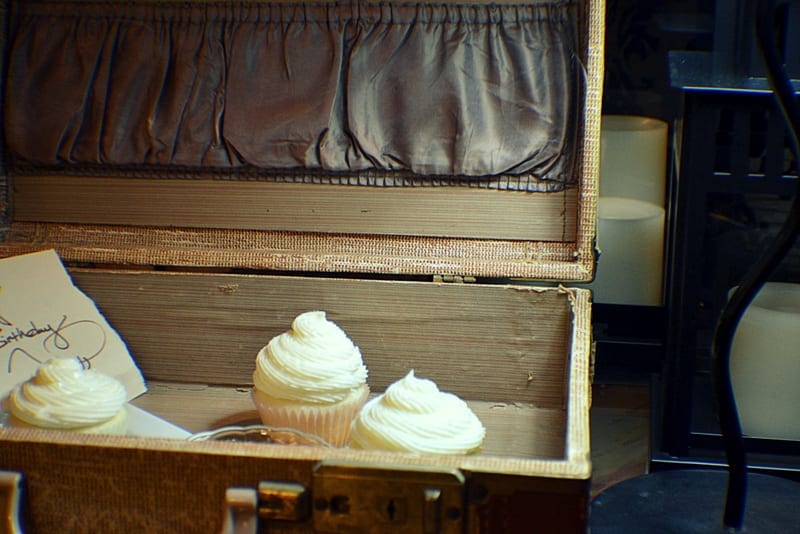 Fill the cupcake tins about 2/3 full. I sometimes don't always get 24 cupcakes out of the cake mixtures. Sometimes I get 20 sometimes I get 26. Not sure why.
Anyways, let the cupcakes cook for about 20 minutes or until they spring to the touch.
Let cool completely before frosting.
For the Frosting:
Put the vanilla, meringue powder, half & half,  and salt together in a mixing bowl. Kind of swirl together to mix ingredients.
Place butter into the bowl and begin to beat the mixture together. It will start off looking kind of weird, but just keep going. You want the ingredients to combine, takes about 2 minutes of continuous mixing.
Do not beat the butter mixture too far, once it starts separating again (clumps) you have gone to far. At the beginning it will seem clumpy but that is OK. If you beat it until it is clumping again that is when it is trouble.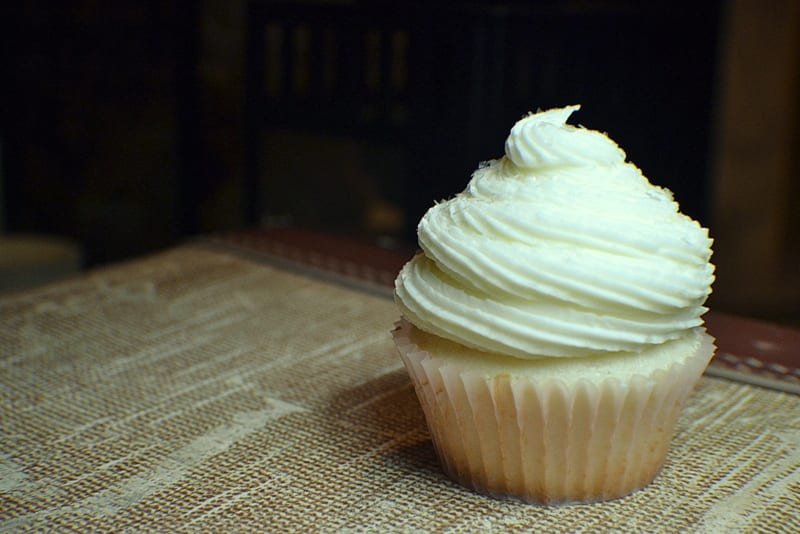 Add in 1 cup of powdered sugar. Mix until it is completely combined.
Add in the remaining 3 cups of sugar and mix until all the sugar is incorporated.
This is when the extra half & half  and vanilla comes back into play. Taste the mixture and see if it needs more vanilla if so add a bit more.
Depending on the texture you want for the frosting will determine how much half & half you add or don't add. I probably added about 5 more tablespoons of half & half to get a good "piping" frosting consistency.
This frosting is pretty stiff by itself so if you want it that way great, if not just keep adding the half & half until you are happy.
A word of *caution* though. SLOWLY add in the half & half a tablespoon or teaspoon at a time. Once you add too much of it, it is really hard to get it back to where you want and then the taste is off.
I used a 6B Wilton decorating tip for the frosting. I also used edible glitter flakes for the "sprinkles". You can find these just about anywhere. I got mine at Michael's.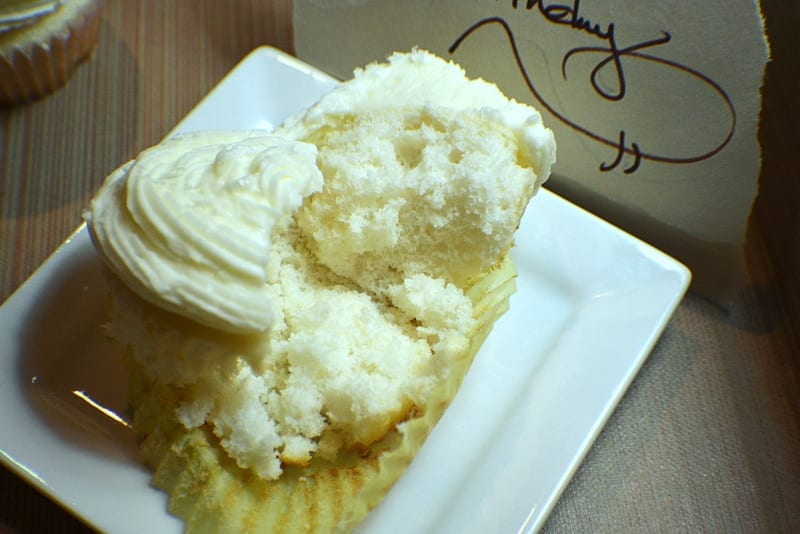 You can make whatever design you like on the cupcakes, I went a little over the top with the frosting, but hey. YOLO (you only live once)!
I was so happy to learn this recipe from my Mom, because I kid you not it is probably my favorite ever. So sweet and savory at the same time.
Once the frosting dries a little there is a tiny bit of  "crust" on the outside but the inside is so smooth and rich and just utterly delicious.
Anyways, I hope you all have a lovely weekend. Mine will be full of going to IKEA and having a nice dinner at J.Gilberts. One of the best restaurants I have been to in the Northeast by far.
On one last note…
Happy Birthday to me!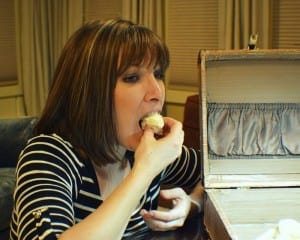 (I may have snuck a bite during my photo shoot, hehe)
😉