Holy August Batman!
Is anyone else's garden exploding?
Mine is!
Every day I am bringing in more tomatoes, squash, peppers, herbs…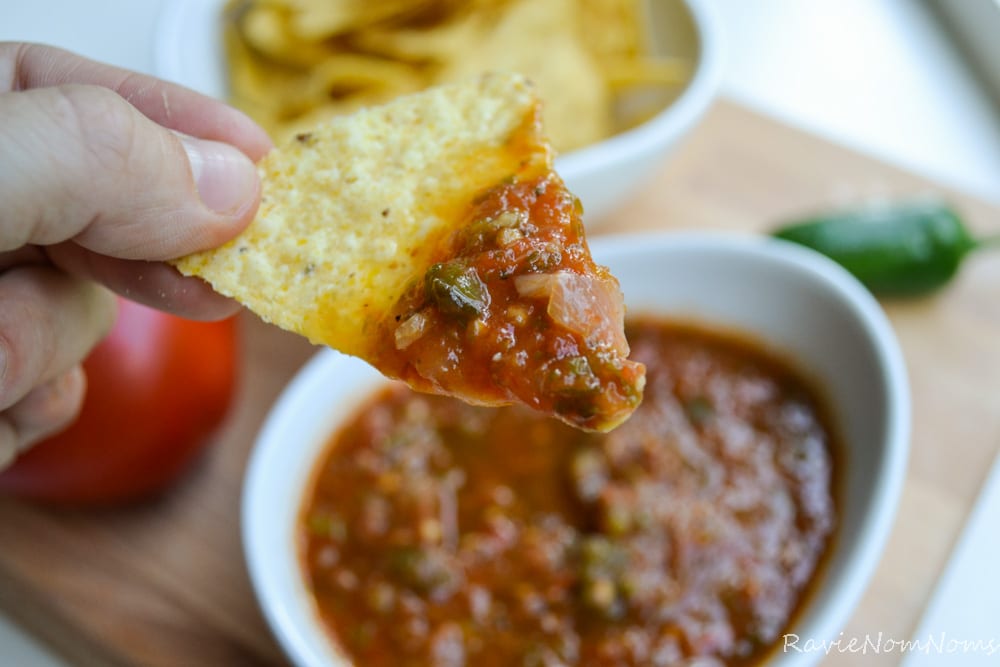 I mean don't get me wrong, I love having fresh vegetables and herbs right outside my door, but good lord.
There could be a small farm stand at the end of my driveway and I could STILL have too much.
Makes for a happy coworkers and lots of ideas for a food blogger 😉
All kidding aside I really do enjoy having a garden. It keeps me busy and I love knowing where my food comes from.
Clearly anyone who knows me, knows that I am all about eating healthy and being able to walk out my own door and have fresh produce in my OWN yard.
Totally winning.
This year has been and especially successful year for my garden.
Since being in my new house for a couple years now, I think I got my planting areas to where they need to be soil wise.
I am also lucky that my mom and I have quite possibly the best herb and veggie garden center that we go to every year.
Their plants ALWAYS prove to be amazing.
I also was able to get my garden planted at the appropriate time this year instead of late.
I think it was late June I was planting my tomatoes last year?!?! Yikes.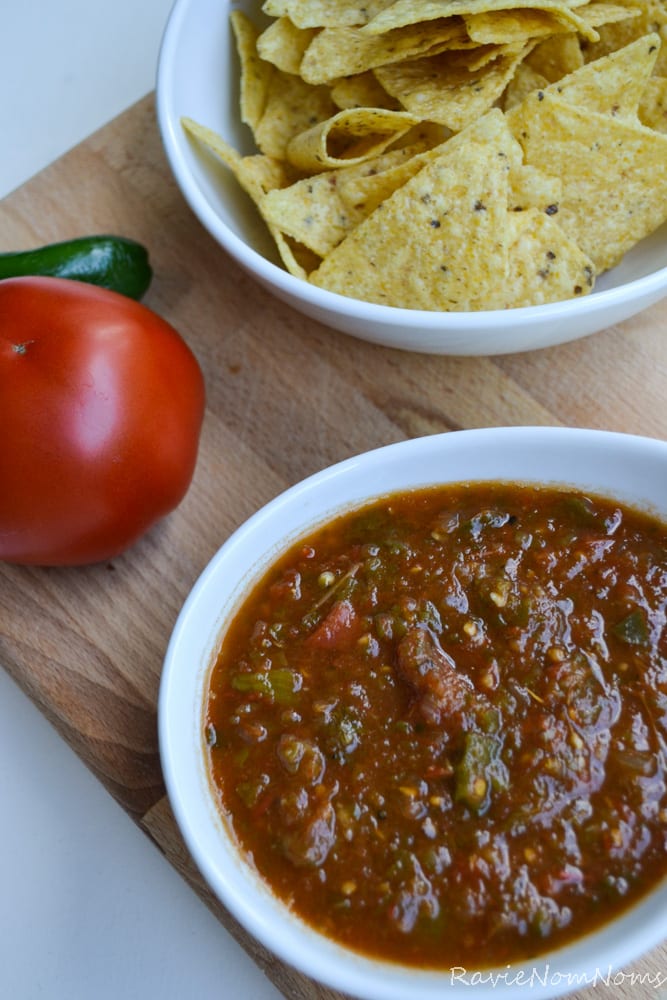 Either way the garden is a BOOMING this year and I am so happy about it.
However, booming garden makes for TONS of produce I don't want to go to waste.
Queue homemade salsa.
🙂
I love me some salsa.
I think I could eat salsa on pretty much everything. Preferably eggs if I have the choice.
Salsa is super versatile and you can make it however you like!
Which is the best part.
Most of you already follow me on Instagram, but if you don't and want to see my veggie adventures… give me a follow!
Hope you all enjoy this salsa as much as I did.
Happy Nomming!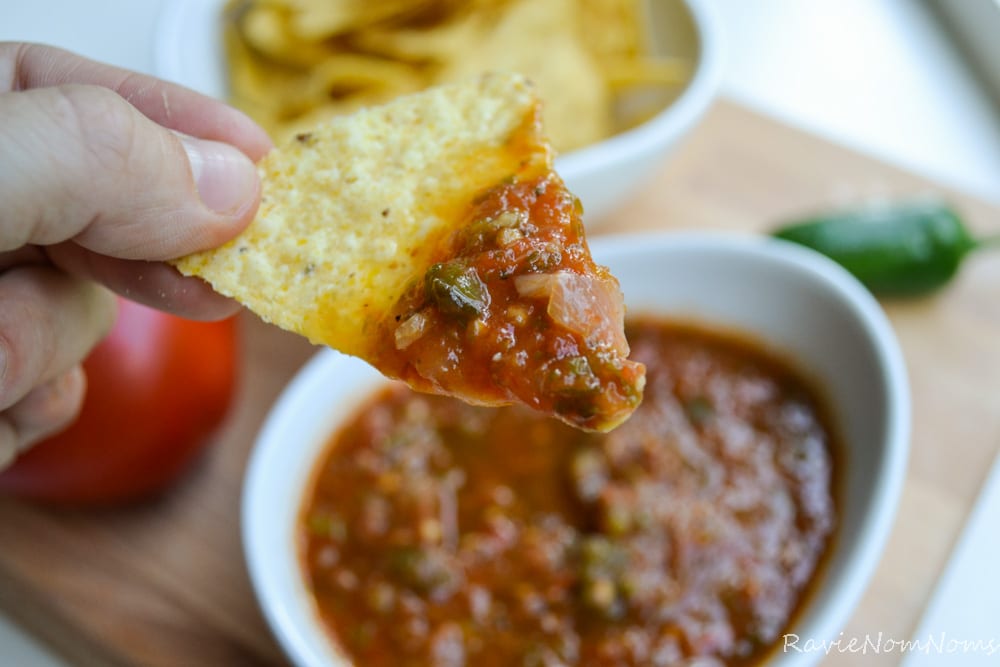 Homemade Salsa
2015-08-15 19:50:42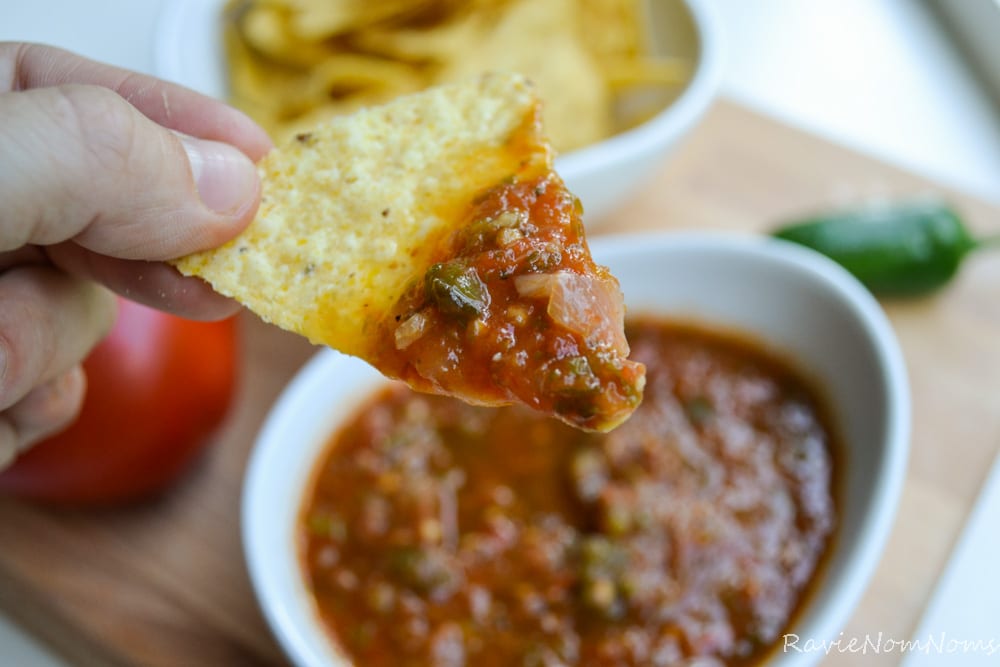 An easy way to use up all those summer tomatoes!
Ingredients
~3lbs roughly chopped fresh tomatoes (any kind)
~20-25 roughly chopped hot peppers & jalapeño (seeded if you don't like it hot)
~1-3 large green bell peppers
1 yellow onion
1 shallot
2 purple onions
1 full head of garlic
salt to taste
pepper to taste
~1 tablespoon hot pepper flake
~2 cups chicken stock (you could use water)
2 tablespoons olive oil
4-5 fresh basil leaves
1/2 cup fresh parsley
1/4 cup chopped fresh chive
1/ cup fresh oregano
Instructions
Finely chop the garlic, yellow onion, shallot and 1 purple onion.
Little secret I use for this is use a mini food processor, you could use a regular size as well. I tend to use my mini because it makes for less dishes! However, it makes quick work of cutting all those onions and garlic AND, you aren't crying when you are done 🙂
Place those ingredients into a sauce pot with olive oil. I always spray down the sides as well. Considering the salsa will be in the pot for some time.
Cook and brown the garlic. I always do this with my salsa it tends to add a little bit of a little extra flavor to the salsa.
Add the chicken stock to the pot and let simmer for a few minutes. Remove from heat.
Add in all green peppers, herbs and seasonings. Cook for about 10 minutes.
Add in all tomatoes. Cook for 1-2 hours.
I tend to blend the salsa a bit for easier dipping but you are more than welcome to leave it super chunky! It is delicious either way.
Notes
So sorry that these aren't direct measurements. When it comes to salsa I kind of just throw it all in a pot and hope for the best!
This recipes yields about 8 cups of homemade salsa!
RavieNomNoms https://ravienomnoms.com/