It's Burger Month!! #burgermonth
Kita over at Girl Carnivore has an amazing line up for 30+ bloggers that are all posting burgers for the month of August.
I have been lucky enough to know Kita for many years now, she is my food blogging idol. I was lucky enough to be one of the bloggers she included!!
Kita is awesome, and also owns Pass the Sushi. Check this girl out. Her recipes are EPIC!
Of course, it being burger month I had to come up with something worthy of the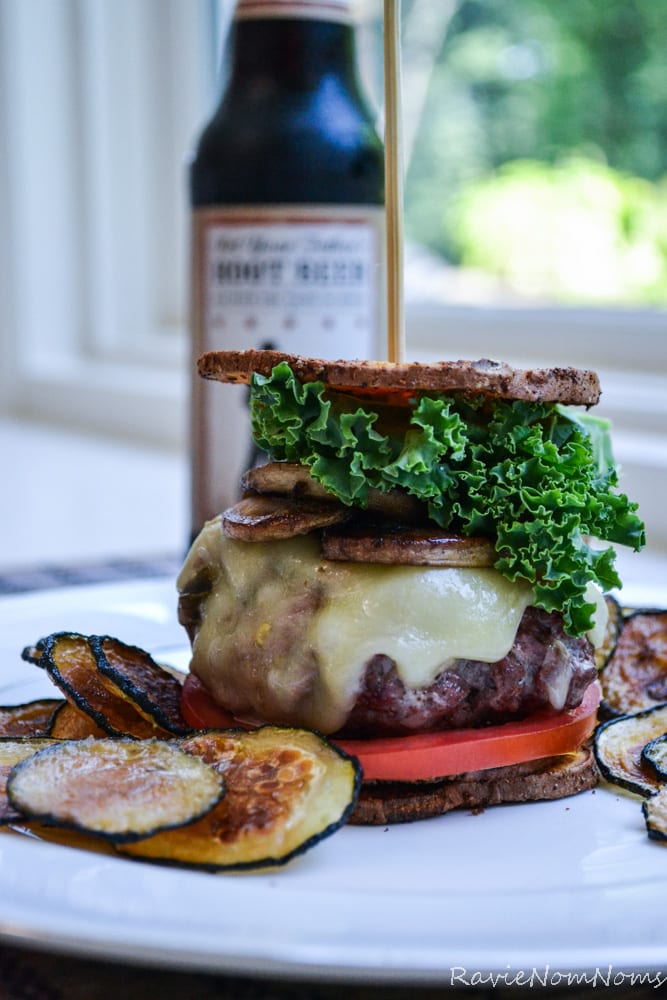 event.
To me having burgers in the summer is a must.
Growing up in Kansas City (Kansas NOT Missouri), you are used to having some sort of grill out pretty much every weekend if not a few days during the week as well.
When I was little my family used to use the sidewalks that were in the neighborhood we lived in to walk during the nicer months of the year.
Yes, the "nicer months"…aside from popular belief the Midwest does indeed get snow.
Who knew?!
As we walked, or I was in pushed in the stroller, or was getting yanked by my big brother down the pavement we always used to play "guess that grill smell".
Sounds weird, but we got pretty good at it!
"Someone's grillin!"
My brother: "I say chicken!"
Me: "I say pork!"
Burgers were ALWAYS the easiest to pinpoint. Something about that grill smell… #noms
Or steak. I used to be a steak eating FOOL when I was younger. #midwestgirl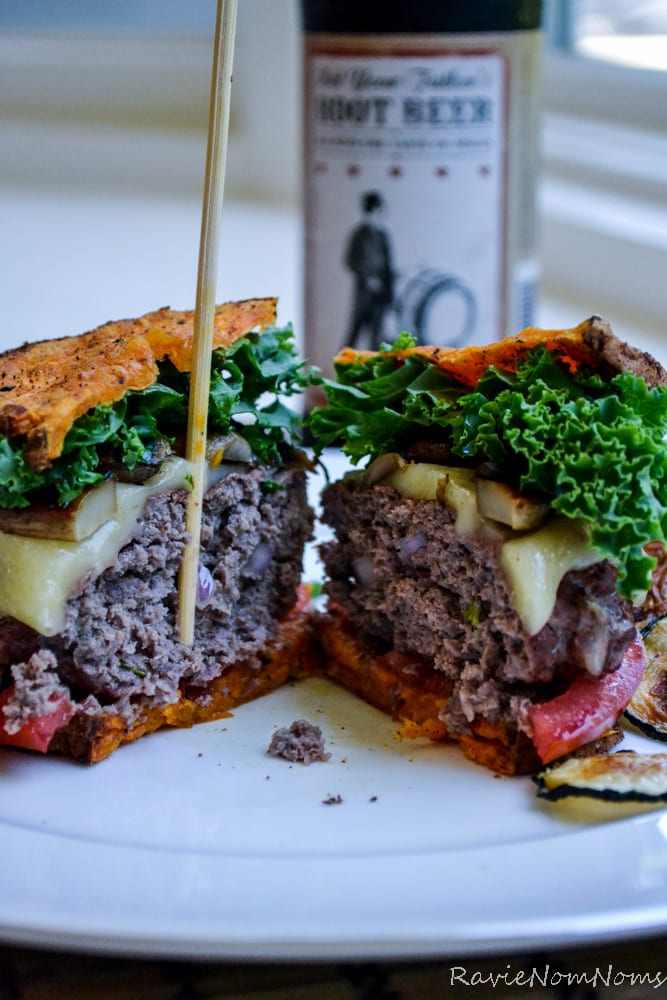 I was always one that wanted to get the burger with all the toppings, forget the bun! I want the meat and cheese and all the GOOD stuff!
Anyone who knows me, I will always go for the burger and leave the bun.
Rather save room for the good stuff!
Hence, why you will see my burger with a sweet potato "bun".
This tends to be how I make my burgers unless they are on lettuce. Just a preference of mine.
If you wanna make this burger with a bun, I guarantee it'll still be super duper amazingly delicious!
This particular burger I chose is a Bison burger.
WHUUUT?!
Yup, Bison.
I kind of fell in love with Bison not too long ago, maybe 3 years ago.
We have a place called Ted Montana's here in CT (I am sure there are tons of other locations), and they had an offering for a Bison burger.
Sure, why not, I'll be daring.
Uh, mind blown people.
Bison is amazing!
Tends to be a little leaner and also has a slight purplish hue compared to regular beef.
Taste wise I would say you probably won't notice too much of a difference from something like a ground sirloin.
If you haven't ventured to try a Bison burger, definitely do so!
Especially if you are a burger freak like me 😉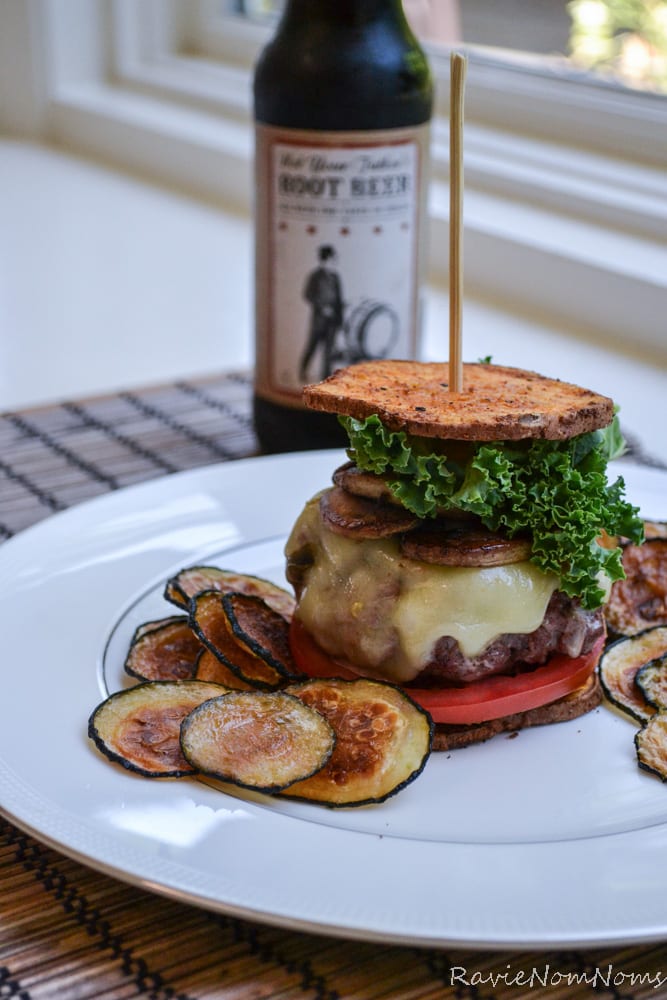 My best friend Chrissy will tell you that if I say I like a burger, it's a big deal
#burgersnob
Make sure you check out the giveaway below that Kita has set up for this August's burger month!
Lots of goodies!
Who doesn't love free stuff?!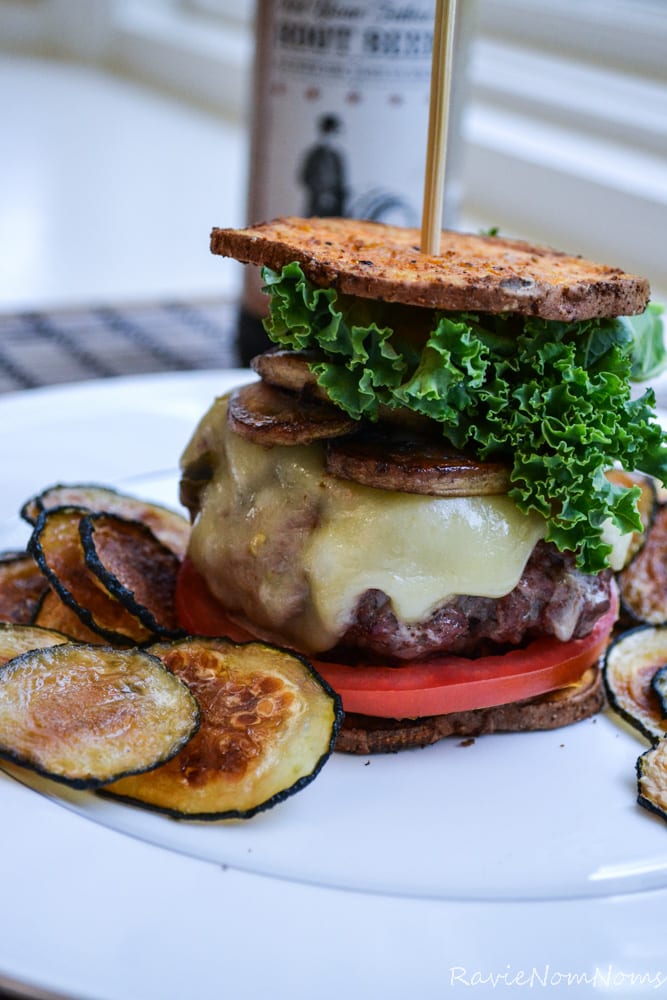 mmmm, burgers…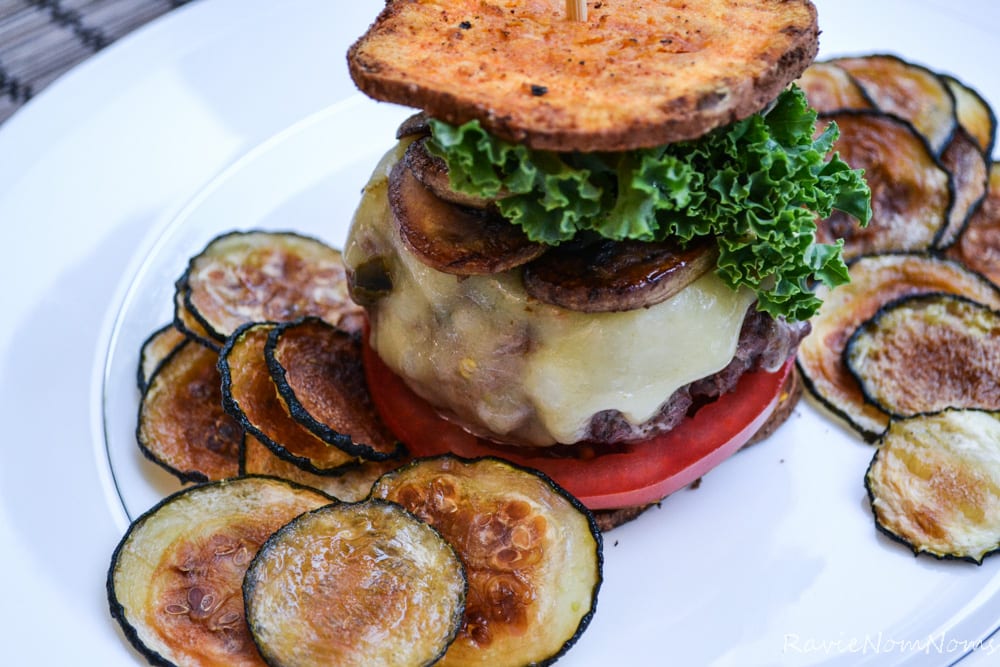 Happy Nomming!
A huge thanks to all of the creative bloggers who were just as inspired by a month of burgers as I was and the awesome companies that have donated prizes to #burgermonth, Char-Broil, Cabot Cheese, Le Creuset, Dreamfarm,Spiceologist & Woodbridge Wines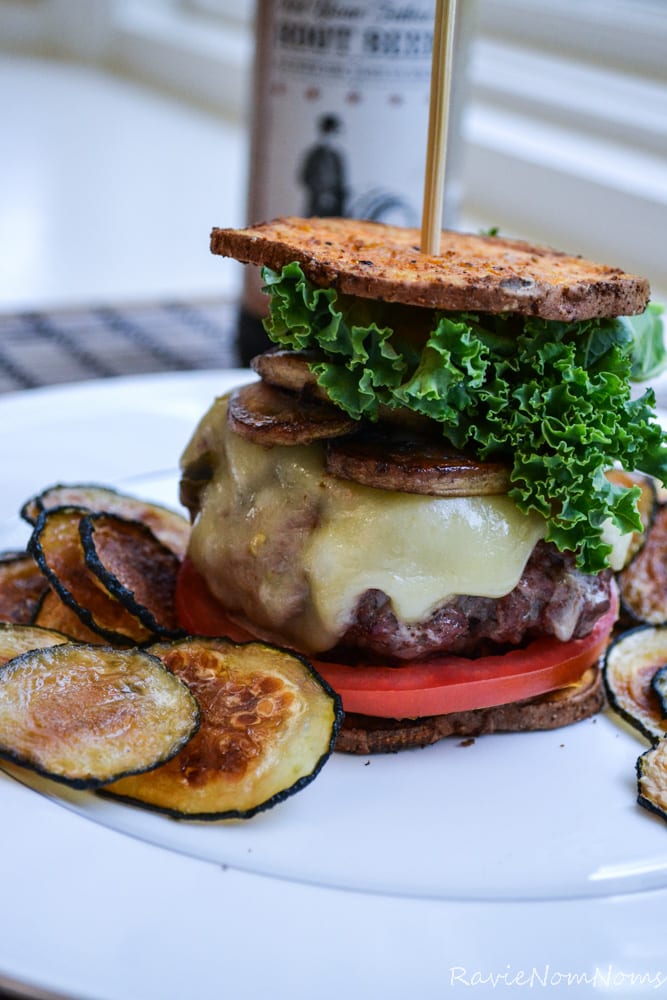 Mushroom Pepper Jack Bison Burgers w/ Zucchini Chips
2015-08-16 13:50:42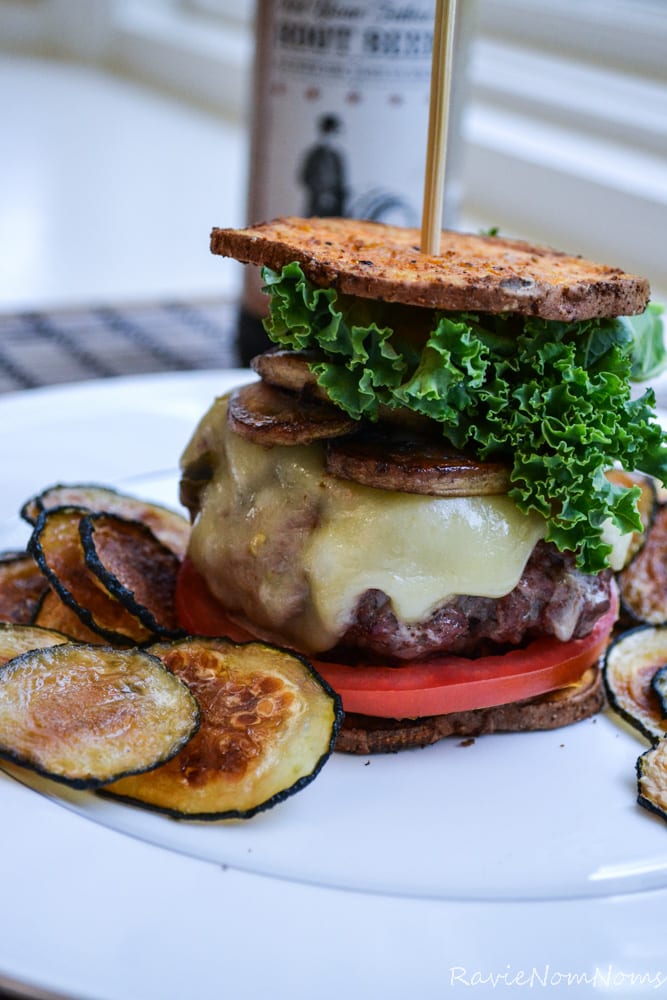 Serves 4
Enjoy summer with this super tasty burger!
For Burger
1 lb ground bison
1/2 shallot
1 tablespoon Worcestershire sauce
1 teaspoon olive oil
1 sprig of fresh rosemary, roughly chopped
4-5 button mushrooms
3oz Cabot pepper jack cheese, divided
1 fresh tomato, sliced
Small bunch of Kale
For "bun"
Salt
Pepper
Paprika
1/2 large sweet potato (big enough around to make a "bun")
Olive oil
For Zucchini Chips
1 large zucchini
2 tablespoons olive oil
Sea Salt
In order of how to prep and make burgers and sides
Chips
Preheat oven to 225°F
Using a mandolin, thinly slice the zucchini. Approximately 1/8"-1/4" thick. Place onto paper towels to get all the extra moisture out of the veggies.
Line a baking sheet with parchment paper and lay the zucchini close to each other but not touching. They can be close. They won't steam at this low oven temp.
With a brush, lightly brush all the veggies with olive oil and lightly season with salt. Do not go overboard with the salt.
Cook for 2+ hours until the moisture is gone.
For Buns
Preheat oven to 425°F.
Slice the sweet potato into slices that are approximately 1/4"-1/2" thick. Toss with spices and olive oil.
Place onto a cookie sheet with a oven proof cooling rack on top (helps to cook the potatoes evenly and provide a nice crisp "bun")
Cook for approximately 30 minutes or until the potatoes are done.
For burger
Preheat grill.
Mix together, meat, spices, sauce and olive oil and shape into 4 burgers. Set aside.
Sauté mushrooms in a pan with cooking spray and salt and set aside.
Cook for burgers on grill for about 4 minutes each side, remember Bison is lean and you don't want to over cook. Once you flip the burgers cook for one minute and then add the cheese to melt.
Assemble the burgers and enjoy!!
RavieNomNoms http://ravienomnoms.com/