Remember how I used to blog?
Yea me too.
I have been terrible about blogging lately. Not because I haven't created lots of tasty treats but I feel like I really haven't had much to say.
Do you ever have that?
Either way, I am super excited to be sharing this post today because it has to do with the amazing spiralizer I told you about with my Zoodles post.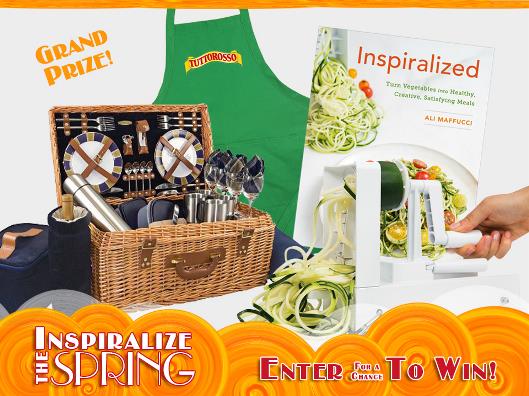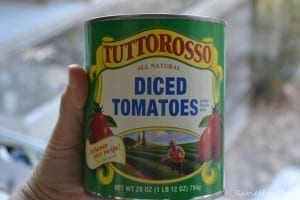 I was invited by Tuttorosso Tomatoes to share a recipes for their "Inspiralize the Spring" promotion. You can find all the details here, but I will go ahead and tell you what it is all about anyways.. 😉
During the "Inspiralize the Spring" promotion, which runs from March 25 through April 15 on Facebook, they will give away 650 Tuttorosso aprons, 15 copies of Ali Maffucci's cookbook Inspiralized, 60 of Ali's custom Inspiralizers, and a Grand Prize package that includes an Inspiralizer, a signed copy of Inspiralized, a Tuttorosso apron, and collection of kitchen gadgets all packed in a picnic basket.
How much fun is that?
I have to admit that when I first saw the Spiralizer, I really had no idea what to think of it. Since I got mine, I have been having a blast coming up with healthier versions of pasta dishes that Patrick and I love.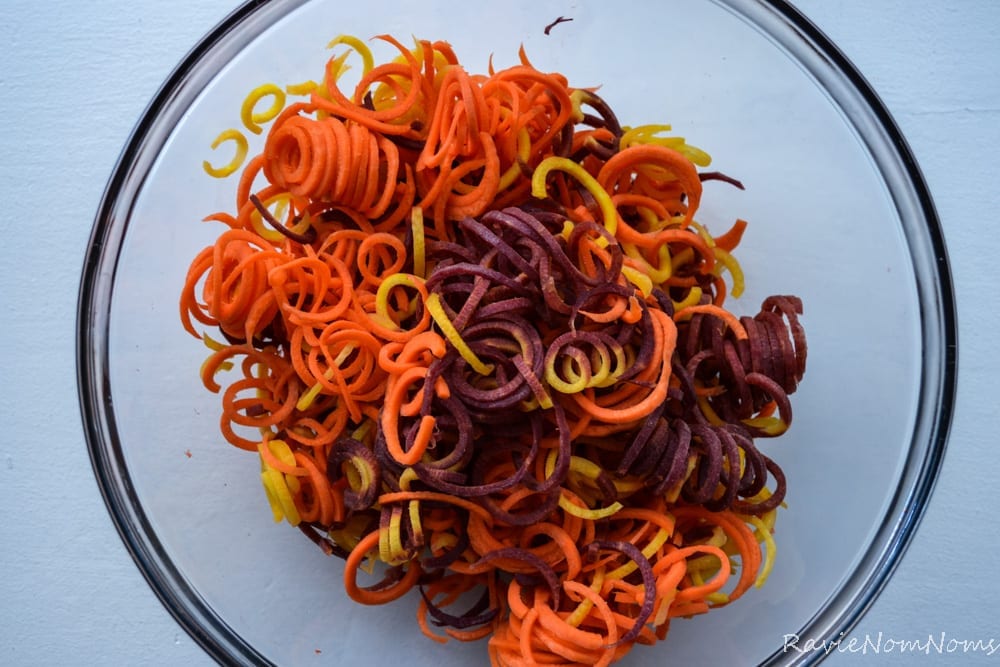 For this particular event I really wanted to do something special, because let's face it. That is a GREAT contest!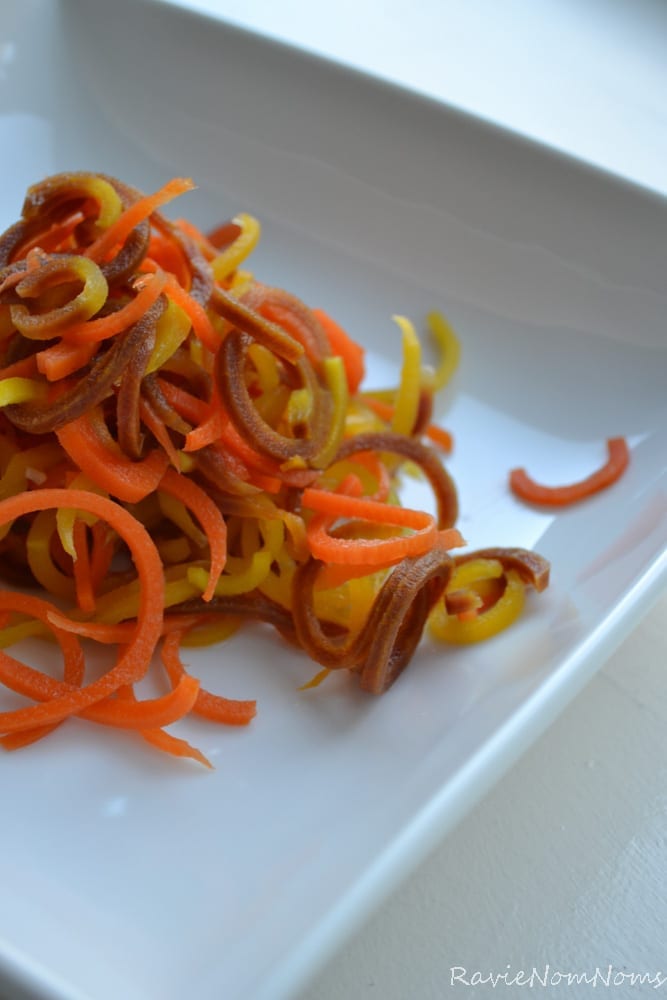 For my "Inspiralize the Spring" recipe, I chose carrots.
Carrots into noodles?!
YES!
Any of you who know me, know that I freakin' love carrots.
Literally eat them every single day and if allowed I would dip them in peanut butter at every meal.
I was SO happy to see a recipe featuring caoodles. Yea, I just said "caoodles".
At first, I have to admit I was a liiiiitle skeptical, but man oh man. They came out great!
Even the texture was surprisingly noodle like.
I decided to use tri-colored carrots because I love tri-colored pasta. I think it is fun.
Even though as a kid I would pick out the red and green ones in my mac & cheese because they "tasted funny". Which they didn't, but I was a picky child. What can I say?
I hope you go on over and check out the Giveaway!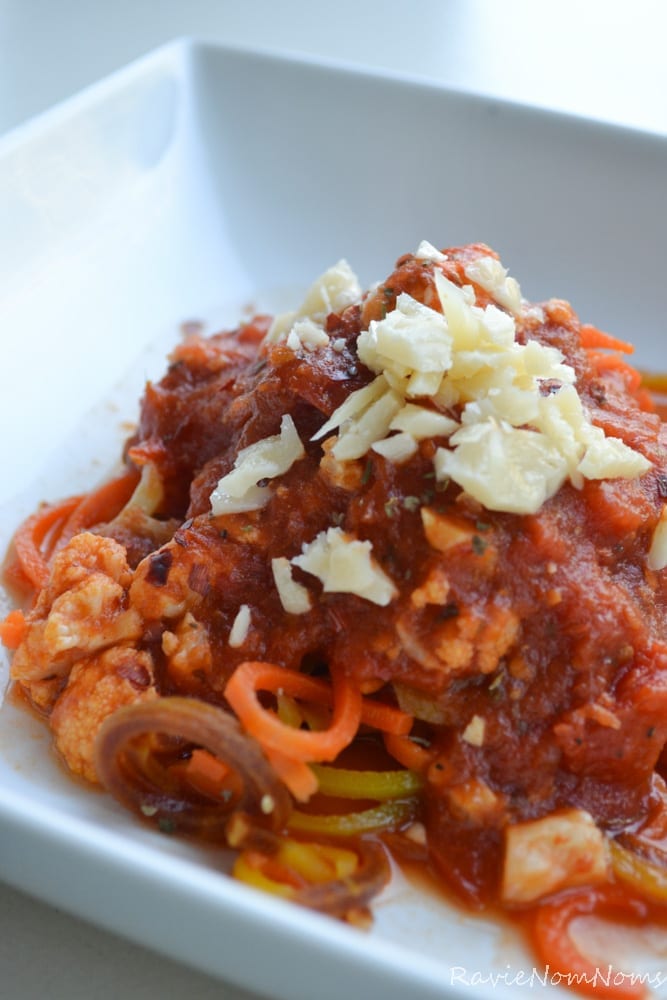 Find all the details below:
About the Giveaway:
Giveaway runs from March 25 through April 15.
A chance to win 1 of 750 Tuttorosso® Aprons
A chance to win 1 of 15 copies of Ali's new cookbook, Inspiralized
A chance to win 1 of 60 official spiralizers: The Inspiralizer (the official spiralizer of Inspiralized)
One Grand Prize winner will be awarded the following prize package worth approximately $500:
One (1) Windsor Classic Willow Deluxe picnic basket including service for 4
One (1) Inspiralized® official spiralizer: The Inspiralizer
One (1) Inspiralized cookbook by Ali Maffucci
One (1) Tuttorosso® Heirloom Wooden Spoon
One (1) Tuttorosso® Inspiralize the Spring Recipe Kit with our five (5) new recipes
Ali's favorite kitchen gadgets personally selected by Ali of Inspiralized.com
**Winners will be notified by email**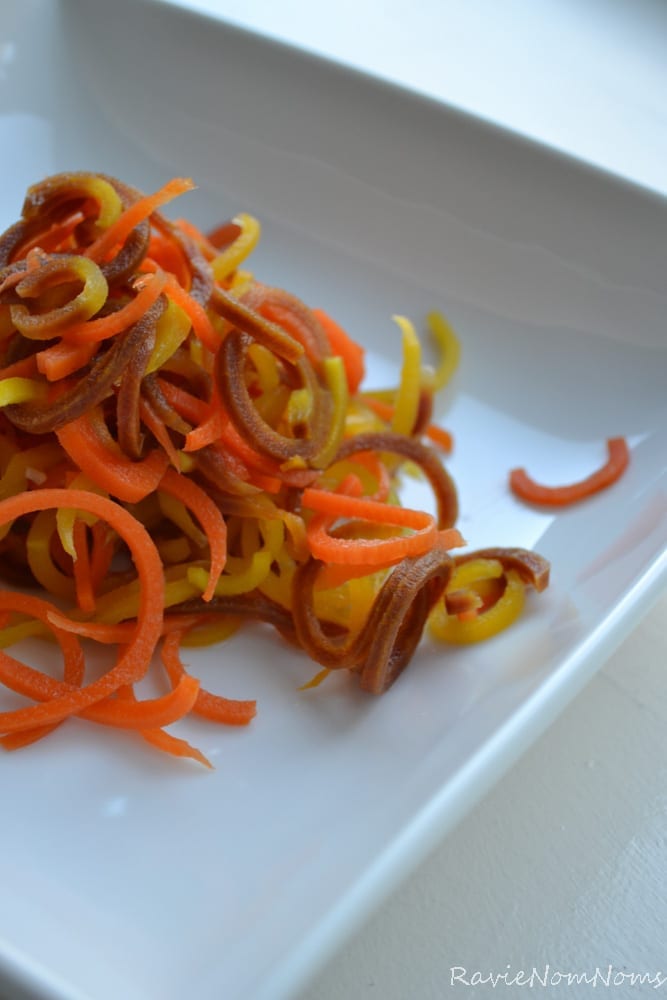 Pasta Arrabiata with Carrot Noodles
2015-04-12 17:28:07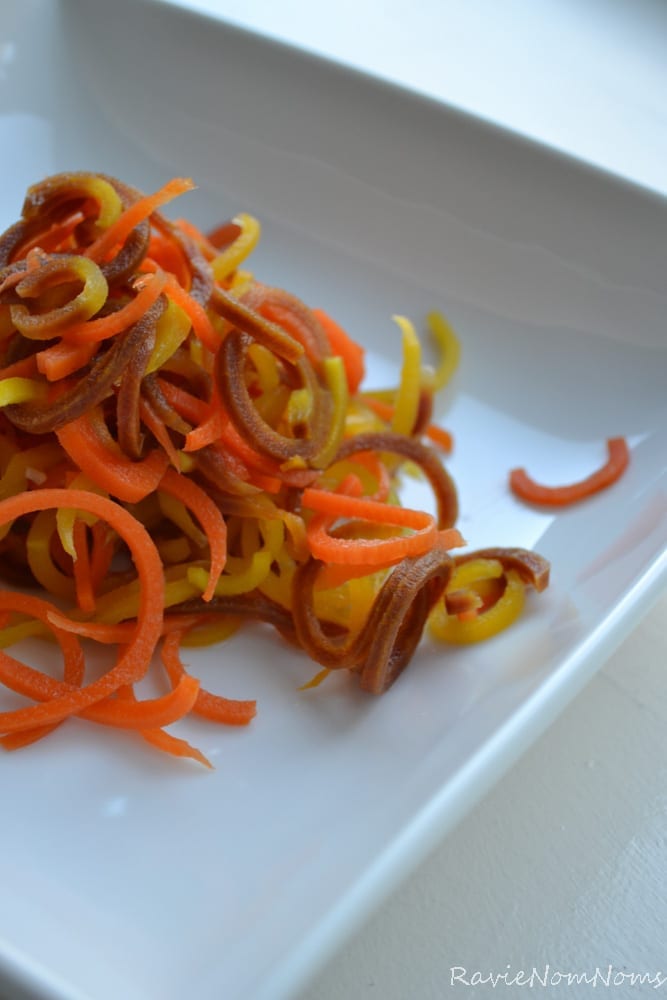 Serves 6
Spicy and light, this spiralized version of a classic pasta uses carrot noodles, which nicely absorb the flavors of the arrabiata sauce while offering their own subtle sweet flavor.
Ingredients
1/4 cup extra virgin olive oil
5 garlic cloves, minced
1 (28 ounce) can Tuttorosso® Diced Tomatoes in rich tomato juice
1 (28 ounce) can Tuttorosso® Tomato Puree with basil
1/4 head cauliflower
2 teaspoons crushed red pepper
1/2 teaspoon dried oregano
Salt and black pepper to taste
3-4 large carrots, peeled, spiralized
1/2 cup grated Parmesan cheese
1/4 cup fresh basil leaves, thinly sliced
Instructions
Heat oil in large saucepan over medium heat.
Add garlic and cook about 3 minutes or until garlic is lightly browned, being careful not to burn. Add in diced tomatoes and tomato puree, bring to a boil.
Reduce heat to low, stir in cauliflower, red pepper, oregano, salt and black pepper.
Cook uncovered for about 20 minutes, stirring occasionally.
Bring a large saucepan filled halfway with water to a boil.
Once boiling, add in the carrot noodles and cook for 2-3 minutes or until noodles are al dente. Drain into a colander and set aside.
Once sauce is done cooking, remove from heat, fold in the cheese and basil and toss well to combine.
Add in the carrot noodles, toss and transfer to a large pasta serving bowl.
Notes
Nutrition
Calories: 230
Fats:11.0g
Trans Fats:0g
Cholesterol: 7 mg
Sodium:403mg
Carbohydrate: 24g
Fiber: 5g
Protein: 8g
Vitamin A: 145 %
Vitamin C: 47%
Calcium: 16 %
Iron: 22 %
Adapted from Ali Maffucci
RavieNomNoms https://ravienomnoms.com/