Are there certain things that your family only have around the holidays?
Ever since I can remember, there would be piping hot cinnamon rolls waking me up on Christmas Morning. That smell of a fresh pastry right out of the oven sure does know how to get me out of bed.
It is a tradition that my family has had ever since I can remember.
Even now that I am in my late twenties, there is just nothing like that smell when you wake up on Christmas morning at your folks house, or when you walk in the door from your own home and you smell those amazing rolls.
Yummm….my mouth is watering even right now and I JUST enjoyed a cinnamon roll this weekend. 😉
These cinnamon rolls have a slight spin on them in ode to one of my Mom and I's favorite doughnut at a place called John's Space-age Doughnuts in Kansas City. It is one of THE most amazing doughnut shops on the planet.
They make a cinnamon roll doughnut that is glazed with this ooey gooey maple frosting…
OOOO heaven above are they amazing. So this is an attempt at that and while they aren't doughnuts, they were pretty amazing!
Ingredients for Cinnamon Rolls:
1 packet active dry yeast
1/2 cup warm water
1/2 teaspoon granulated sugar, plus 1/4 cup
1/3 cup butter, melted
1/2 cup skim milk
1 teaspoon kosher salt
1 large egg
4 cups all-purpose flour
Filling:
1/3 cup butter, melted
1 cup brown sugar
1 tablespoon ground cinnamon
Glaze:
1 1/2-2 cups powdered sugar
3 tablespoons milk
1-2 teaspoons maple syrup
For the Dough: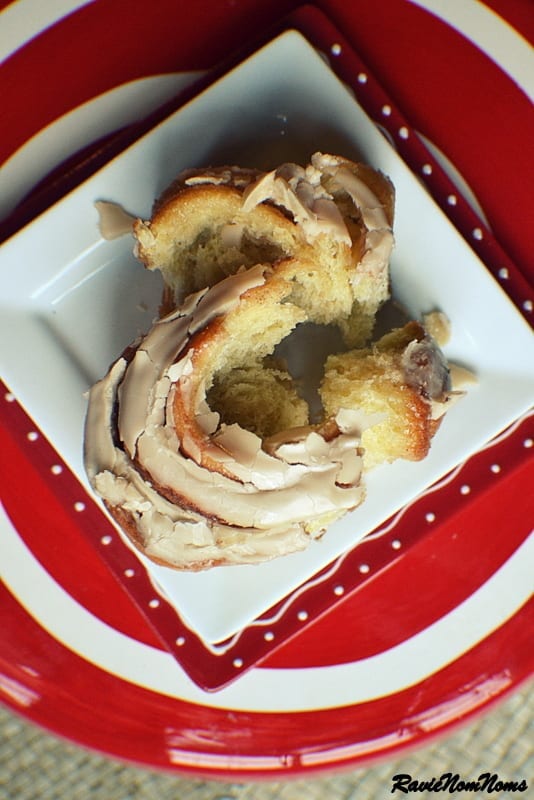 In a small glass bowl, combine yeast and warm water. Make sure your water is NOT higher in temperature than 115º. Sprinkle with a pinch of sugar to "feed" the yeast. Stir to combine and let sit for about 10 minutes.
The yeast should look foamy and bubbly, which means it is active and ready to be used in your recipe!
Mix together melted butter, milk, salt, egg and 2 cups of flour. Mix together on medium speed with your mixer (hand mixer or stand). Add the yeast mixture and continue to mix together, slowly adding the remaining 2 cups of flour. Mix for about 3 minutes, until dough forms around beater/dough hook.
Remove dough to a lightly floured surface and kneed by hand for about 5 minutes.
Form dough into a ball and place into a well-greased bowl. Cover the bowl with a damp kitchen towel, set in a bowl in a warm, dry place for about an hour or until the dough almost doubles in size.
Remove the dough from the bowl onto a floured surface and punch it down, releasing the air bubbles.
Using a rolling pin, roll the dough into a 9″x13″ rectangle. Once the dough is rolled out, use a pastry brush to cover the dough rectangle with melted butter for the filling.
Even spread the brown sugar and cinnamon (add nuts at this step if you like to have nuts in your rolls).
Starting from the edge of the dough closest to you, roll from the bottom up like a jelly roll. Fold the ends under onto themselves so you make the ends look like hotdogs (pinched and folded).
Slice the roll into 2-2 1/2″ pieces with a very sharp knife, yields about 6-8 rolls. If you prefer smaller rolls, decrease the size to 1 1/2″ and get about 9-12 rolls.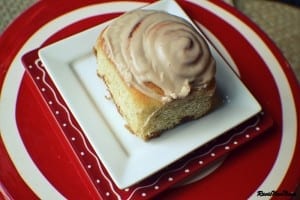 Place each piece into a greased 9″x13″ glass baking dish. Cover the pan once again with a damp towel and return it to it's warm, dry place. Let rest for 30 minutes or until risen.
Preheat oven to 350º
Bake rolls for 30 minutes or until light and golden brown.
While you are waiting for the rolls to cool just a tad, make your glaze.
Combine all ingredients (powdered sugar, milk, and maple syrup) and mix together. For a thicker glaze add more sugar and for a thinner glaze add milk or vanilla extract. This is completely up to your preference.
Pour glaze over warm rolls and serve warm.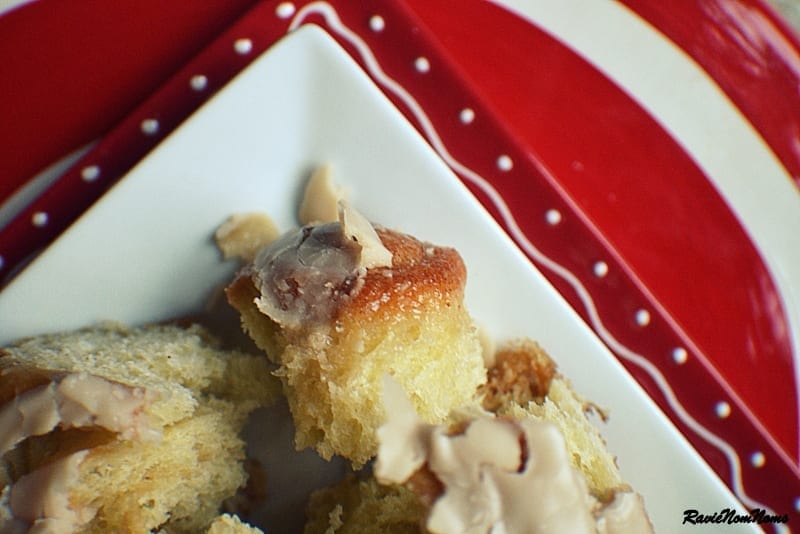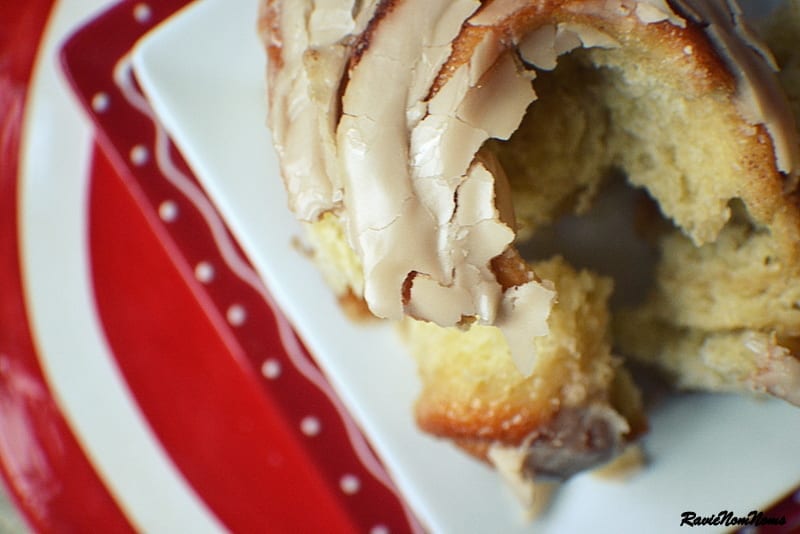 You will be amazed at how delicious these are and how much your entire family will not be able to stop at one.
Adapted from Fabio's Gooey Cinnamon Buns.
Have a lovely start to your week my dears!