Happy hump day!
First off, I wanted to say to anyone who had someone at the Boston Marathon that was involved in the truly horrible acts that occurred, you are in my prayers. I won't go on a long preach sesh about how terrible it was, even though it was…just know that you have my thoughts and prayers with you. I was very lucky that all my friends that were there are safe ♥
Anyways, so how is your Wednesday going?
Mine started off with a workout and then off to a lovely day of work and will conclude with some laziness on the couch this evening. Living the dream 😉
I finally got adjusted back to normal time now. I feel like it took me a good 3-4 days to get back in tune with my normal schedule after getting back from Portugal.
You know what I have discovered more than anything else this past month?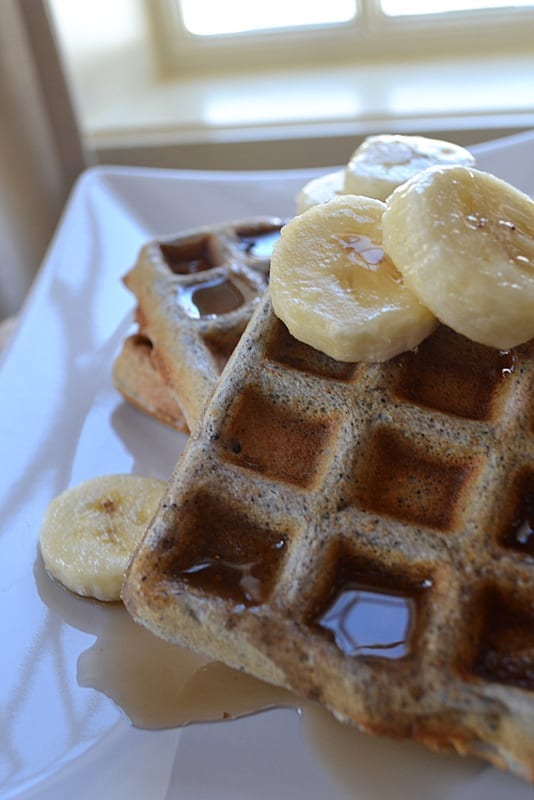 I am a total creature of habit and ritual. I like my schedule, I like my routine and I do not like it when it gets broken for more than a day at a time. This might have something to do with the fact that I am super organized, punctual and almost OCD when it comes to cleaning haha
It always seems like the impression that "routine" is bad. That you should always change things up because your days will seem boring and without color.
I understand changing up your work out regime so that you work other muscles, but what is wrong with having a routine that you do every day or week or whatever it might be?
I have determined that being a person that is a little more rigid when it comes to daily tasks isn't a bad thing, it is just who I am and I am going to accept that.
Yes, at times it might make me a little less flexible, but if going to the gym or cleaning the house or cooking or running my errands makes me feel good or better when I am having a bad day…what is the harm in that?
Am I hurting anyone by having a routine during the week?
Patrick seems to be getting used to it haha, and I certainly don't force him to have a routine. He can do what he wants when he likes and I have no problem with it.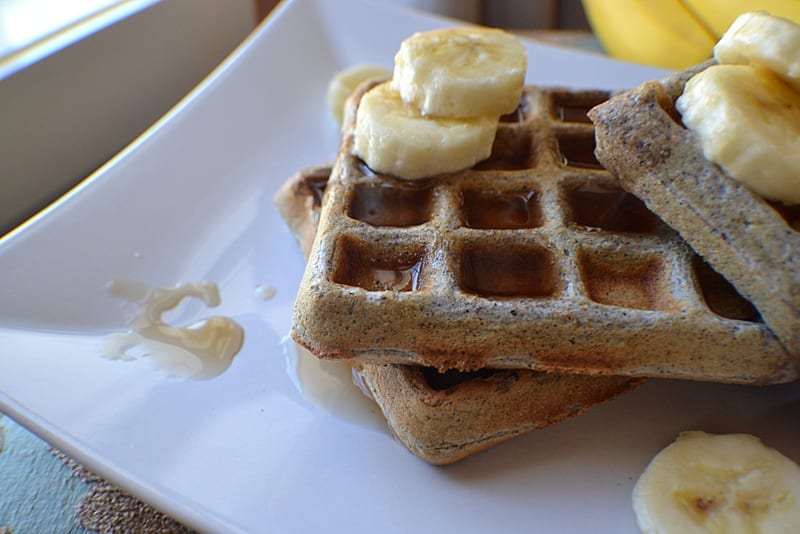 I am not saying that I don't like to take a surprise day trip someplace to go and do whatever whenever. That is good, just as long as I have all my other things taken care of first 😉
Speaking of routine, I do not normally have large breakfasts during the week. I know that breakfast is the most important meal of the day and I do eat breakfast everyday, but during the work week it is hard to have a larger sit down breakfast meal.
This recipe I am sharing today is my recreation of a waffle that I had in Albuquerque last fall while visiting some friends. The place was called Harry's Roudhouse and we had stopped for breakfast.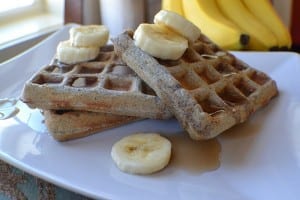 I was a big fan of the food in ABQ, but this place struck a cord with me for their "Blue Cornmeal Waffles". Oh my lord they were good, albeit NOT healthy but so good.
I wanted to recreate these waffles, but in a way that would make me feel like I wasn't doing something truly terrible to my body.
I looked in my handy dandy Cooking Light cookbooks and found a recipe that I could adapt to make the waffles more healthy.
I hope you enjoy them as much as I did!
Blue Cornmeal Waffles
Author:
Prep time:
Cook time:
Total time:
A recipe that was recreated after having blue cornmeal waffles in Albuquerque.
Ingredients
1 cup whole wheat flour
1 1/2 cups blue cornmeal
2 1/2 tablespoons white sugar
2 tablespoons baking powder
3/4 teaspoon baking soda
4 egg whites
1 3/4 cup nonfat buttermilk
Instructions
Preheat waffle iron of your choice and coat with cooking spray
In medium bowl, stir together all of the dry ingredients with a whisk. Make a well in the center and stir in the buttermilk just until smooth.
In a separate bowl, whip egg whiles with an electric mixer until thick enough to hold a stiff peak. This takes about 5-8 minutes.
Carefully fold the egg whites into the blue cornmeal batter.
Spoon batter into the hot waffle iron in the amount that is appropriate for your iron. Do not overfill. Make sure when you put in batter that it does not fill the entire iron, it will spread as it cooks.
Cook until waffles are golden brown.
Serving size:
1
Calories:
130
Fat:
.9
Carbohydrates:
25.9
Sodium:
305
Fiber:
1.9
Protein:
5.1
Cholesterol:
2
Notes
Adapted from Cooking Light Recipe found [url href="http://www.myrecipes.com/recipe/cornmeal-waffles-10000000665146/"]here[/url].