Happy hump day
How's the week going?
My week has been rather busy. Lots of things going on.
The guy who came in to do our second floor refinishing is here this week. Patrick and I are having him match the floor that we bought to replace the first floor wood.
So far it looks really nice. Pictures to come. I think he should be done taking all our money by this weekend.
We are going with dark color and I couldn't be happier about it. Something about dark floors with really nice colonial white molding is so elegant and pleasing to my eye.
In the end, I know it is going to look awesome. For right now I am just hoping we have no hiccups, which thus far we have avoided ::crosses fingers::
I also have some great news!
Patrick and I are going to Portugal in April!!!
I am so excited! I have never been to Portugal so I am really looking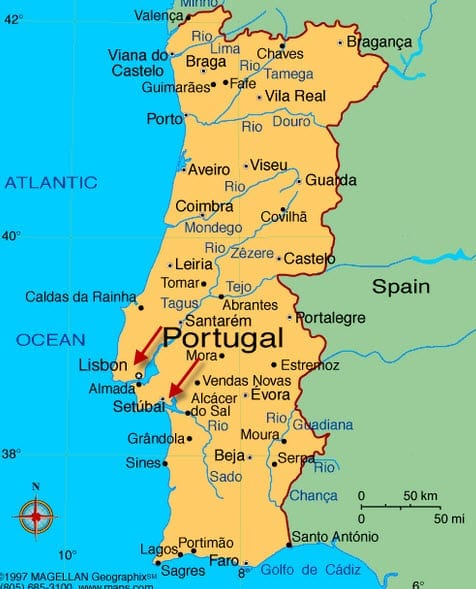 forward to it but I am also nervous.
Being in a foreign country has always made me a bit nervous because there is the language barrier and sometimes you are on your own in a strange place.
Once I get there I am sure I will be fine, but there is lots of things to look into and to see what I can do.
Patrick will be working during the days, his job has him traveling all over. But at least I get to go with him this time and take advantage of the spot he is at!
We were able to get this entire trip for $50. All we had to do was pay for my plane ticket because Patrick is covered through work, as well as a hotel, and since he has traveled so much he cashed in miles for me so the entire getting to and from Portugal will cost us $50…
Soak that in…
$50 to go to Portugal!! I can't even get a tank of gas for that cheap right now! haha
Needless to say we are excited about it and if any of you have been to Portugal (Patrick and I will be in Lisbon & Setúbal), please feel free to leave suggestions as to what to do, where to eat, what sights to see.
I am totally up for suggestion and if you haven't been before…I am sure I will have TONS of pictures to show you when I get back. 🙂
Today I am sharing with you a classic. Something simple but it always seems like I am trying different banana breads. There are so many!
With nuts, with fruit, with glaze, with zucchini…
Not his kind of banana:

This recipe is another Cooking Light fave from their cookbook "Way to Bake". Simple and healthy. I changed the recipe to compliment what ingredients I had.

Original Recipe can be found here.
Ingredients:
1 1/2 cups mashed ripe banana
1/3 cup fat-free sour cream
5 tablespoons butter, melted
2 large eggs
1/2 cup granulated sugar
1/2 cup packed brown sugar
6.75 ounces all-purpose flour (about 1 1/2 cups)
1/4 cup toasted wheat germ
3/4 teaspoon baking soda
1/2 teaspoon salt
1/2 teaspoon ground cinnamon
1/8 teaspoon ground allspice
Cooking spray
1/3 cup powdered sugar
1 1/2 teaspoons water
1/4 teaspoon cinnamon
Preheat oven to 350°
Combine first banana, sour cream, butter and eggs in a medium sized bowl. Mix together well with a whisk. Add granulated sugar and then brown sugar and mix until well combined.
Combine flour, wheat germ, baking soda, salt, cinnamon and allspice together. Whisk together until combined.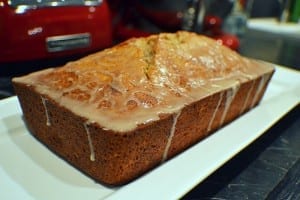 Note to those not familiar with allspice: Be very careful with it. It is a strong spice and if you add too much it might overpower the recipe. Stick with the 1/8 teaspoon unless you are familiar with and really enjoy that taste.
Add the wet and dry mixtures together and beat just until blended. Pour batter into a 9 x 5-inch loaf pan coated with cooking spray.
Bake 55 minutes or until a wooden pick inserted in center comes out clean. This will depend upon your oven and how it works. Mine took a little longer than 55 minutes to get the center cooked.
Let the loaf cool in the pan on a wire rack for about 10 minutes. Remove bread from pan and cool bread completely.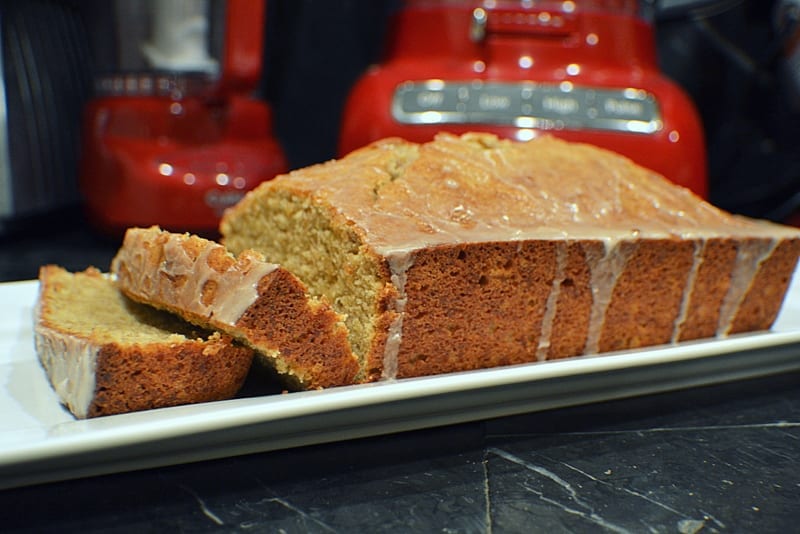 Combine the sugar, cinnamon and water for the coating on top. Drizzle over top of the loaf and enjoy!
This recipe with my alterations should be around 160 calories per slice. Not too shabby at all
This loaf should yield 16 slices.
OH and my positive things jar is filling up so far during this Lent season: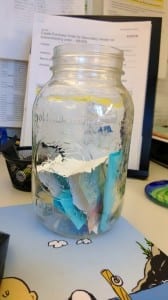 And yes, I am doing it in a mason jar 😉
Have a great Wednesday!