I would like to welcome Priscilla today from She's Cookin' from the Heart!
Priscilla has been a long time blogger friend. Her and I share a deep rooted love for Salmon 😉
She has amazing recipes and always has great posts on local places to eat when she travels and also great ways to mix up old classics.
I adore seeing what she is doing!
Thanks so much for coming Priscilla!
*******************************************************************************************************************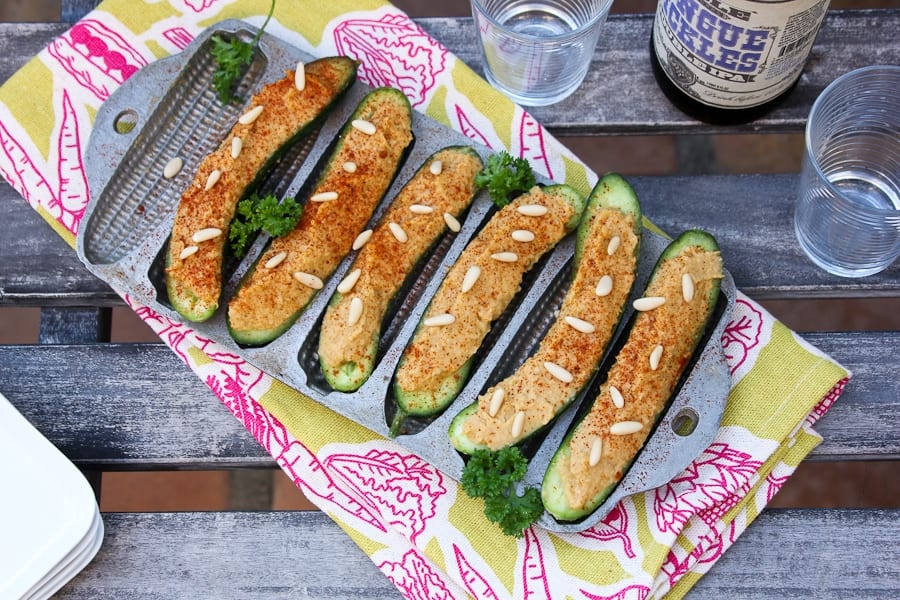 Hatch chiles. All of a sudden they're everywhere. You know they're a chile, but are they mild or hot? What's the best way to prepare them? Unless you live in New Mexico these are questions you might be asking.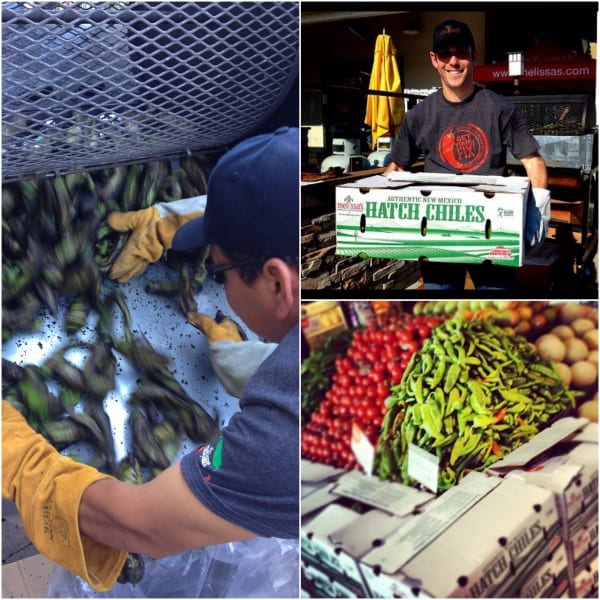 Here's the scoop:
* Authentic New Mexican Hatch Chiles are a favorite Southwestern chile. They are named after the original growing area in Hatch, New Mexico. Chefs say that the intense sunlight and cool nights in this valley result in a uniquely flavored chile. They're grown in the Mesilla valley, which stretches along the Rio Grande's southern-most bend before crossing into Texas and Mexico.
* The season for authentic Hatch Chiles is very short, typically it begins in late August/early September and lasts until mid-October so get them while you can. Stores in Southern California host Hatch Chile roastings where you can buy them by the case already roasted. Check for a store near you. Chile roastings are like a mini Hatch Chile Festival where you'll meet fellow chile heads swapping recipes and tales of how they came to be a Hatch lover.
*Hatch chiles can range from mild to medium-hot and are most like Anaheim chiles. They're great in Chile Con Queso, Chile Rellenos, and Chile Verde. But, don't stop there…try roasting and using them in salads, soups, stews, dips, and sandwiches.
* You can also grill Hatch chiles which is my preferred method to ensure a year-round supply. Grilled or roasted, Hatch chiles can be frozen and will keep for two years. Their flavor and heat intensifies over time.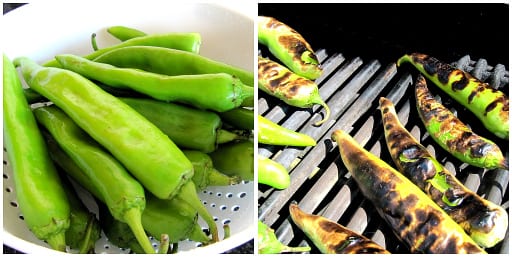 Visit Priscilla's website for tips on how to grill and roast Hatch Chiles so you can enjoy them all year.
Just when I think I've cooked Hatch chiles about every way you can, I come up with something new! Like these super easy cucumber Hatch Chile Hummus Boats – a tasty and nutritious snack for grown ups or kids that required NO COOKING. Yay! We washed ours down with a little Tongue Tickler Double IPA from Noble Ale Works. Cool and refreshing!
I also riffed on my Chicken Enchiladas with Hatch Chile Sauce from two years ago. It was better than the first time – probably because it was cooked in my trusty cast iron skillet and adorned with heirloom cherry tomatoes, isn't summer wonderful?
Then there's Corn Pudding with Hatch Chiles (you'll love how easy it is to make and its soufflé-like texture), Candied Bacon & Hatch Chile Pancakes (a heavenly sweet & savory combination), Grilled Pineapple and Hatch Chile Salsa, Heirloom Tomato and Grilled Corn Salad with Hatch chiles and now this quick and healthy snack of Cucumber Boats stuffed with Hatch Chile Hummus. One of these recipes is certain to make you catch Hatch Chile fever!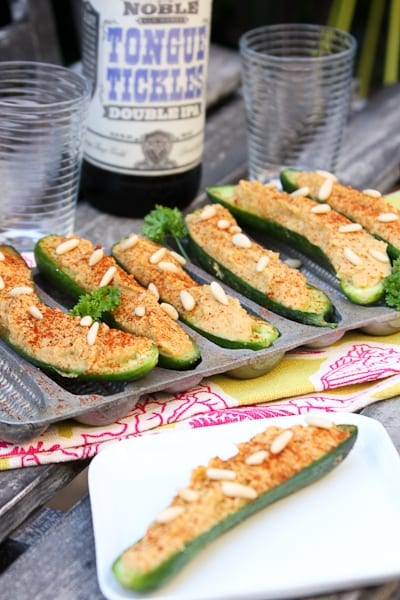 Cucumber Hatch Chile Hummus Boats
Cute little cucumber boats filled with healthy homemade Hatch Chile Hummus.Takes 10 minutes to make this refreshing appetizer or snack!
Ingredients:
Hatch Chile Hummus
1 can No-Salt Added chickpeas (garbanzo beans)
2 cloves garlic, smashed
1 grilled or roasted Hatch chile
1 teaspoon Mrs. Dash's Zesty Lime seasoning
1/3 cup extra virgin olive oil
6 Persian cucumbers
1/8 teaspoon Melissa's Hot Hatch Chile powder
1 tablespoon pine nuts
Instructions:
Place all the ingredients in a food processor or blender and process to a nearly smooth consistency.
Halve the Persian cucumbers in half lengthwise. Remove the seeds and, using a spreader or pastry bag, fill the cucumber halves with hummus. Sprinkle with Hatch Chile powder and pine nuts.
Serve immediately, or chill until ready to serve.