I am so happy and excited to be a part of what has become the annual Burger Month with Kita from Girl Carnivore ! Every year it there is an amazing burger stack up and this it has turned out to be even better than the last!!
Make sure you get yourself put into the raffles for some amazing prizes! All of our sponsors this year are top notch and are seriously providing some amazing swag!
Look below for what you could win! Make sure you enter the raffle below!
American Lamb Board – (4) ALB prize boxes 5 lbs of ground lamb, an apron and a meat thermometer
Cabot Cheese – (4) Cabot Cheese Legacy Gift Box – 2 each Farmhouse Reserve, White Oak & Alpine Cheddar – 1 each New York Vintage & Seriously Sharp & 1 Wine Bottle Opener
Cassabella – Week 3 – 1 Chop 'N Prep™ Cutting Board with 4 Cutting Mats
Certified Angus Beef – (4) CAB prize grilling accessory kit, $50 VISA card, and a George Motz Hamburger America cookbook.
Char-Broil – (4) Char-Broil Performance 780 Charcoal Grill
Cowboy Charcoal – (4) Hardwood Lump Charcoal, a variety of wood chips and some of Cowboy's new BBQ sauces.
Cuttingboard.com – (4) Olive Wood Carver Board
Dreamfarm – Week 2 – Big Vebo
Grill Master Club Subscription Grilling Box – (4) curated grill sample boxes
KitchenIQ -Week 1 – V-etched Container Grater
Spiceologist – Week 3 – 8 Rub Grilling Spice Set
Swissmar – Week 4 – Glow 7PC Fondue Set
Where this epic burger creation is my own for #BurgerMonth 2016, I would love to thank American Lamb Board, Cowboy Charcoal, Char-broil, Casabella, Cabot Cheese, Grill Master Club, Certified Angus Beef, Spiceologist and CuttingBoard.com for the kick butt grill prize packages!
Be sure to check every #BurgerMonth post for chances to win!
Also, make sure you check out all the blogs below for their recipes this week and of course stop by and see Kita who is amazing and always pulls this together flawlessly!
My burger this year is a Broccoli & Cheddar Stuffed Breakfast Burger!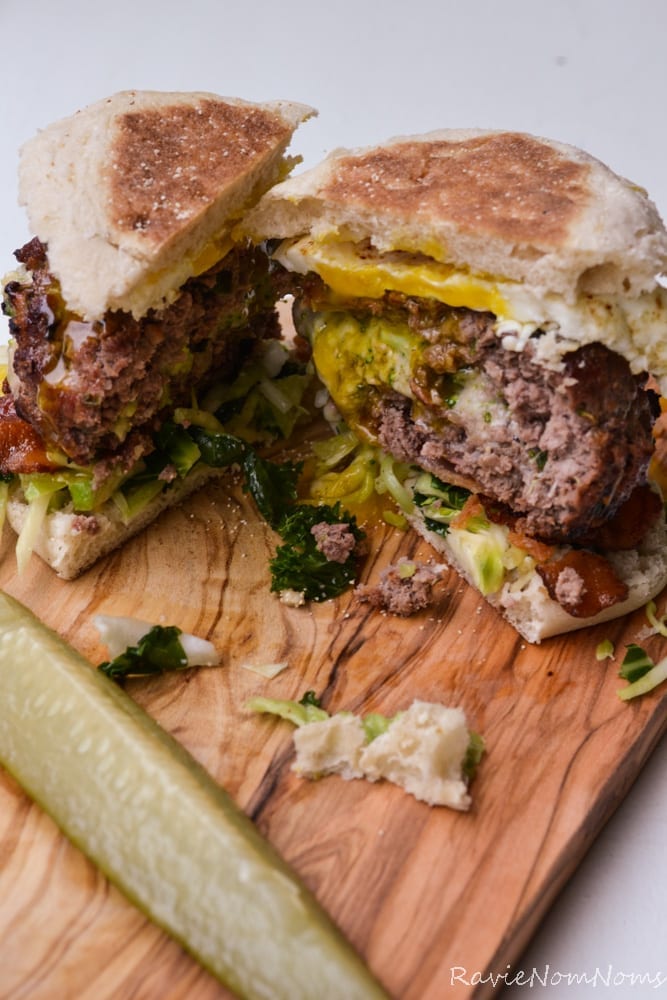 I am combining my 2 favorite things, burgers and breakfast!
Runny egg, tons of cheese, a little green and bacon…of course!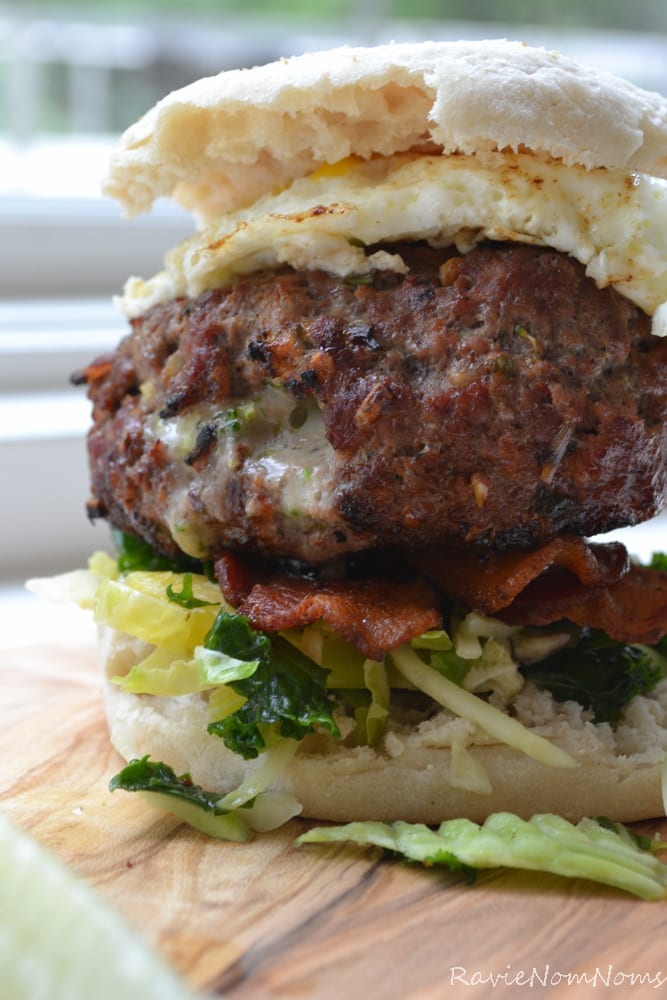 Serve along side a pickle and I am I happy girl!!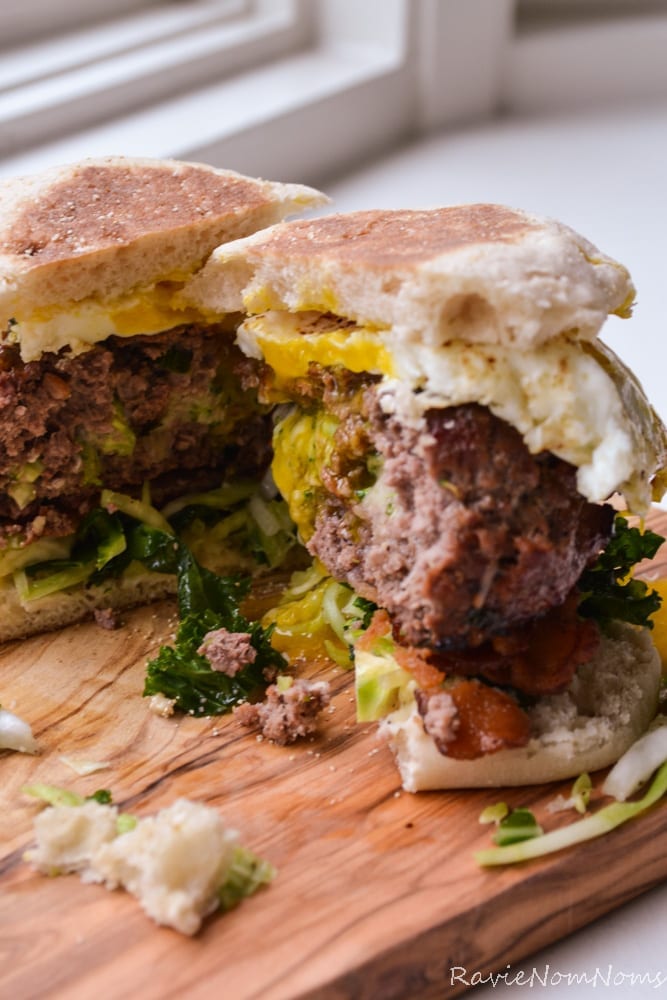 Holy runny egg batman!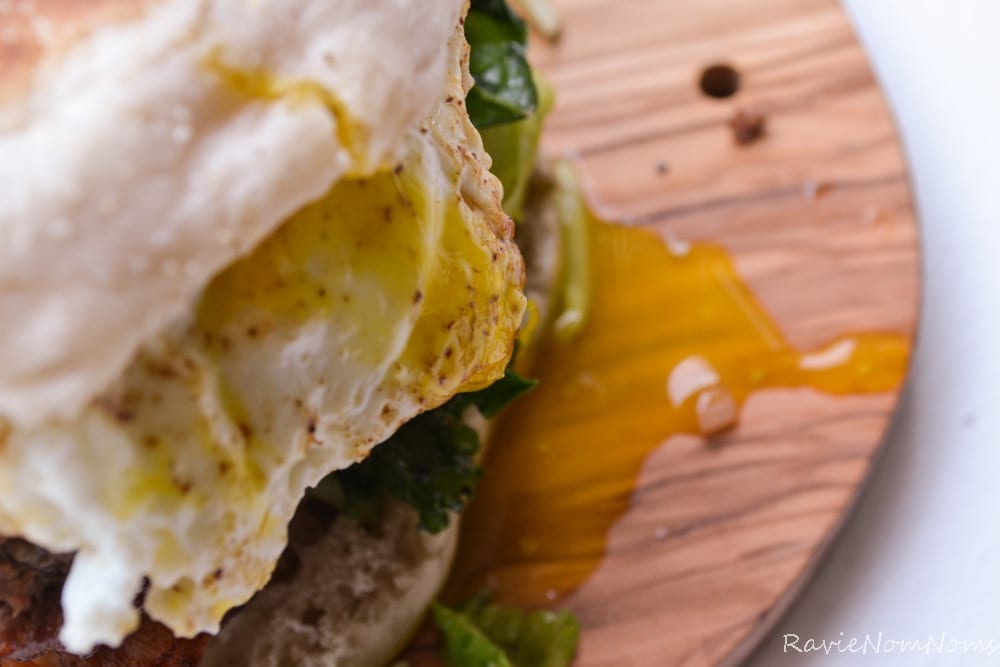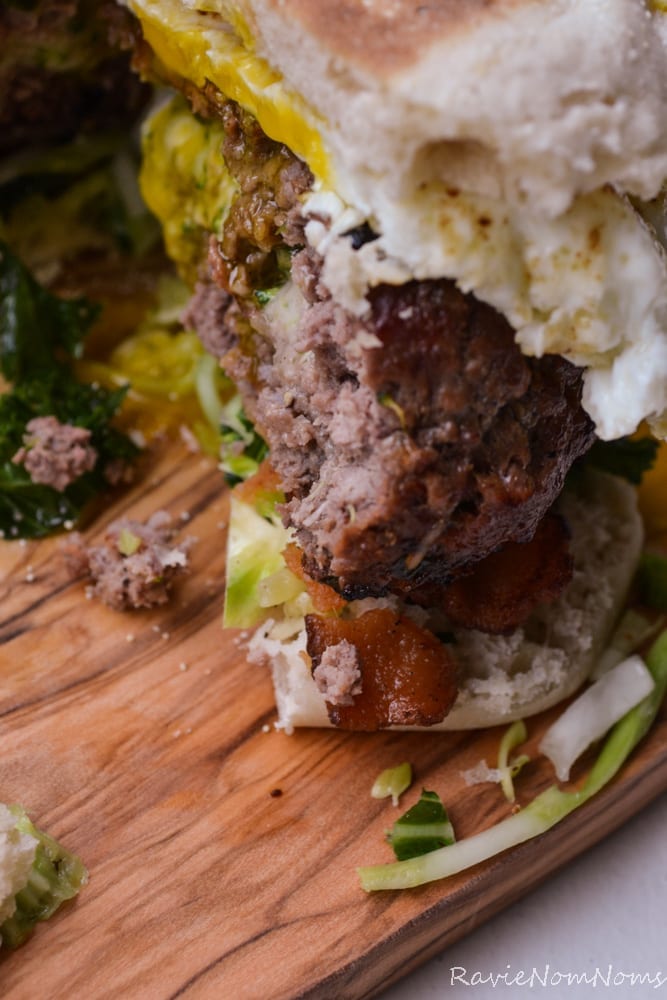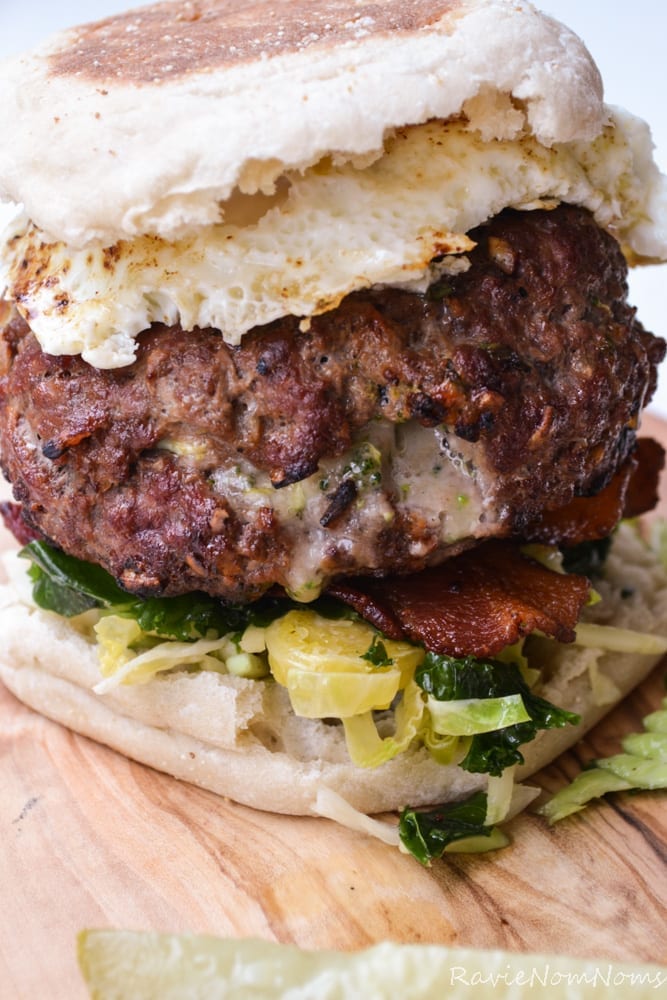 This is my epic burger, I hope you enjoy!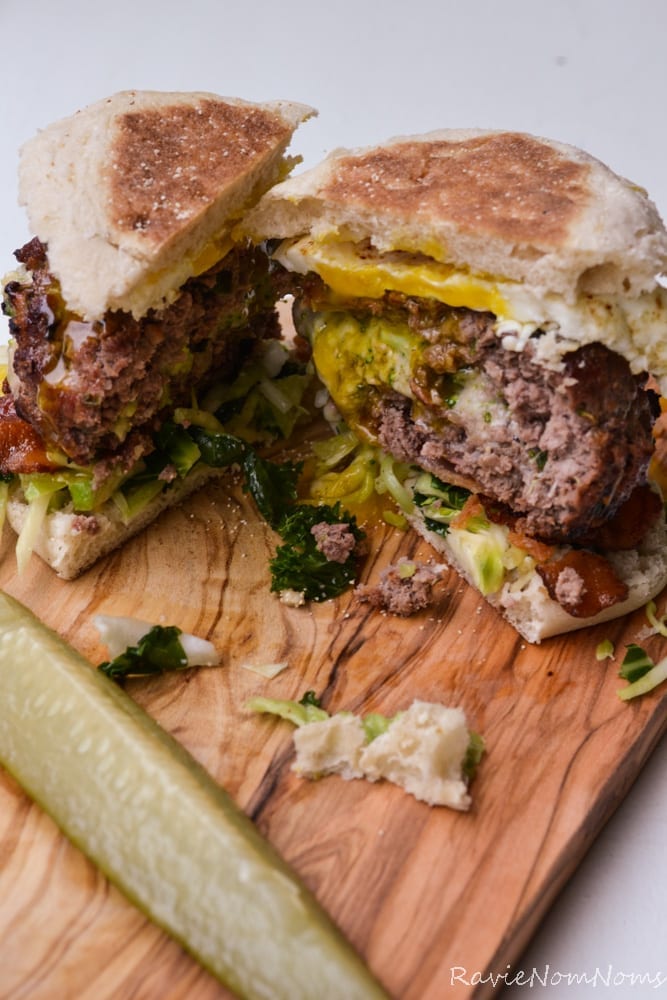 Broccoli & Cheddar Stuffed Breakfast Burger
2016-05-14 12:22:42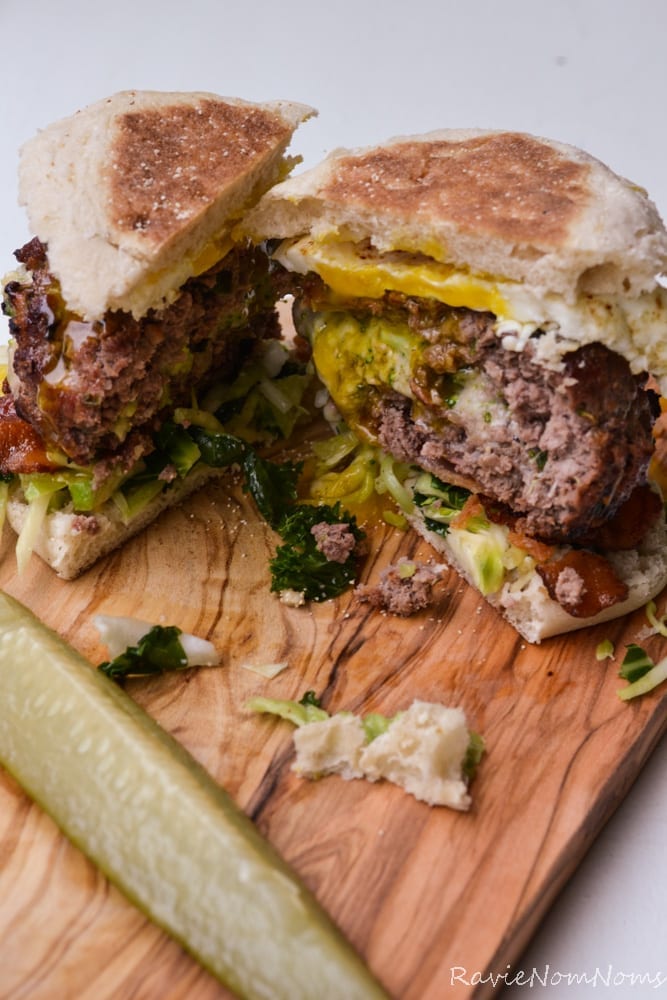 Serves 2
Celebrate Burger Month with this amazingly good burger!
Burger
1 lb of Certified Angus Beef©
2 Tablespoons Worcestershire sauce
1/4 cup fresh chives
1 teaspoon garlic powder
1 teaspoon red pepper flakes
1 teaspoon onion flakes
salt & pepper to taste
1/2-1 lb thick cut bacon
2-4 fresh eggs
2-4 English muffins
Stuffing
1/2 cup Sharp Cheddar Cabot Cheese©
1/4 cup chopped broccoli
2 tablespoons goat cheese
Slaw
Broccoli Slaw
Kale
Radicchio
Kale
Brussel Sprouts
Fresh Lemon Juice
Salt
Pepper
Basil olive oil
Burger
Place beef, sauce, chives, garlic powder, onions, pepper flakes, salt and pepper into bowl and use your fingers to mold together. Set aside and heat up grill.
Stuffing
Chop broccoli and place into a small bowl. Add in cheese and mold together with your hands.
To form burgers, divide the meat into 1/4 lbs balls and then split each ball (8 total). Place 1/4 of all onto flat surface and make a well like you are making pasta. Place the stuffing mixture into each "well" and then top with remaining meat and smoosh together until formed into a regular burger shape.
Place burgers onto grill and cook for 5 minutes each side.
While burgers are cooking place raw salad components into a bowl and toss with olive oil, and lemon juice. Set aside until ready to serve.
Cook bacon until desired doneness is achieved. I like crispy.
Remove burgers from grill, cook eggs in leftover bacon grease (I made over easy).
Build and consume!
RavieNomNoms http://ravienomnoms.com/