Well hellloooo there!
I hope your holidays have been filled with lots of love and cheer thus far.  Mine have been quiet.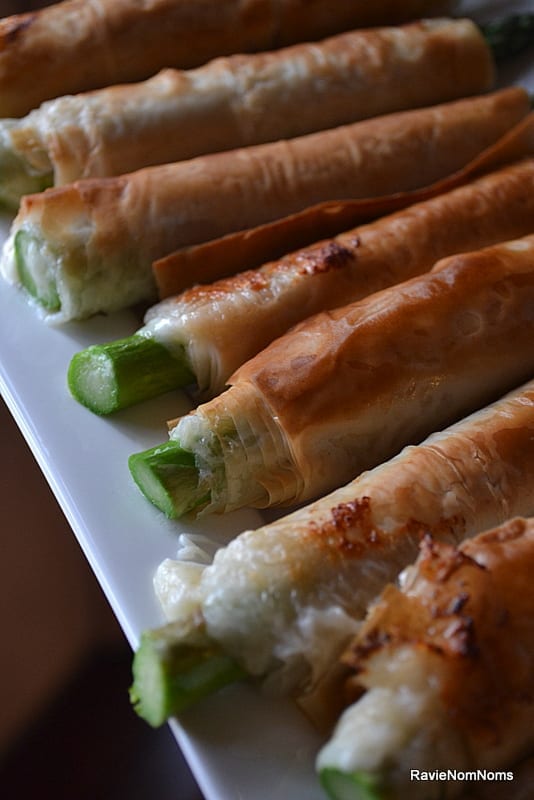 Spent the majority of my time with my folks. Patrick is in St. Louis visiting family.
The past few days have been a chance for me to reflect on the year and also to just sit back and relax.
I have had the past week off on vacation. My office has had a mandatory shutdown on holiday weeks this year. Which is good and bad I suppose.
It has been nice to be able to sleep in and catch up on some reading.
Santa brought my all I could have wanted and I hope he did for you as well.
If your family is anything like mine, you eat a lot during the holidays. I mean A LOT.
This recipe is based off of a Cooking Light recipe that is super easy and is also easy on the waistline. You could add cheese to this if you would like. I would suggest a provolone.
Enjoy!
Prosciutto Wrapped Asparagus
Author:
Prep time:
Cook time:
Total time:
This simple recipe will have your guests amazed!!
Ingredients
3 ounces thinly sliced prosciutto, cut into 30 long, thin strips
30 asparagus spears, trimmed
10 (14 x 9-inch) sheets frozen phyllo dough, thawed
Cooking spray
Instructions
Preheat oven to 450°.
Wrap 1 prosciutto strip around each asparagus spear, barber pole–style.
Place 1 phyllo sheet on a work surface (cover remaining phyllo to prevent drying); coat phyllo with cooking spray.
Cut crosswise into thirds to form 3 (4 1/2 x 9–inch) rectangles. Arrange 1 asparagus spear across 1 short end of each rectangle; roll up jelly-roll fashion. Arrange rolls on a baking sheet; coat rolls with cooking spray.
Repeat procedure with remaining phyllo, asparagus, and cooking spray.
Bake for 10 minutes or until phyllo is golden and crisp. Serve warm or at room temperature.
Note:
Make-ahead tip: Arrange assembled rolls on a baking sheet, coat with cooking spray, and cover; store in the fridge for up to four hours. Bake an hour or two before the party.
Serving size:
3 spears
Calories:
59
Fat:
1
Saturated fat:
.3
Carbohydrates:
8.6
Sodium:
164
Fiber:
1.4
Protein:
4.1
Cholesterol:
5
Notes
Original Recipe can be found at Cooking Light [url href="http://www.myrecipes.com/recipe/phyllo-wrapped-asparagus-50400000117854/"]here[/url].