Happy Halloween!!!
What are you being for Halloween? I have a party that I am going to on Saturday, and I will make sure to post some pictures on Instagram for you all to see. 🙂 Lots of things have been happening this month.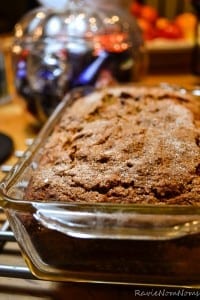 October is my favorite month, always has been. But this October 2013 has run me ragged!
I was so lucky to have one of my maids of honor come this past weekend to spend some time with me and visit the wedding venue to discuss what our next moves needed to be. I even tried on some wedding dresses! AHHH! Went for something completely on the opposite spectrum of what I thought I would, but hey…if I feel good in it? Who cares!
This month is coming to a close and I can honestly say it has been my favorite month so far this year. I can't say exactly why I feel that way, I just do. It has been exciting and full of seeing people that I haven't for some time now.
All in all I cannot complain with this month. Plus, this marks 1 year until Patrick and I get married! WOOO! Excited and nervous….more anxious I think. Just all over excited and looking forward to the new things ahead.
Anyways, in honor of October, Halloween & Fall… I made pumpkin bread.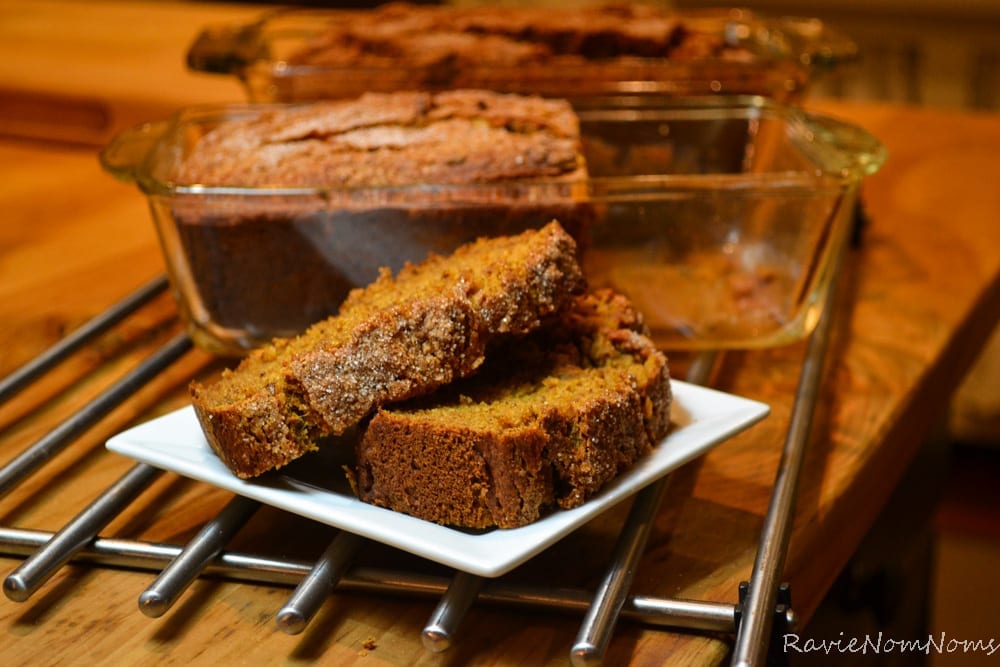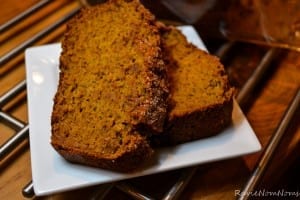 Not just any ordinary pumpkin bread. This bread is actually good for you and you don't have to feel guilty about having four a pieces… 😉
This was something I found and I wanted to change up a bit to see what I could do with it. It was my first experiment with quinoa flour. Most of you know I love quinoa.
So naturally using quinoa flour shouldn't be a shock. I was impressed with it. I stuck with having whole wheat flour with it as well, just to see how it reacted. I will definitely be trying  it again.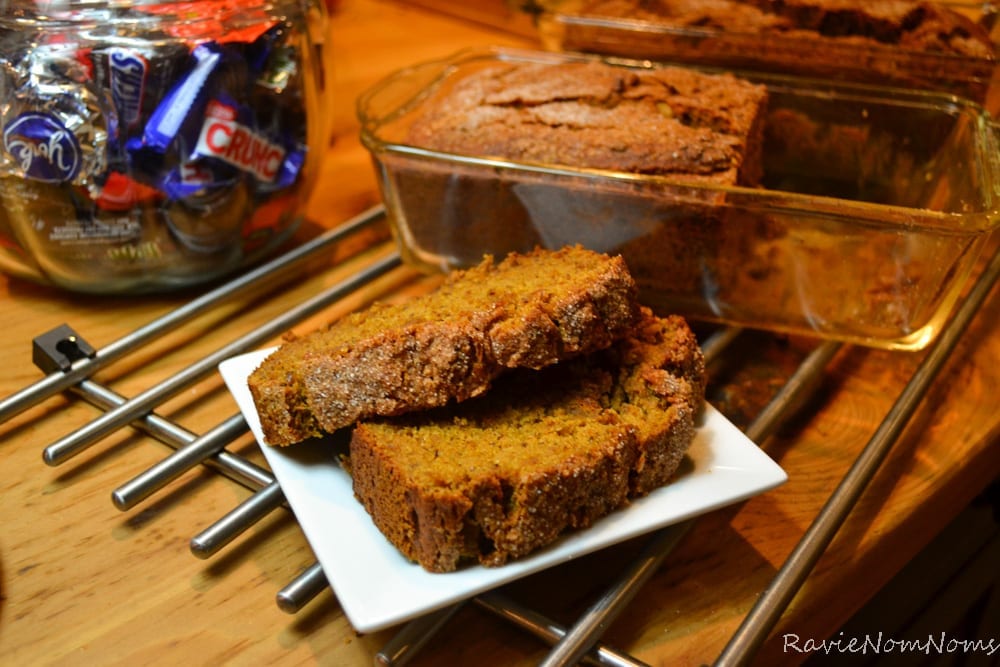 Although, while the bread was baking it smelled like quinoa in the house… What the heck is QUI-NO <—-have you seen this commercial?? So effin funny.
Anyways, so here is my pumpkin bread! I sprinkled it with a little cinnamon and sugar before it went in the oven and then had a little bit of honey while it was served warm. You won't regret that. Believe me.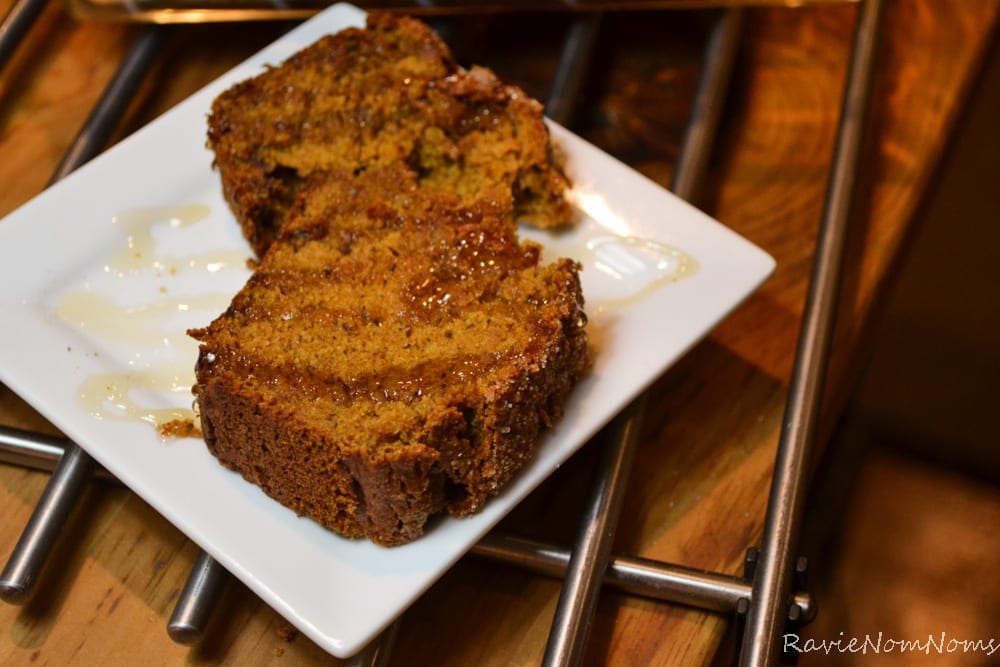 Make sure and post all your costumes on Facebook, Twitter & Instagram so I can see them! I love seeing creative outfits 🙂
Pumpkin Honey Beer Bread
Author:
Prep time:
Cook time:
Total time:
Perfect loaf for the fall full of Fall flavors and Fall Beer!
Ingredients
2 cups whole wheat flour (unbleached)
1 1/4 cup quinoa flour (you could use almond or oat)
2 teaspoons salt
2 teaspoons baking soda
1 teaspoon baking powder
1 teaspoon ground cinnamon
1 teaspoon pumpkin pie spice
1/2 cup water
1/3 cup ground flaxseed (often called "meal")
1/2 cup pureed dates
1/2 cup honey
1 cup sugar
1/3 cup applesauce
1/3 cup canola oil
2/3 cup [url href="http://www.google.com/imgres?imgurl=http://www.totalwine.com/_static/webupload/730/1_118442126_3.jpg&imgrefurl=http://www.totalwine.com/eng/product/yuengling-oktoberfest/118442126&h=350&w=250&sz=108&tbnid=35B5JL0AgsSYcM:&tbnh=91&tbnw=65&zoom=1&usg=__ZjYbCoTaer0eeKNlaB3k23WNbDQ=&docid=Gbg89HQWPxRvTM&sa=X&ei=IU5yUvzdKbOhsASCooEw&ved=0CFkQ9QEwBAhttp://"]Yuengling Ocktoberfest[/url] beer
1 cup egg whites/substitute
1 – 15oz can of pumpkin
Cooking Spray
Instructions
Preheat your oven to 350°
Place your flours, salt, baking soda, baking powder, cinnamon, and pumpkin pie spice into a large bowl. Whisk together until combined.
Combine the water and flaxseed. It will get much more dense by the time you use it, don't be alarmed.
Place dates, honey, sugar, beer and eggs into a medium sized bowl and beat with a mixer on medium-high speed until well blended. Add in the flax mixture and the pumpkin, beat at low speed until blended.
Add the liquid mixture into the flour mixture and fold together until just combined. Don't over mix.
Divide batter between 2 – 9″x5″ loaf pans coated with cooking spray.
Cook for about 45 mins to 1 hour. This will depend on oven temps, ingredient temps. Just keep and eye on it and check to see if a wooden pick comes out clean.
Remove from oven and let rest in pans for 10 mins. Remove from pans and let cool on wire rack completely.
Serving size:
1 slice
Calories:
141
Fat:
3.9
Carbohydrates:
23.6
Sugar:
15
Sodium:
277
Fiber:
1.9
Protein:
3.1
Cholesterol:
0
Notes
Original Cooking Light Recipe [url href="http://www.myrecipes.com/recipe/pumpkin-honey-beer-quick-bread-10000001854015/"]here[/url].
>