I don't know about you…
But when I get home from working out at the gym, bikram, a run…just any kind of workout in general; I am ravenous!
Maybe it is because I work out so hard?
BOOYAH!
This Fall I have been working out a lot, and honestly I feel really good about it. One of my favorite routines is this: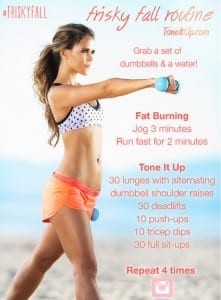 This routine is awesome!
Works you out and you can definitely feel it. Takes about40 minutes total if you are really moving through it. The running is 5 minutes and then all the moves are about 5 minutes.
Try it out and see what you think!
I have been doing a challenge that is 100 miles by Halloween. I started on September 22nd and so far, I have completed 114.5 miles! Woohoo go me!
I love having goals, whether they are fitness related, work related, relationship related. It is just nice to be moving towards something if that makes sense.
ANYWAYS, what we are really here for is a post workout snack that I just absolutely love!
Recently I have been eating a lot more protein.
The noticeable changes in my body and my energy levels are staggering. Whether that protein comes from powder, meat, fish, nuts, quinoa, etc…doesn't matter but I am getting it in.
What I have learned is that having a some protein, sugar & fat right after I work out is great for me.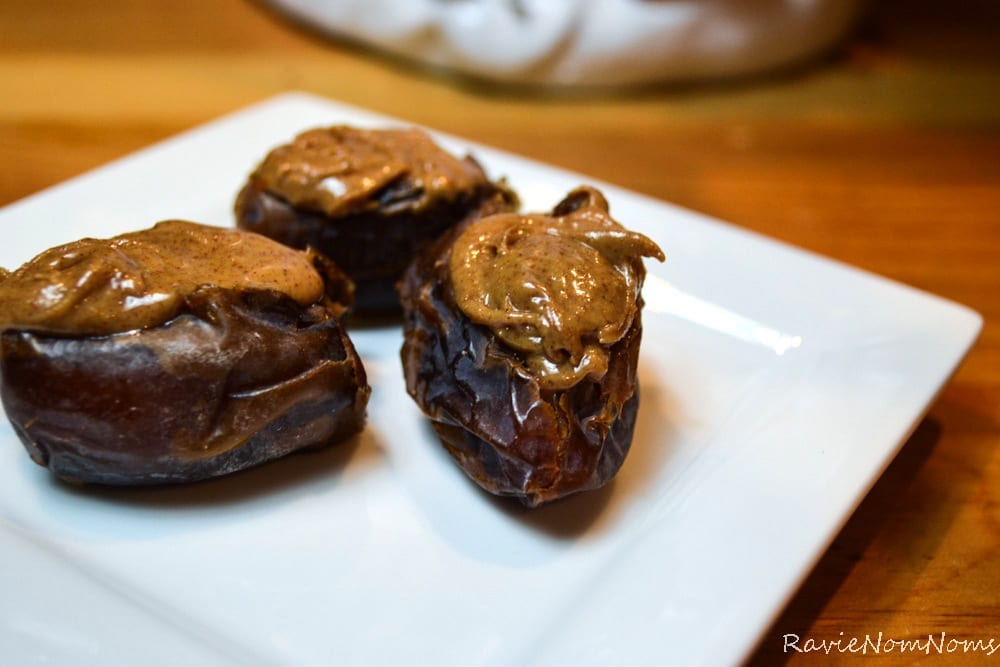 Combining protein with a healthy source of fat helps to stabilize your blood sugar, because it provides quality energy that won't cause a spike in your glucose levels.
Good fat in post-workout snacks slow the digestive process so that foods that do impact blood sugar (like the dates in the recipe below) have less of a dramatic effect.
Including the right kinds of good fats and proteins keep you energized and also allows the proteins to be utilized to build lean muscle and recover from a hard workout.
WHEW! Did you get all that?
This stuff is so interesting to me though! I find it fascinating the way your body reacts to foods.
So, my new favorite snack post-workout (you could definitely have this before a workout too, just try and get it in at least 30 mins before):
Dates filled w/ Almond Butter
All you need is:
1 tablespoon Almond butter
Simple right?
Just cut the date in half and take out the pit, definitely don't want to bite into that baby!
Fill it with your favorite almond butter.
And enjoy!
You could add granola on top, but I prefer it just as it is.
The snack is about 240 calories and has 5g protein in it.
I love me some dates!
Speaking of dates, exactly one year from today…I will be getting married!! AHHHHH