Good Monday Morning to you all!
Hope you had a lovely weekend

I had a few dance performances this weekend so it was rather busy, as well as I can been trying to battle this cold I have had for about 2 weeks. YUCK!
It is that time of year I suppose. I just wish I was better blah!
Short post today.
Just wanted to say hello share a quick and easy recipe that is great to make during the week, especially if you are busy. This literally takes no time to make and is just delicious!
Wishing you all a great week!
Happy Monday!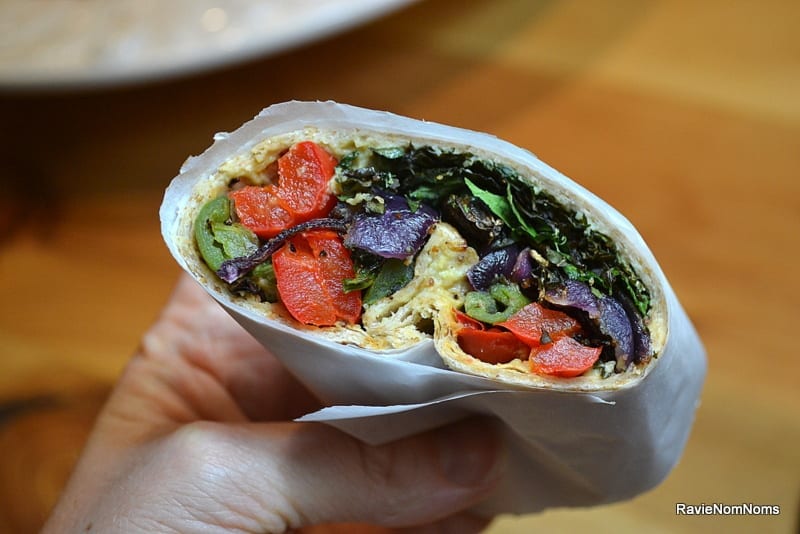 Roasted Vegetable and Hummus Wrap
Recipe type:
Sandwich/Wrap
Ingredients
2 whole wheat wraps (no enriched flour)
1 red bell pepper
1 handful of Kale
1 green bell pepper
½ cup sliced mushrooms
½ of a red onion
½ cup hummus
1 tablepsoon Mrs. Dash
Cooking Spray
Instructions
Heat oven to 400°
Prepare a cookie sheet with parchment paper and cooking spray.
Cut the bell peppers and onions into strips. Place the peppers, kale, mushrooms and onions onto the cookie sheet and lightly spray with cooking spray.
Sprinkle with Mrs. Dash evenly over the vegetables.
Roast the veggies for about 10 mins, making sure to keep an eye on the different vegetables because they cook at different rates (kale will come out first).
While the vegetables are roasting. Prepare your whole wheat wraps. Heat them in a medium skillet to get them warm and slightly crisp. Evenly distribute ¼ cup hummus per wrap.
Place all the veggies evenly between the two wraps, wrap them up and enjoy!
Notes
Adapted from Cooking Light's recipe found
here
.
Nutrition Information
Serving size:
1 wrap
Calories:
235
Fat:
9.9
Saturated fat:
1.0
Carbohydrates:
27.5
Sodium:
400
Fiber:
10.6
Protein:
11.1