Well hello!
How are you all on this Wednesday morning?
I am tiiirrreeedddd.
Bikram kicked my butt and then I got up before 5am to do my morning work out, so I am draggin' today.
There was some serious storm moving through last night though, some tree branches and things were down on the raods this morning on the commute into work.
My prayers are with the family and friends of those in the Midwest that had the storms come through and caused significant damage.
Those big storms are so unexpected most of the time and cause so much damage, it is really scary. Stay safe everyone!
In other brighter news…
Patrick and I have picked our wedding date!
10/25/2014 ♥
As well as our wedding venue, our photographer, the colors, AND our wedding party!
WHEW! We have been busy! 🙂
We are so excited about it and everything already seems to be happening so fast it is cra cra!
I am most excited this week because all the girls I asked to be my bridesmaids said yes, that is a very new development.
Each one of the girls that I asked to be in my wedding party I wanted to do something special for. I didn't want to just call them up and say, "hey, wanna be in my wedding?"…which is exactly what Patrick did with his groomsman haha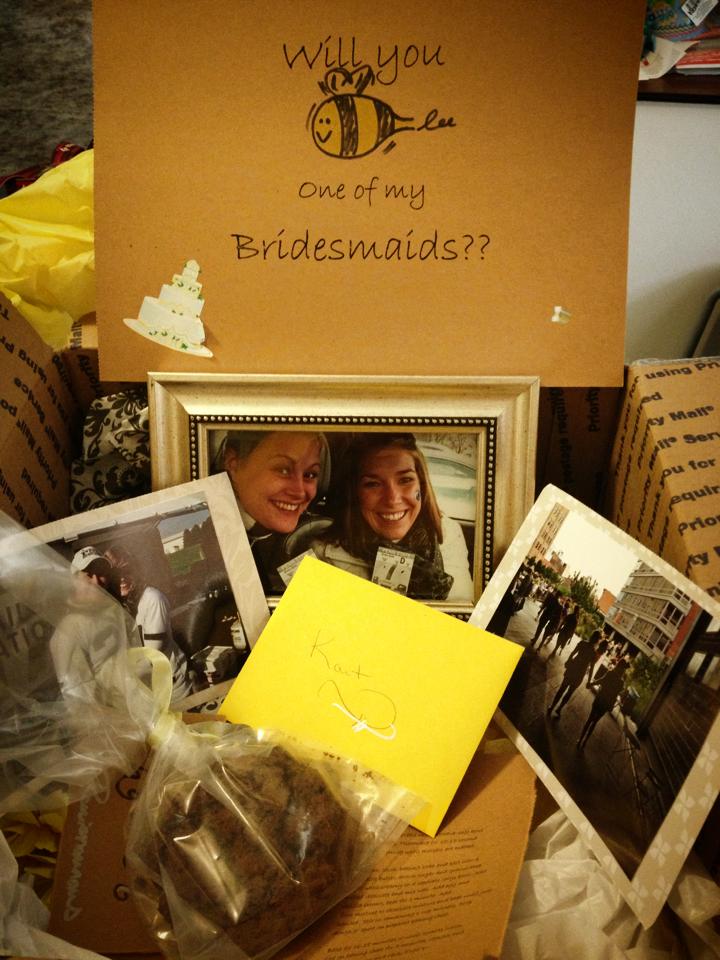 I sent them each a package with a picture of them and I, a couple homemade chocolate cookies with a recipe in case they wanted to make them at home, lots of flowers that are the colors we plan to use for the wedding, and an individual note telling them how special they are in their own way 🙂
You can see one of the packages that I sent to the left…This was Kait's. She was the first one to get back to me. "I will, I will, I will, I will…" haha
I am really glad I did that. All 5 of them seemed to really enjoy the packages and that is really what I was going for.
Putting a smile on their faces was my goal and I think I accomplished that.
I know that your wedding is supposed to be all about you, but honestly I want my friends and family to have a role too.
They are important and honestly, I don't like when things are all about me. Well, sometimes I do…but most of the time I would much rather have other people be the center focus.
I like making people happy.
I also like filling their bellies!
hehe 😉
This recipe today is one that is going to be great for summer.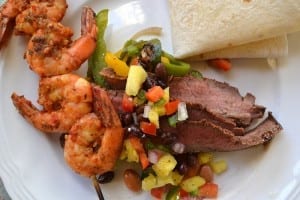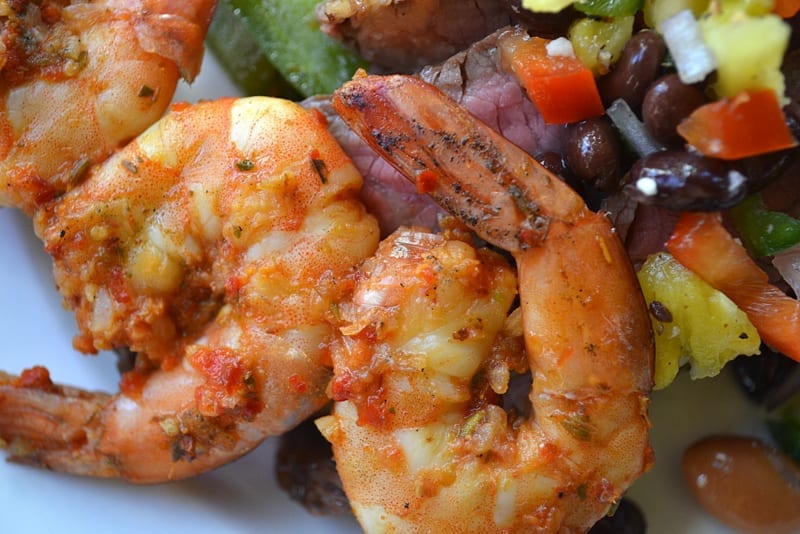 It doesn't heat up the house because you use the grill, gotta love that! Plus it is so easy and simple.
I really like recipes where I can throw a whole bunch of ingredients together and have it come out tasting amazing.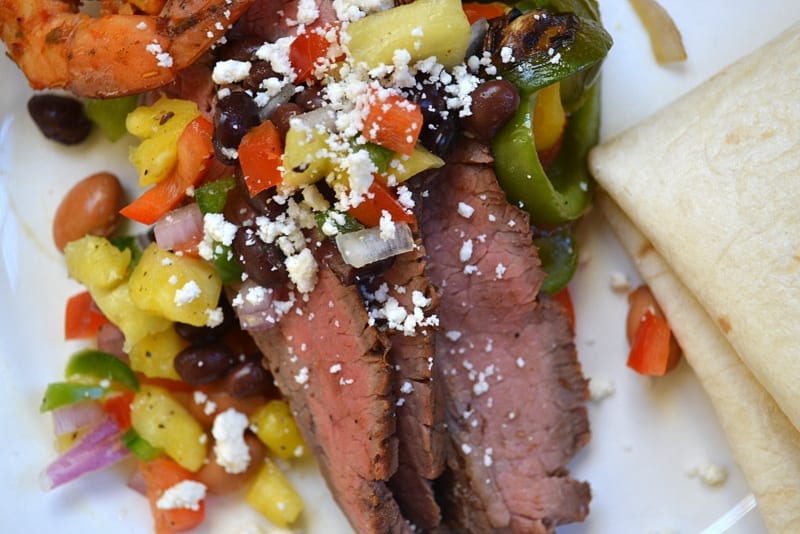 I especially like recipes where you can marinate and then just cook. So simple for the busy days of summer, especially when you just don't feel like cooking.
Can't get much easier than just throwing a whole bunch of stuff in a bowl and then cooking it 😉
Ancho Chile Surf & Turf
Author:
Prep time:
Cook time:
Total time:
A summer dish that is quick, fun and full of flavor!
Ingredients
1 teaspoon kosher salt
1 teaspoon brown sugar
1 teaspoon ground ancho chile powder
1/2 teaspoon ground cumin
1 tablespoon garlic
Dash of freshly ground black pepper
1 (1-pound) flank steak, trimmed
1 pound shrimp
4 teaspoons olive oil
Instructions
Combine salt, sugar, chile powder, cumin, pepper, garlic and olive oil. Rub evenly over the steak and the shrimp.
Place your shrimp on skewers and then grill your steak and shrimp.
Depending on how you like your flank steak cooked with determine how long you cook it. It only takes about 4 minutes on each side if you want it pink in the middle.
Cook shrimp until they turn pink OR until you just heat them (depending on if you use raw or cooked to begin with)
Served steak with [url href="http://ravienomnoms.com/2013/05/06/two-bean-pineapple-salsa/"]pineapple salsa[/url], queso fresco, and a flour tortilla.
Serving size:
3 oz steak 1 shrimp skewer
Calories:
200
Fat:
9
Saturated fat:
2.6
Sodium:
286
Protein:
25.8
Notes
Original recipe from [i]Cooking Light[/i] can be found [url href="http://www.myrecipes.com/recipe/ancho-rubbed-flank-steak-10000001891946/"]here[/url].