I saw this recipe over at Chasing Delicious and as soon as I saw it I knew I had to make it.
Have you ever been over to Chasing Delicious??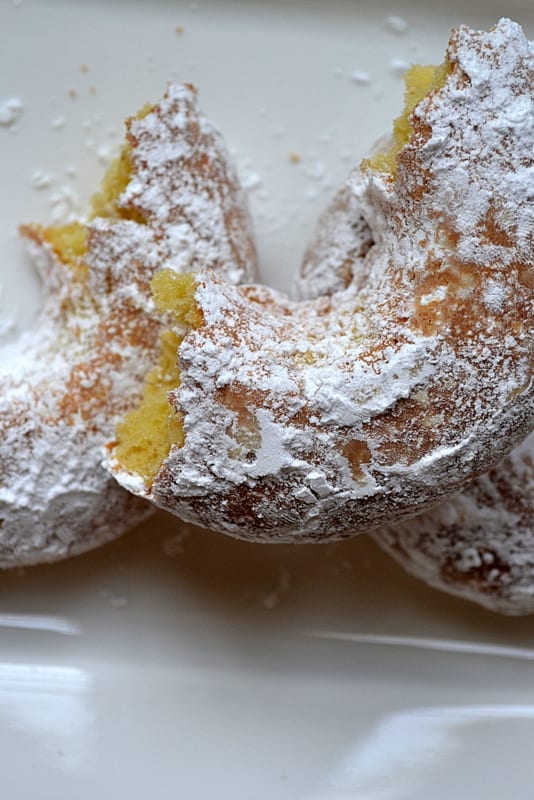 It is always SO much fun and Russell is always doing such creative things. I love that name btdubs. If I ever have a boy, that will be a major contention for his name haha
Anyways, I knew I had to try this and let me tell you they were a hit!
Unfortunately, I couldn't partake in them because it is still Lent and I am pretty sure that a doughnut counts as a sweet.
Right?
I froze some so that I might get some whenever Lent is over…
However, I have a feeling that I won't be getting any with Patrick and my Dad getting home from traveling this weekend haha.
Something about doughnuts is very soothing to me.
I know that sounds REALLY odd, because most of you know that I am very conscious of what I eat.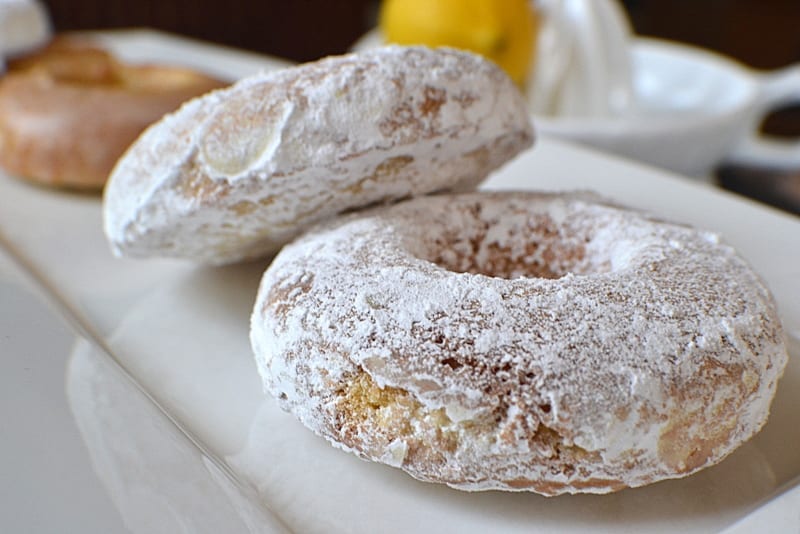 Lots of people ask me how I can make some of the things I do and not have some of it. Sometimes I try it but that is normally the extent of it.
Patrick can confirm that. I am just the cook 😉
Doughnuts make me remind being young. Something about waking up on Saturday mornings with a fresh dozen of doughnuts was comforting.
Everyone has a favorite. It is one of those things.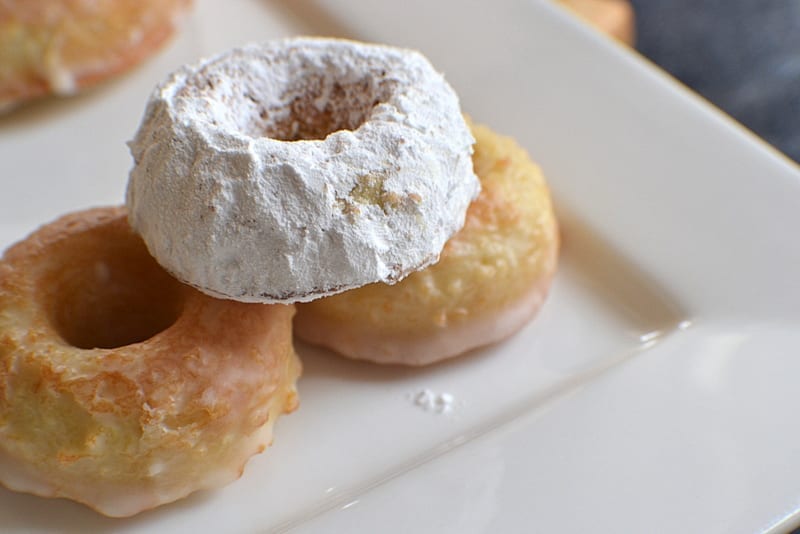 Mine was always a doughnut with vanilla frosting and sprinkles. Delish.
However, John's Spaceage Donuts makes a couple that I cannot resist like their vanilla twists and their cinnamon roll doughnut with maple icing. Holy moly.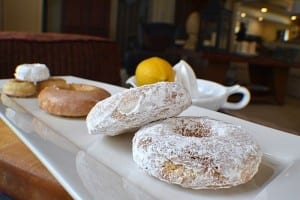 My mouth is watering just thinking about it.
When you are little you can eat as many sprinkle, icing covered fried doughnuts as you want and not worry about it because you body burns it off in about .4 seconds.
Now? Not so much. But I can spoil those around me and enjoy the smells 🙂
Lemon Bourbon Cake Doughnuts
Recipe Type
:
Breakfast/Dessert
Author:
Prep time:
Cook time:
Total time:
Serves:
12 large doughnuts, 12 mini Doughnuts
A baked doughnut with a surprising kick!
Ingredients
3 eggs
3 egg yolks
1 tablespoon bourbon
1/2 teaspoon vanilla extract
1/2 teaspoon pure lemon extract
1 teaspoon water
1 teaspoon fresh squeezed lemon juice
8 ounces butter, soft at room temp.
8 ounces sugar
2 tablespoons lemon zest
5 ounces all-purpose flour
3 ounces oat flour
1/2 teaspoons baking powder
1/2 teaspoon salt
1 1/3 cup powdered sugar
Instructions
Preheat an oven to 350°
Mix the eggs, egg yolks, bourbon and vanilla in a small bowl until everything is broken up. Take care not to beat any air into the mixture. Add in 3/4 teaspoon fresh lemon juice and stir gently.
In the bowl of a stand mixer, beat the butter until broken up and soft, about 2 minutes on medium.
With the mixer running, slowly add the sugar and beat until light and fluffy (nearly white in color), about 4-5 minutes.
Add in 1-1/2 tablespoons lemon zest and mix in well.
With the mixer running (medium-low), very slowly pour the egg mixture into the butter and sugar mixture. This step should take you about five minutes.
Sift the flours, baking soda and salt together in a separate bowl. Slowly fold the flours into the egg mixture, 1/4 at a time. This will form a stiff batter.
Place the batter in a large piping bag. Cut the end of the bag so the width matches the width of the rings on the doughnut pan.
Carefully pipe the batter into the doughnut pans, careful not to fill each form too high (the batter should only come up about 1/2-3/4 to the top).
Bake for 18-20 minutes or until golden on top and the dough springs back when pressed lightly.
Let cool slightly.
In a medium size bowl mix together 2/3 cup powdered sugar and 1/2 tablespoon lemon zest.
In another bowl, place the remaining 2/3 cup powdered sugar, 1/2 teaspoon lemon extract, 1 teaspoon water. This should be a thin consistency.
Place cooled doughnuts in each topping and place on a wire rack with parchment underneath (to help with mess).
Serving size:
1 lg doughnut
Calories:
244
Fat:
12.1
Saturated fat:
7.1
Carbohydrates:
31.2
Sugar:
21.5
Sodium:
151
Protein:
3.0
Notes
Original recipe adapted from Chasing Delicious [url href="http://chasingdelicious.com/lemon-oat-bourbon-cake-doughnuts/"]here[/url]. If you don't have oat flour, simply take old fashioned oats and put them in a food processor and chop it up until it is very fine.