OK…is it just me or is it rather surprising that it is already March??
I have to admit, I am a little freaked out.
Well, maybe "freaked" out isn't the right word.
Just seems as though February didn't even happen haha. Oh hey February, oh bye February.
I have a feeling that March is going to fly by as well. However this is Patrick's Birthday month!
How fitting for this recipe today as well.
Patrick has the ability to make very simple things very entertaining for himself.
For example the word Arugula…
I don't think Patrick has ever said Arugula without saying it as "AHHHH- REWWW-GAHH-LA".
::blank stare::
Believe me I don't get it either, but he finds it entertaining so I suppose that is all that matters haha.
This recipe is a fancy egg sandwich that Patrick and I had for dinner.
Who says you can't have a egg sandwich for breakfast? I mean seriously, I would eat pancakes and waffles for breakfast 3 times a week if I could. I love breakfast! Most important meal of the day amIright?
Speaking of breakfast, I made these muffins the other day and tried out an experiment with an alternative sugar….um….UMMMMM
Gross.
I will be making those over with my regular ingredients this week at some point. Eeeek they were nasty …failblog.com to the max! haha
Anyways, let's move on to our main event shall we?
Original recipe can be found here.
Ingredients:
(Serves 2 – 277 calories, 13.9g fat)
4 slices bacon of your choice (I used Turkey)
2 cups thinly sliced yellow onion
1 tablespoon water
1/2 teaspoon Cayenne drops
1 tablespoon butter
Dash of sugar
Cooking spray
4 slices whole-wheat bread
2 large eggs
1/8 teaspoon salt
1/4 teaspoon freshly ground black pepper
1 cup arugula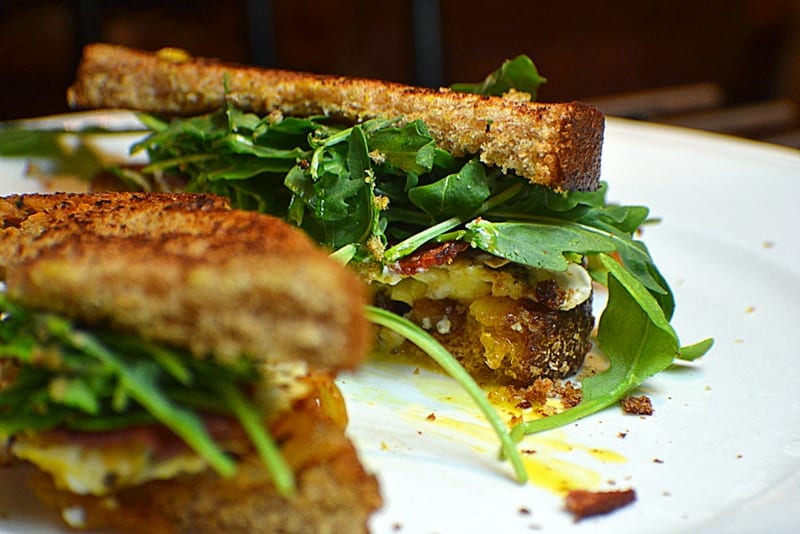 Preheat oven to 250° with a baking sheet inside the oven.
Cook bacon in a nonstick pan on medium heat until crisp. Remove the bacon from the pan and reserve the drippings. Drain the bacon on paper towels.
Add the onion, water and hot sauce to the drippings in pan and cover to cook for about 3 minutes. Remove the lid and add butter and sugar and cover again for an additional 3 minutes. Uncover the onions and cook for about 5 minutes or until golden brown.
Place the onions into the oven to stay warm.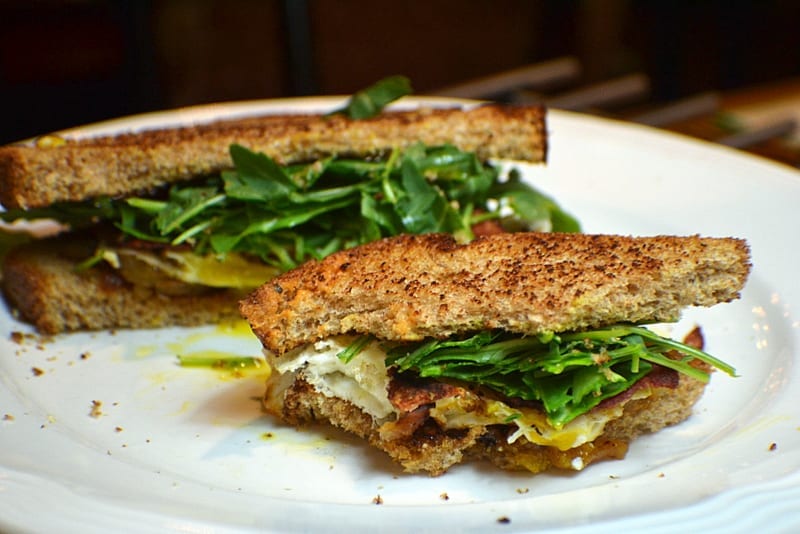 Heat a large skillet with cooking spray over medium high heat. Place bread slices into pan and cook for 3 minutes on each side or until lightly browned. Place each slice into oven to stay warm.
Re-coat your skillet with cooking spray and crack eggs into pan. Cook for about2 minutes and then gently turn the eggs over and cook 1 minute or until you reach desired doneness.
Patrick and I both like runny eggs, so we stayed on the lower cook time.
Place one bread slice onto a place, arrange the onions evenly over the bread. Place 1 egg, 2 bacon slices and about 1/2 cup of arugula on top and then place other piece of bread on top.
Serve immediately.
The caramelized onions added SUCH a nice texture and flavor to this sandwich. If I made it again, I would cook double the amount the recipe called for so that the sandwich could have more of them.
Have a great Tuesday everyone!