Did you all have fun with the Superbowl? In all honesty…I thought it was kind of boring.
I wasn't interested in either team in the game, although I have to say that I was routing for the niners, because I utterly dislike the Ravens (and no, just because my name is Raven, I don't love the Ravens haha).
The thing I was most looking forward to was Downtown Abbey…
Any watchers out there?? Holy amazing stories that show has going on. This season has been craaaaayyy-craaaaayyy! I won't say anything about anything in case any of you haven't seen last night's episode or any of the seasons for that matter.
If you haven't ever checked out the show, please do! It is completely captivating!
Seems like it keeps gaining in popularity, but anyways. That is what I was looking forward to and then the niners comeback at the end of the game…at least they made a good run for it.
Some of the commercials were pretty cute as well. I would have to say that over the years the commercials have been going down in my book.
Here were a couple of my favorites:
Don't Tell Mom:
Budweiser – The Clydesdales Brotherhood:
Prom:
Epic Playdate:
God Made a Farmer:
I have to say that the commercials I liked the best were definitely the car ads. I think they had the best ones this year. I didn't post the VW commercial, I thought it was funny. Apparently some thought it was racist…really people?
And this one is still by far my favorite from last year and this year even…
Darth Vader – VW:
Enjoy this little snack that my family and I enjoyed during the big game this weekend.
Original Recipe from Cooking Light can be found here.
Ingredients for Bites:
1 1/2 cups finely chopped tomatoes, tomato on the vine is what I used
1/4 cup minced shallots
1 tablespoon extra-virgin olive oil
1 teaspoon dried basil
2 teaspoons champagne or white wine vinegar
1/4 teaspoon freshly ground black pepper
2.5 ounces grated fresh Parmesan cheese (about 2/3 cup)
1/4 teaspoon kosher salt
Preheat oven to 400º
Mix together the tomatoes, shallots, olive oil, basil, vinegar, & pepper in a small bowl. Make sure they are completely coated.
Line your baking sheet with the mini pastry shells. The original recipe actually called for pastry dough, but I used what I had on hand and it actually will save quite a few calories from the original for the same serving size. On top of that it will minimize your overall baking time. Which, helps in a pinch.
Fill each shell/cup with the filling and then lightly sprinkle the salt and Parmesan over each little cup.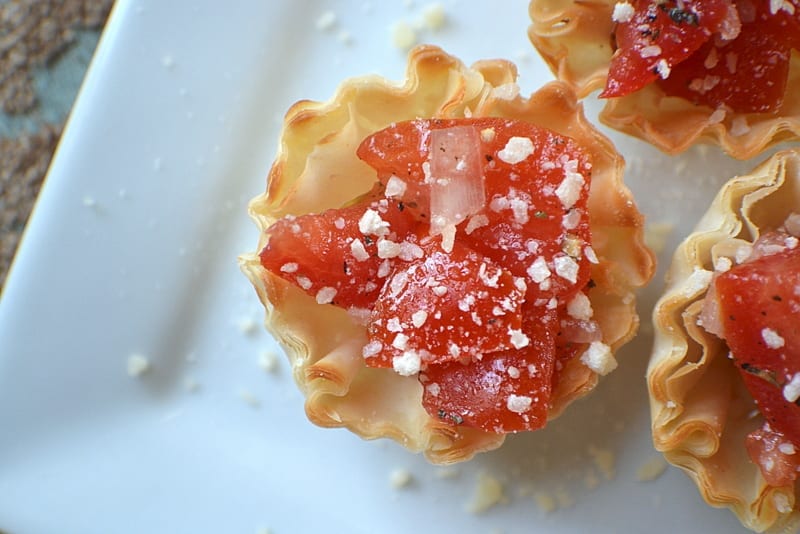 Now, I would have loved to use the original recipes call out for herbs, but unfortunately unless you want to pay a fortune at the grocery or bring bugs into your house with outside plants. Fresh herbs are hard to get a hold of in the east during winter.
I used the basil in the mixture and I rubbed it in between my palms into the mixture so that it would be more fragrant and more tasty.
Cook the cups for about 8-10 minutes and then serve.
Total calories for 2 with my modifications I think would be around 85 calories and about 2 grams of fat. Not too shabby 🙂
Have a great start to your week everyone!