Happy Holidays my dears!!
Can you believe that Christmas is only 5 days away?! I am so unprepared this year. I am normally SO good about making lists and being overly prepared, but my needed break from things has made me a tad late with planning.
Plus this year just seems odd to me. Doesn't it to you? I just don't feel like it should be Christmas yet.
Perhaps it was because of the placement of Thanksgiving this year. Or perhaps I have just lost my marbles.
I am proud to say that I am participating in Abeer's Christmas Extravaganza this year! If you have never been over to Abeer's website, well that is just a shame! Some of the most amazing creations are over there at Cake Whiz.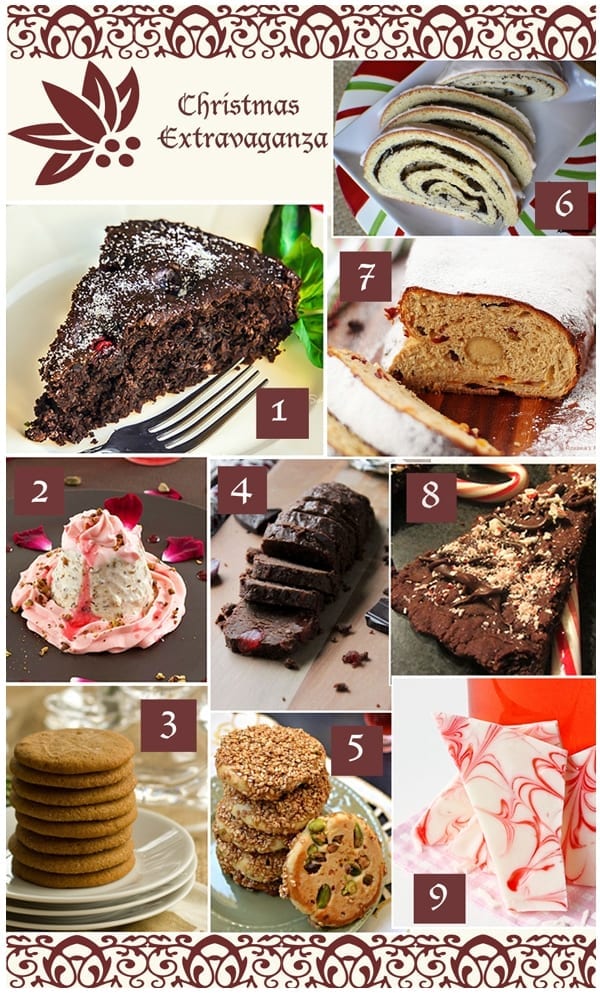 1. Chocolate cranberry skillet cake from Sandra at Sandra's Easy Cooking
2. Pistachio and cardamom semifreddo with rose cream from Manu at Manu's Menu
4. Chocolate cookies with candied fruit slices from Kate at Diethood
6. Poppy seed roll (Makowiec) from Raven at Ravienomnoms
7. Stollen from Roxana at Roxana's Home Baking
8. Cocoa mint shortbread from Tiffany at Comowater
9. Rose syrup chocolate bark from Cake Whiz
Not only are they creative, but they look SO darn tasty! Now to me, when you can have both tasty AND gorgeous it is a win-win.
I was so very happy to be invited to a part of the Extravaganza because the holidays are something that are very important to me. They have always been such a large part of my life.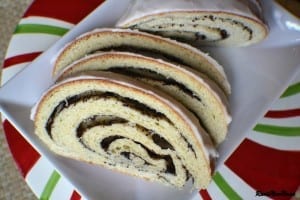 My Mom always made it a point to make the holidays so very special for her kids and I really think that captured me. Something changes inside me when the holidays come around, once Thanksgiving clicks around…I am in full Christmas mode and I am ready for snow, baking, friends, family and of course presents 😉
The recipe that I wanted to share for this special Extravaganza is a traditional roll that many Eastern cultures seem to enjoy. Since my Mom's side is predominately Polish, we always seem to make Polish dishes. Some of my favorite memories are when my Mom and I made traditional Polish dishes.
This will be no different. It is called Makowiec in Poland, it is also enjoyed in the Czech Republic which I have a lot of in my blood as well (Makový Závin). There are many different ways to make this traditional bread and many cultures vary whenever they make it.
I am only showing you how my Mom remembers it from when she was younger and now has passed along to me. I hope you enjoy my Christmas Traditiona and get on over to Cake Whiz to see what else is in store for this Extravaganza!
Adapted from Taste of Home's Recipe.

Poppy Seed Roll Ingredients:
3/4 cup skim milk
1/3 cup butter, cubed
1/4 cup butter, melted
1/2 cup granulated sugar
3/4 teaspoon salt
3 eggs
1/2 teaspoon vanilla extract
1/2 cup warm water (110º to 115º)
1 package (1/4 oz) active dry yeats
5 to 6 cups all-purpose flour, divided
1 can (12 oz) poppy seed filling
1 teaspoon water
3 cups confectioner's sugar
3-5 teaspoons water
1/2 teaspoon vanilla
In a saucepan, heat milk, cubed butter, sugar and salt. Let this sit aside and cool lukewarm. Add 2 beaten eggs and vanilla extract.
Dissolve your yeast in warm water. Do not just add it into your recipe, make sure and add it into the water prior to adding into the rest of the ingredients. This will ensure that you do not kill the yeast.
In a large bowl, combine milk mixture, yeast mixture and enough flour to form a soft dough (about 5 1/2 cups). Turn dough onto a floured surface and kneed until smooth and elastic (about 6-8 minutes).
Place dough in a greased bowl, turning once to grease the top. Cover with a kitchen towel and let rise in a warm place until doubled. This could take and hour+, depending on the temperature of your room.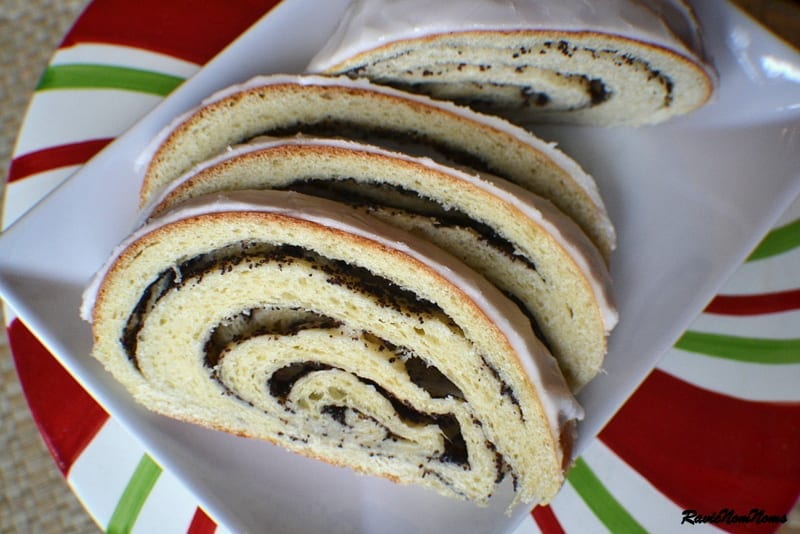 Punch down dough and let rest for 5 minutes. Roll dough into a 12″ x 18″ rectangle. Spread with poppy seed filling and 1/4 cup melted butter. Starting with the long side, roll up dough and pinch edges to seal (act like you are a rolling a cinnamon roll).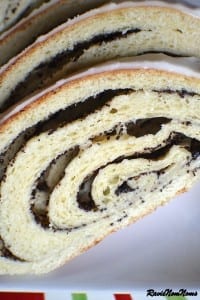 Place on a large greased baking sheet, cover and let rise in a warm place until doubled. This could take about 30 minutes, but just keep your eye on the size of the dough.
Preheat oven to 350º.
Beat remaining egg with 1 teaspoon of water, brush over the top.
Bake for about 30 minutes. Cool on a wire rack. As the bread is cooling make your icing. This is super simple, place all your confectioner's sugar into a bowl with the water and a tad bit of vanilla. Make sure you reach a sticky consistency. You do not want it to be too runny or it will just run off the bread.
Glaze bread with sugar icing and let the icing harden before slicing.
Traditional poppy seed bread has walnuts, but since my dear Patrick does not enjoy nuts we left those out. Please feel free to add them in if you so choose. This recipe would call for about 1 1/3 cups if you were to spread on the inside of dough and sprinkle on top.
I hope you all enjoy this recipe and I hope all of you have a LOVELY holiday if this is the last time we talk before the Christmas break.
I wish you all nothing but the happiest of holidays!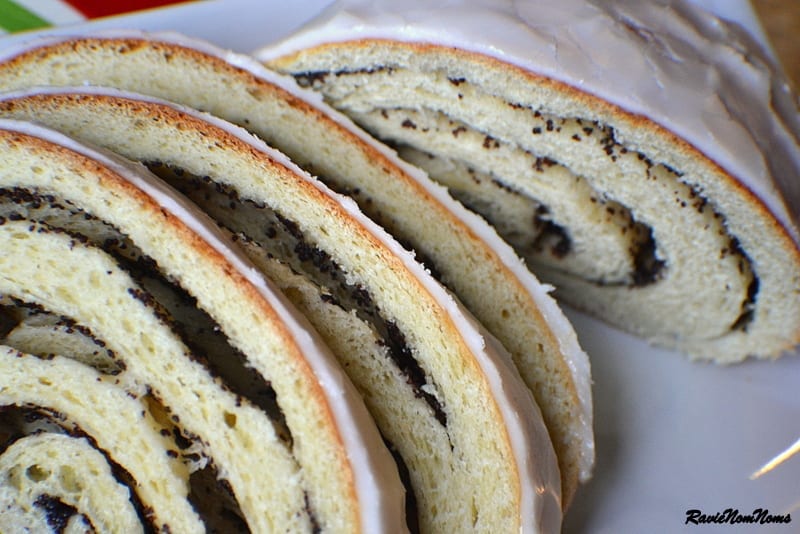 Merry Christmas!!