Some of the best days of Fall are spent curled up under a blanket or baking something to warm your family's tummy on a brisk day.
If I had to pick one or the other…I am not sure I could.
I do enjoy both very much these days. I find as I get older the "under the blanket" option is much more appealing.
😉
This bread I am sharing with you today is something my mom and I picked out as a good treat.
It was featured in the Cooking Light magazine this past month, which was a special addition issue. Had all of their favorite recipes over the past 25 years.
This is definitely a good one.
Adapted from Cooking Light's recipe here.
Ingredients for Bread:
Streusel:
1/3 cup packed brown sugar
1/3 cup old-fashioned rolled oats
1 tablespoon all-purpose flour
1/4 teaspoon ground cinnamon
Dash of salt
2 tablespoons butter, melted
4 tablespoons chopped pecans
Bread:
9 ounces all-purpose flour (about 2 cups)
1/2 teaspoon baking soda
1/2 teaspoon baking powder
1/2 teaspoon salt
5 tablespoons butter, softened
2/3 cup granulated sugar
3 large eggs
1 teaspoon vanilla extract
1 cup fat-free buttermilk
Baking spray with flour
Preheat oven to 350°
To prepare streusel, combine brown sugar, oats, flour, cinnamon, and salt in a medium bowl. Add 2 tablespoons melted butter, stir until well combined. Stir in nuts.
To prepare bread, combine flour, baking soda, baking powder, and 1/2 teaspoon salt in a bowl, stirring well with a whisk. Did you know that whisking your dry ingredients is like sifting? Little known fact.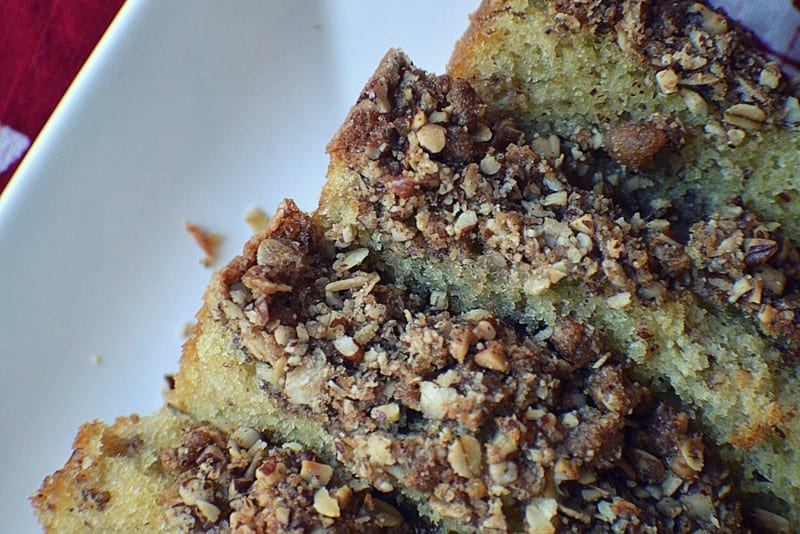 Combine 5 tablespoons butter and granulated sugar in a large bowl, beat with a mixer at medium-high speed until well blended. Add eggs, 1 at a time, beating well after each addition. Add vanilla.
Beating at low speed, add flour mixture and buttermilk alternately to sugar mixture, beginning and ending with flour mixture. Mix until well combined.
Scrape half of batter into a 9 x 5-inch loaf pan coated with baking spray, sprinkle with half of streusel mixture. Spread remaining batter over streusel. Sprinkle remaining streusel on top of batter.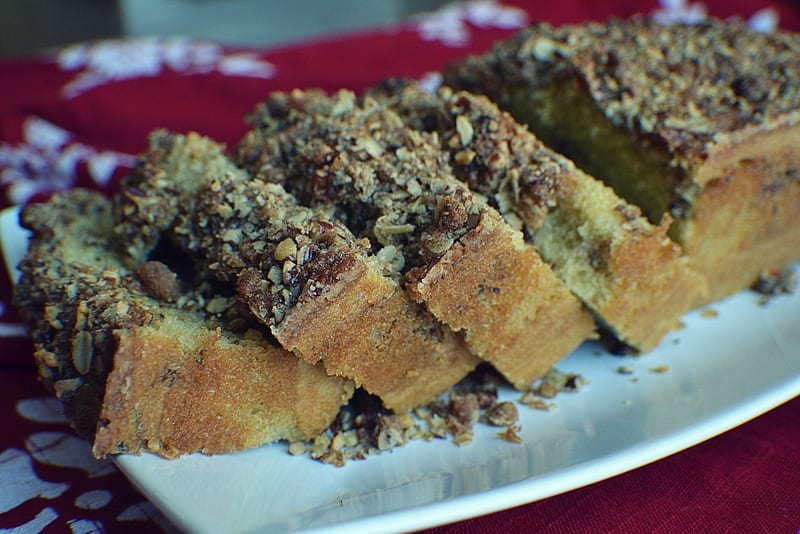 Bake for 50 minutes or until a wooden pick inserted in center comes out with moist crumbs clinging.
Cool 10 minutes in pan on a wire rack. Remove from pan and cool on wire rack completely.