OK, so first off this day has been like the day from absolute hell. GAH!
Work is driving me absolutely bonkers. I feel like I keep spinning my tires and doing all this work for people and then I get trampled on. Ever have those weeks?
Can't seem to get anything done, or do anything the way people want to see it.
I am one of those people that NEVER half asses anything. I don't have the ability to. It must be in my blood or something, because I will literally not be able to sleep at night if I don't do something to my full ability.
Anyways, I am done with my whining 😉
SOOO I completed my second race! Can you believe it?? Another 5k, down!
This one was the Warrior Dash too. It was so much fun! It was a tab bit chilly, but the girls I ran with are awesome. We keep each other motivated and we finished in awesome position!
Here are the results:
Warrior Dash CT 2012
Finished in 33:20:60 mins
525th Overall out of 6155 people
34th in my Age Group out of 1154 women
I am so proud of myself!! I would have never believed I would have even been running last year at this let alone be doing as well as I am.
Sometimes you have to give yourself the credit that is needed and I think that the girls and I totally deserve a pat on the back for finishing so strong in that race. I didn't stop once! Woot!
It was muddy and it was grueling and some of the obstacles were tough, but it was so rewarding at the end you know?
I would highly recommend doing it to anyone who likes a challenge.
Now it is on to the Rugged Maniac this weekend…eeeek! Last race of the year! Wish me luck! I hear this one is little harder, so I am little nervous.
I am doing it with the same group of girls and Patrick is doing this one as well, just in a different wave (they release people in time waves so the obstacles don't get too crazy).
Onto the recipe…
Fall is my favorite. I love everything about it.
The brisk air, the changing and falling
leaves, the bringing out the warmer clothes. I don't know what it is about Fall, but I just love it.
In the Fall you see all sorts of recipes that pop up mostly to do with pumpkins, apples, caramel…you know the usual nomnoms.
Personally I am not a big fan of pumpkin, not unless it is in a cake or bread. I am not a pumpkin pie eater.
Don't hate me!
I think it is a texture thing truly. Something about it, just grosses me out haha.
However, my dad and Patrick LOVE pumpkin. The two of them have been working so hard lately on the new house that I wanted to reward them with something good.
Queue Pumpkin Pie Cake with Cinnamon Buttercream Frosting…
Pumpkin Pie Cake:
(adapted from Bake Your Day's recipe)
2 cups flour
2 teaspoons baking powder
1 1/2 teaspoon cinnamon
1/2 teaspoon nutmeg
1/2 teaspoon ground ginger
1/4 teaspoon salt
1/4 cup vegetable oil
1/4 cup unsweetened applesauce
1 cup brown sugar
2 eggs
1/2 cup low fat plain Greek yogurt
1 teaspoon vanilla
1 can (15-oz) pureed pumpkin
*My adaptions to Cassie's recipe were to make the cake almost like pie filling but with a bit more form so I could ice it.*
Preheat oven to 325º
In a small bowl combine all the dry ingredients together and whisk until well combined. Set aside.
In a large bowl combine the oil, applesauce and brown sugar until well combined. Add the eggs, yogurt, vanilla and pumpkin and mix until they are completely combined. Add in the dry mixture.
Your cake batter won't be runny, it will be more fluffy and dense. Almost like a muffin batter, but a tad bit more wet.
Pour your cake evenly into 2-9″ round cake pans. Bake for about 45 minutes or until a toothpick comes out clean.
Let the cakes cool for about 15 minutes before you take them out of the pan. They should be a bit more flat than a regular cake so you shouldn't need to trim the tops for icing, but obviously use your discretion.

Let cakes cool completely.
Cinnamon Buttercream Frosting:
(makes about 4 cups)
1/2 cup butter (room temperature)
3 3/4 cups powdered sugar
3-4 tablespoons fat-free half & half
1 teaspoon vanilla extract
1 teaspoon cinnamon (more if you want it really cinnamon-y)
Beat butter on low for about 30 seconds, and then add the sugar 1 cup at a time. Add in the half & half, vanilla, and cinnamon. Beat for about 1 minute. Blend in more half & half if the frosting is too thick (I needed to do this).
Once your cake is completely cooled. Place one layer onto cake pan and cover with icing. Place other layer on top and secure spot. Place another layer of icing on top of that. Ice sides if desired or just leave top and middle with icing.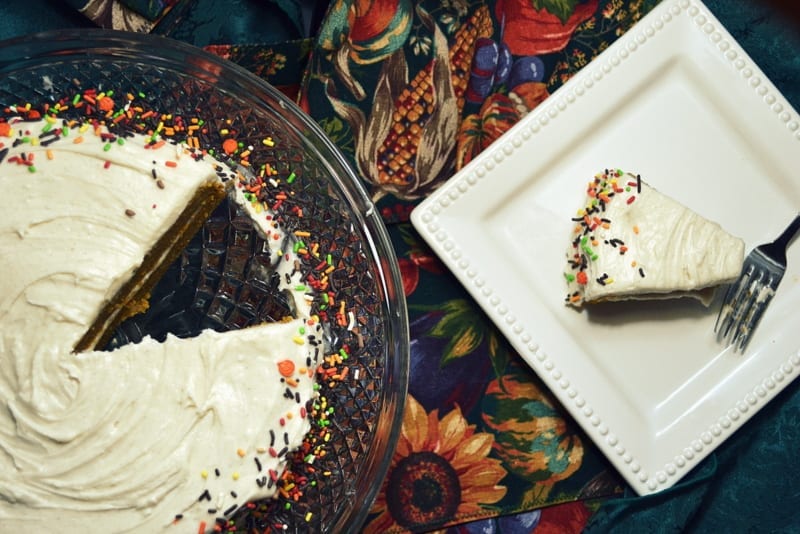 Leave as is or decorate with fall sprinkles.
I would HIGHLY suggest refrigerating this cake. Since the inside is more like pie filling it will sweat and melt your icing.
The boys really seemed to enjoy it, so if you like pumpkin pie…step right on up. This cake is for you!