I did it!!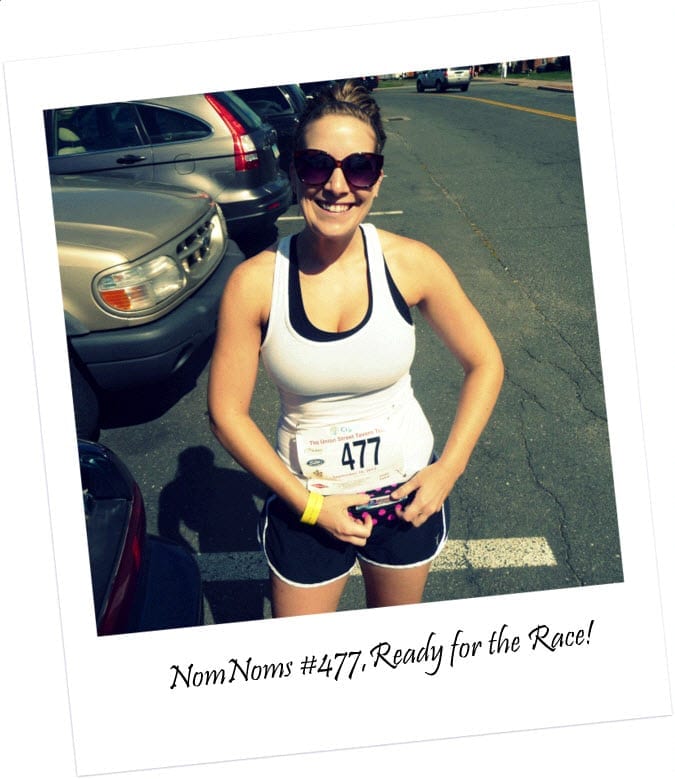 I completed my first race! WOOO!!
The race I participated in was called the Tavern Trot and all the proceeds went to Alex's Lemonade Stand, which I just love. Anything I can do to help out kids with cancer, or anyone with cancer I am all about it.
It was actually a 3.5 mile race. I thought it was a 5k, but apparently it was a little farther. So here were my results:
Ran 3.5 miles in 33:06 (9:28 pace)
16th out of 81 in my age group
66th out of 409 for females
I am so proud of myself!!!!!
This is the one time that I will actually pat myself on the back because if you would have told me this time last year that I would finish a 3.5 mile race and do that well.
I know that my pace probably isn't as awesome as some of your crazy runners out there, but I am proud of it!
And a big thanks to Patrick for running with me the entire time, even though he could have killed it. Was good to have someone with me cheering me on.
Such a different feeling to run in a race than just for fun. I had much more motivation to not stop, which I didn't the entire race! I am definitely excited about my next upcoming races this weekend and next.
Here I come Warrior Dash!
This recipe I am sharing with you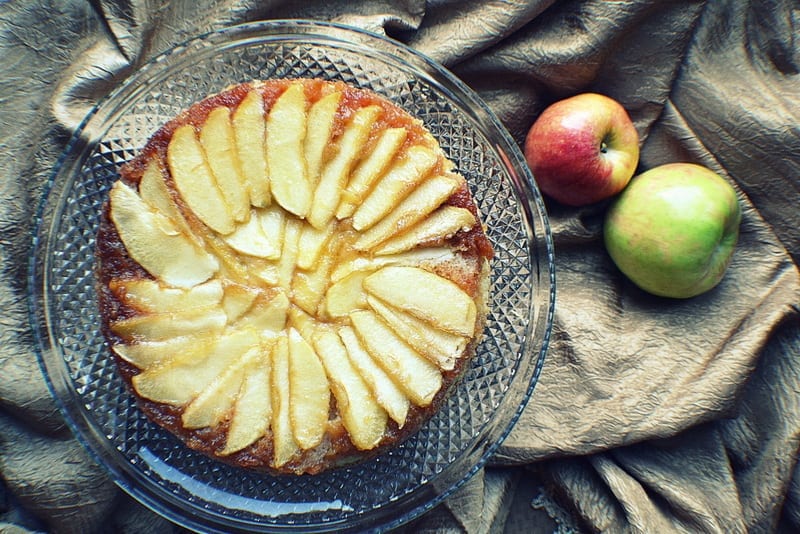 today is something I found in my handy dandy Cooking Light cookbook. After the race Patrick and I went to Roger's Orchard to get ourselves some apples as a treat after our race.
We got ourselves 2 big bushels of apples. One of HoneyCrisp and the other of Jonamac. So delicious and fresh. I just love it!
Naturally, when you have all those apples, there is almost no way to eat that many. I just love Fall and apples, my favorite time of year!
I decided that as a reward for our hard work for the race that I would make an upside down cake with some of the lovely apples that we just got, of course making it "light" so it doesn't erase the hard work we did earlier in the day. 😉
Ingredients (adapted from this recipe):
Topping:
Cooking spray
3/4 cup sugar
1/4 cup water
3 cups (1/4-inch-thick) slices peeled HoneyCrisp apples
Cake:
5.3 ounces cake flour
1 1/2 teaspoons baking powder
1/4 teaspoon salt
2/3 cup sugar
3 tablespoons butter, softened
2 large egg yolks
1 teaspoon vanilla extract
1/2 cup skim milk
3 large egg whites
Preheat oven to 350°
Coat a 9-inch round cake pan with cooking spray.
To prepare topping, combine 3/4 cup sugar and 1/4 cup water in a small heavy saucepan over medium-high heat.
Cook until sugar dissolves, stirring gently as needed to dissolve sugar evenly (about 3 minutes). Continue cooking for 4 minutes or until golden (do not stir). Make sure you keep your eye on the sugar because once it starts to brown, it browns pretty fast.
Immediately pour into prepared cake pan, tipping quickly to coat bottom of pan. Arrange apple slices in concentric circles in pan over the warm caramel. Please be careful the sugar is hot hot hot!
To prepare cake, weigh or lightly spoon flour into dry measuring cups. Combine flour, baking powder, and salt and whisk together.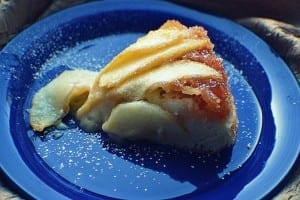 Combine 2/3 cup sugar and butter in a large bowl and beat with a mixer at medium speed until light and fluffy.
Add egg yolks and vanilla to sugar mixture and beat until combined.
Add flour mixture and milk alternately to sugar mixture, beginning and ending with flour mixture; mix after each addition. (does anyone know why recipes call for you to do this? I have always wondered)
Place egg whites in a large, clean bowl. Beat egg whites with mixer at high speed until stiff peaks form using clean, dry beaters.
Gently fold egg whites into batter. Spread batter over apples.
Bake 35 minutes or until a wooden pick inserted in center comes out clean. Cool on a wire rack in pan for 5 minutes.
Loosen edges of cake with a knife and then invert cake onto a serving plate. Serve warm or at room temperature.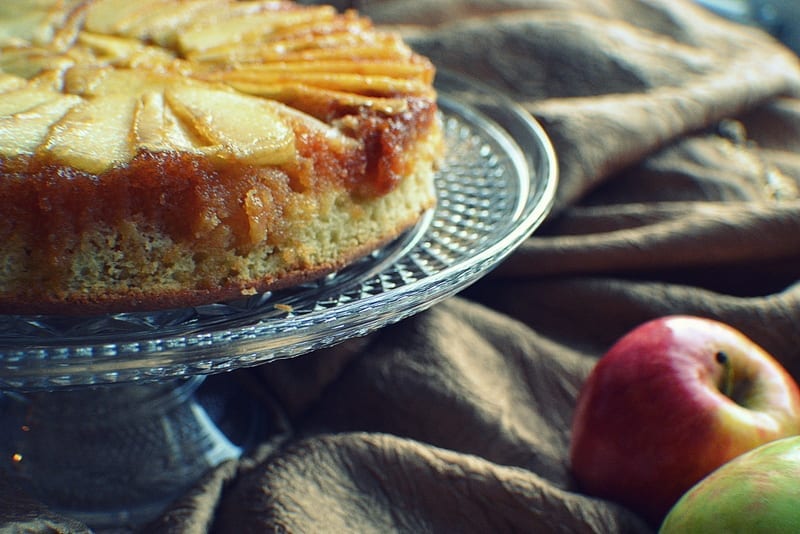 The original recipe said this has 253 calories and 6.6g of fat per serving. I think mine might have a tiny bit less because I used skim milk instead of 1%.
Either way, that is pretty good for this ooey gooey cake!
I hope you all have a lovely week! 🙂